One Mother's Thoughts on Breastfeeding
I've been thinking about writing this post for a while. I hesitated because it's such a personal and intimate topic. But my hope in writing this is that I can share my personal experience and encourage other moms along the way! This is a post about breastfeeding and my experience. I know this is a very sensitive topic and I have friends who felt heartbroken they couldn't breastfeed the way they hoped or desired. Please do not feel ashamed, embarrassed, or upset if you could not or chose not to breastfeed. There are many other ways to connect with and provide for your precious new baby.
So here it goes: I have a love/hate relationship with breastfeeding. Hate is a powerful word so maybe I should say strongly dislike. First I'll start with the positives. I feel extremely blessed that breastfeeding has gone so well for me and that I am able to provide the best nutrition possible for my little one. I remember crying when I was pregnant because I was so worried I wouldn't be able to breastfeed. I did skin-to-skin with our baby girl the first hour after birth and she latched on right away. It's a beautiful thing to hold your baby so close and I truly believe it has played a role in building a wonderful connection between me and Izzy. As mothers, God perfectly created us to do this with our children. I feel blessed to have experienced it!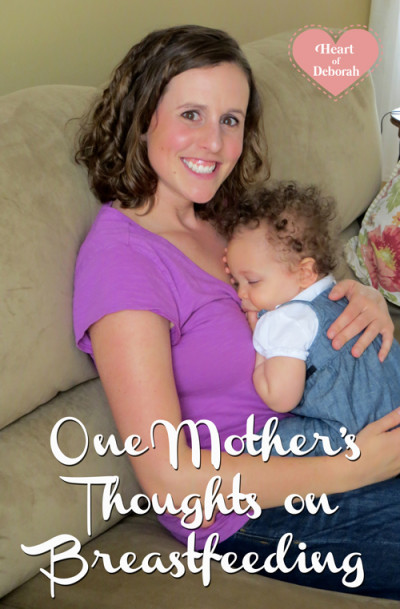 But there are always two sides to a story. Breastfeeding isn't easy. Sometimes I feel trapped and think in my head 'can't somebody else just feed her for once.' Some days our baby takes a bottle fine, other days it feels like we are torturing her trying to get her to take it. It usually results in tears and me throwing away perfectly good breast milk. Maybe I waited too long to introduce it or maybe she's like her daddy who also hated the bottle as a baby. Yes I am grateful that she breastfeeds so well, but am I the only one who ever wishes for a break?
I had this perfect plan to wean our baby around 9 months. It seemed to work out because my husband had two weeks vacation, which never happens as a medical resident! I thought it would be great if he were home to help with the bottles and be a support during this transition. Well our baby girl had different plans. She strongly dislikes formula and is now refusing bottles of straight breast milk. I have to admit I was disappointed. I thought I would feel this new freedom when I stopped breastfeeding. I wanted my body back. I wanted to wear clothes without thinking 'can I breastfeed in this?' I didn't want to have someone relying on me all hours of the day!
Thankfully I have a supportive husband and family. They helped me get out of my pity party and look at the brighter side. I am still trying to get our baby to drink from a bottle and/or sippy cup, but in the meantime I'm going to try and soak up all the minutes I have breastfeeding our precious daughter. I want the feeling of freedom when I stop breastfeeding, but I also tear up at the thought of stopping!
My prayer is that you won't feel alone in this. Breastfeeding is hard work and it takes time and dedication. The hours seem long, but the months go by so quickly. When I think about this with a heavenly perspective, 1 year of my life breastfeeding our baby really isn't that bad!
I love hearing from other moms!
Please share your experiences with breastfeeding below.