Our Baby's First Swim Lessons
We recently started our baby's first swim lessons and it has been so much fun! It's one of the first activities we have done together. I was especially excited because I was a swimmer in high school and college. So far our daughter seems to love the water. Our township pool has a water babies program for babies starting at 8 months. I don't think you have to do water babies in order to teach your child how to swim, but it is fun and it's a way to connect with Izzy. During this process I've researched and noticed a few things. So I also created a list of tips and tricks I learned along the way.
This post contains affiliate links for products we use and love.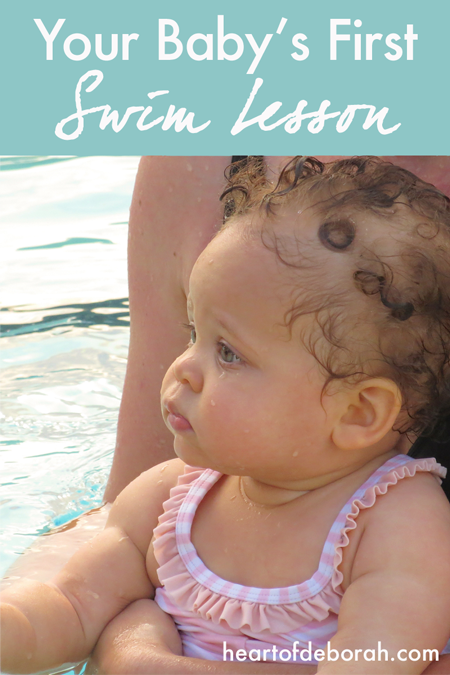 Tips for Your Children's First Swim Lessons
Diapers – I debated what to do with this for a while. Swim diapers seemed kind of expensive for the amount of time you use them. Typically swim classes are only 30 minutes long. I did some research and I decided to try the Charlie Banana Swim Diaper. So far we really like it. We haven't had any accidents, it doesn't have any harsh chemicals, and it's reusable!
Chemicals – When I think about all the harsh chemicals in the pool I start to get worried. First and foremost, I remind myself that God will protect us and give us wisdom in this area. Then I did some research. Here is an interesting article from the World Health Organization about chemicals in pools. If you do swim lessons in an outdoor pool you will probably inhale less chemicals because of the open air. I've read on multiple websites that coconut oil can reduce the absorption of chlorine into the skin. Consider rubbing this on your baby before a dip in the pool. Check out this post from Wellness Mama about ways to minimize chlorine exposure.
Shower – We typically rinse right after the pool. It helps get the chlorine smell off and hopefully reduces chemicals absorbing into the skin. We love using California Baby Calming Shampoo & Bodywash. It has the cleanest ingredients and it smells amazing! We also use California Baby Hair Conditioner Calendula because chlorine can dry out your little one's hair. Our baby is mixed and we find this conditioner gives her soft adorable curls.
Fear – I noticed that some of the older children in the class (18 months) are afraid of the water. I think 8-9 months is the perfect age to start. Any younger and they may not understand the water and/or be able to do much in the water. Any older they may understand too much and start to fear!
Dunking – Have you heard of dunking your baby under the water? I know some swim classes still do this, but I'm not a big fan of it. If you aren't comfortable with something in your swim class, don't do it! I tried to research reasons why this is dangerous and I didn't find too much scientific evidence to support it. Personally, I'd be worried that our baby girl would inhale too much water and possibly become afraid of the water.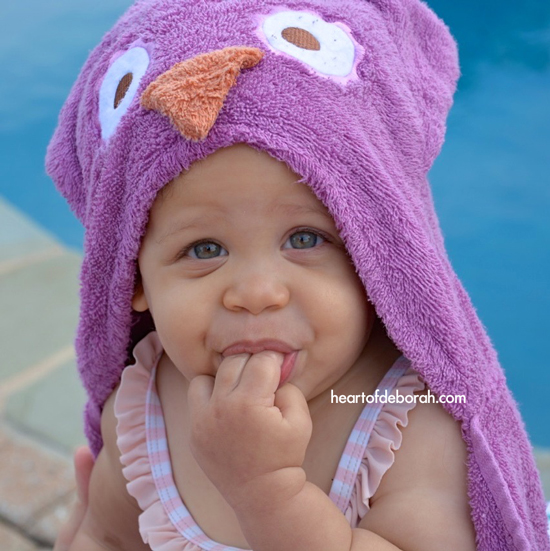 I hope you find these tips helpful. I love the water and I can't wait to splash around even more when our baby girl gets older. Always remember listen to your mommy instincts! You were given them for a reason. If you are concerned about something or think it may be unsafe, don't do it.
Does your baby love the water?
In the interest of full disclosure, some of the links in this post are affiliate links. They are all for products I truly believe in and buy for myself. If you decide to purchase any of these products through these links, I will earn a small commission. All prices are the same if you decide to purchase through my links. Thank you for supporting Heart of Deborah!