The Unfading Charm of a Gentle and Peaceful Spirit
Some days my mood goes from zero to sixty in seconds. The baby woke up during my quiet time, my five year-old spilled his juice all over the carpet, and I sent my daughter to school without lunch money.
Before I know it, my sweet Jesus-loving spirit quickly turns on me, and I'm a headstrong quarrelsome wife. 
It happens so fast I almost forget I spent time with Jesus that morning. Have you ever had one of those days?
For me, I'm most optimistic about the day in the morning: my cup of coffee is still hot, and the cares of the world haven't hit me yet.
But as the clock moves forward and I encounter resistance, those little obstacles start to chip away at my zeal. I'm a bundle of frustration by the time dinner rolls around. 
When my husband gets home, I am no longer a joyful wife. Words flow freely as I lament how the kids made a mess yet again and I didn't get to finish any of my work. I'm on a roll, so I'm quick to judge, complain, vent and stress out.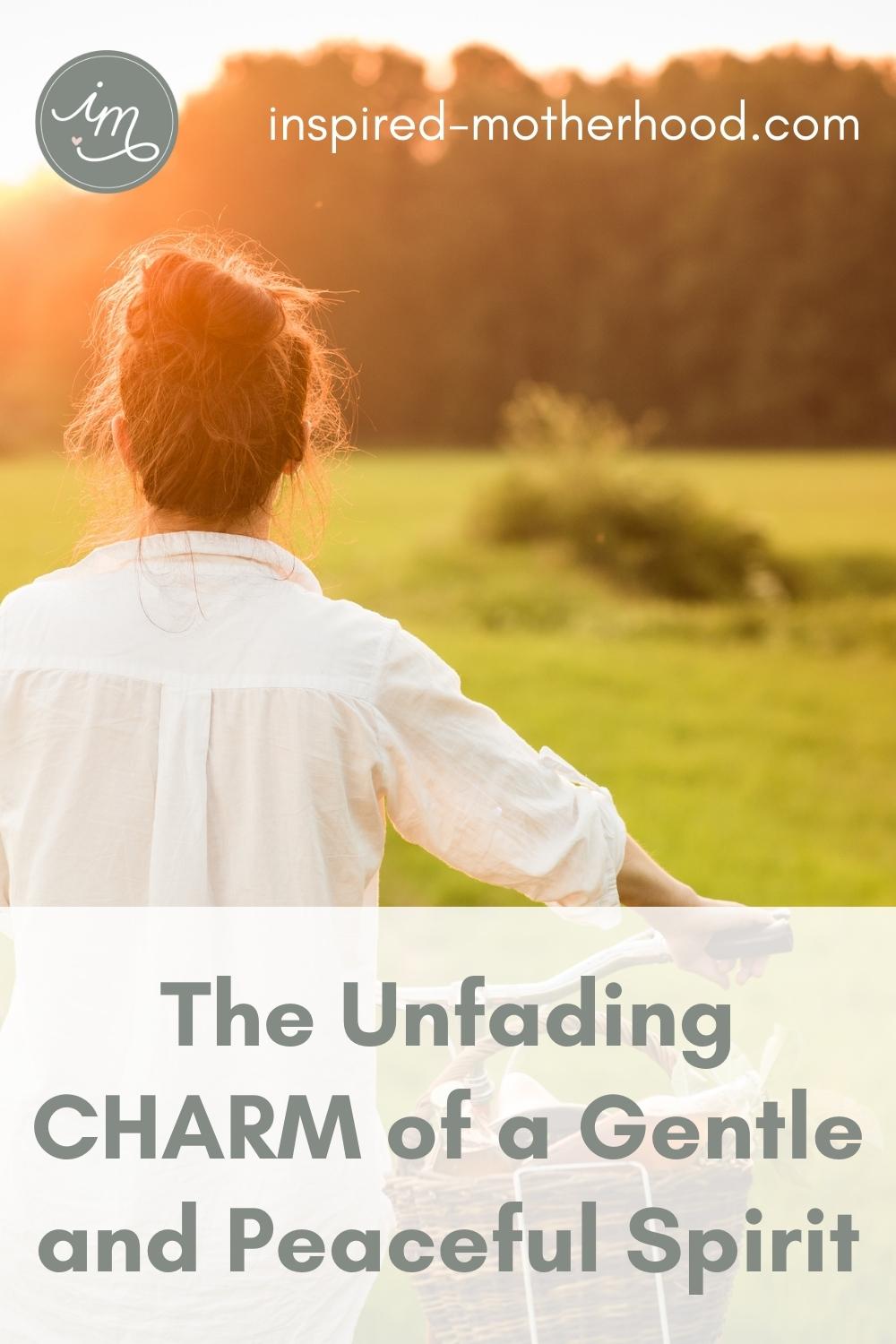 Immediately, I feel the mood shift in our home. My nagging words drove peace right out the front door, and in its place, turmoil rushed in. 
Then I start to feel guilty for dumping everything on my husband the moment he entered the door. But I can't let my frustrated feelings go…
Have you ever wrestled with how to create a place of comfort without shoving your feelings and frustrations under the rug? I don't think we should pretend like everything is happy and good on the outside when on the inside we are drowning. It's never good to ignore hardship or pain.
But I also don't like when I ruin the mood with my complaining attitude. There has to be a better balance.
In 1 Peter 3:4 we read, "But let it be the inward adorning and beauty of the hidden person of the heart, with the incorruptible and unfading charm of a gentle and peaceful spirit, which [is not anxious or wrought up, but] is very precious in the sight of God" (AMPC).
Why does God tell us to adorn ourselves with a gentle and peaceful spirit? Is it so we never share our true emotions? No, his goal is not to have us ignore our feelings.
I think He tells us how precious a gentle spirit is to remind us that our words matter.
Embracing a peaceful spirit means we speak life into the atmosphere of our homes instead of death. 
When I embrace a gentle and quiet spirit, I am not rendered powerless. It just means I have my power under control. The Greek word for quiet here is hesuchio, which "indicates tranquility arising from within, causing no disturbance to others" [Strong's Concordance].
According to the Cambridge Dictionary, tranquility means "a peaceful, calm state, without noise, violence, worry, etc." Doesn't that sound wonderful?
How do you embrace a peaceful spirit?
I'm not saying we should never talk about what bothers us because that's not practical or healthy.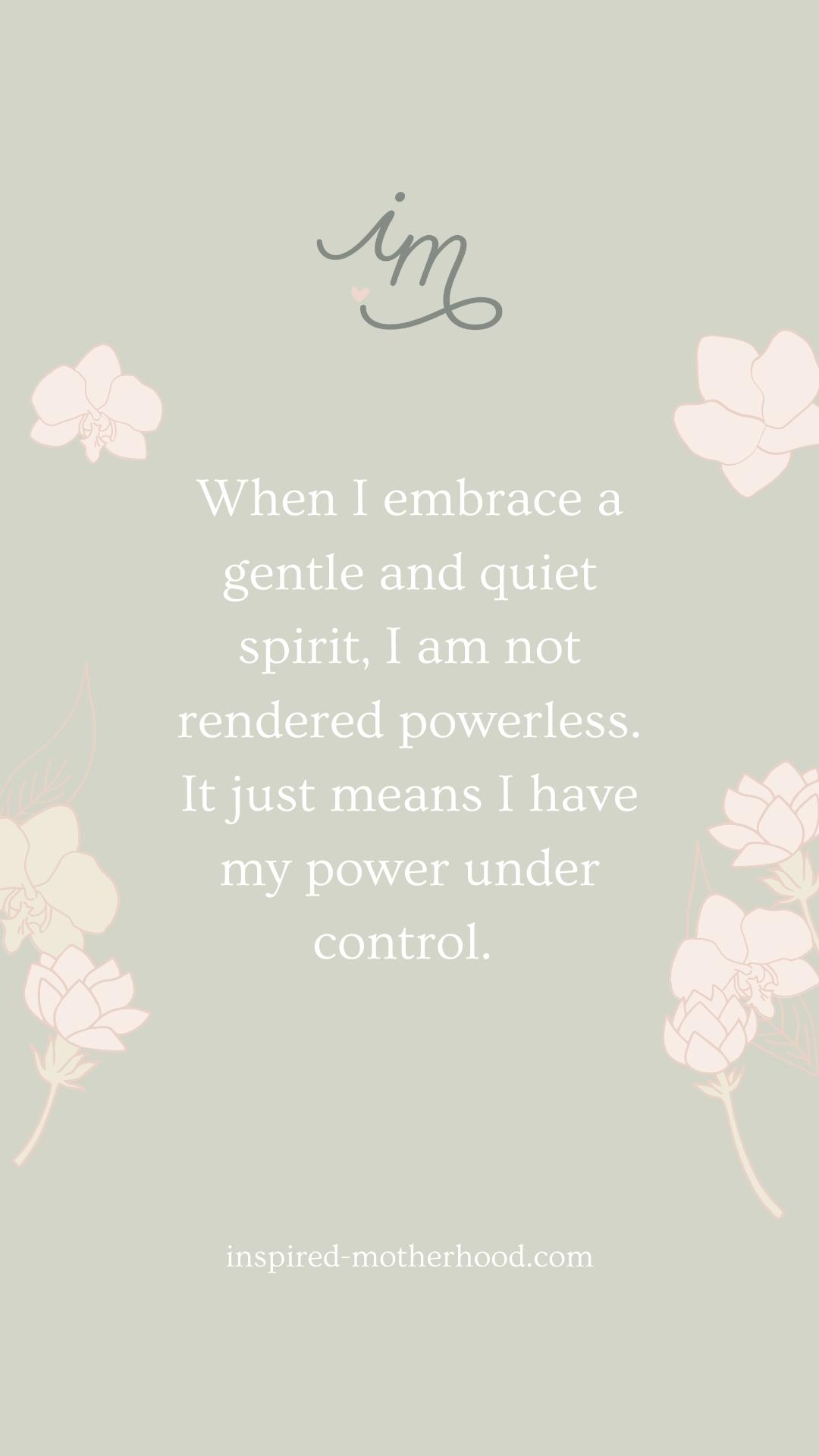 However, we can choose to share our frustrations and difficult days in life-giving ways, like making sure the first words out of our mouths aren't filled with complaints or by giving our husbands or friends some breathing room before we start venting.
We can share in ways that bring solution not dissension. When we embrace a peaceful spirit we don't ignore the problem, we just solve it in a different way.
What if we stopped letting our angst from within disrupt those around us? How powerful would it be if our dispositions were so gentle they brought peace to all those with whom we interact?
God knows the power of a gentle spirit.
Pray this: Heavenly Father, thank you for uniquely creating me. I praise you for your handiwork. God give me guidance and wisdom to learn how to share my feelings and problems in life giving ways. May I embrace the unfading charm of a gentle and peaceful spirit. In Jesus Name' I pray. Amen.
Have you found the balance of sharing your heart without bringing down the mood of your home?
I'd love to hear your thoughts in the comments below!
For more daily encouragement be sure to follow Inspired Motherhood on Instagram.
Read This Next: