Valentine's Day Hearts With Uplifting Sayings!
I didn't realize how powerful my words were until my child loudly exclaimed "What the heck!? Move it CAR!" Now I know this isn't the WORST thing that could come out of her mouth, but it made me realize how much my kids listen to what I'm saying.
They are always listening! And unfortunately sometimes repeating. As parents and caregivers we have the power to speak life over our kids. Our words can make a big difference.
So after taking a step back and realizing just how many of MY phrases our kids were repeating I decided it was time to start speaking positive words into their lives.
Since it's almost February, I thought I could tie this into Valentine's Day. You can use these positive affirmations for kids every day of the year or as Valentine affirmations.
Be sure to download pre-made hearts at the end of this post. You can post it on your child's door every morning in February or sent it in with their lunch as an inspirational note!
Again, it doesn't have to be centered around this one time of the year holiday. You can use these the whole year long!
So let's get to it. Here is a list of 14 Christian positive affirmations for kids (see below). These are sayings and words that will bring life to your house.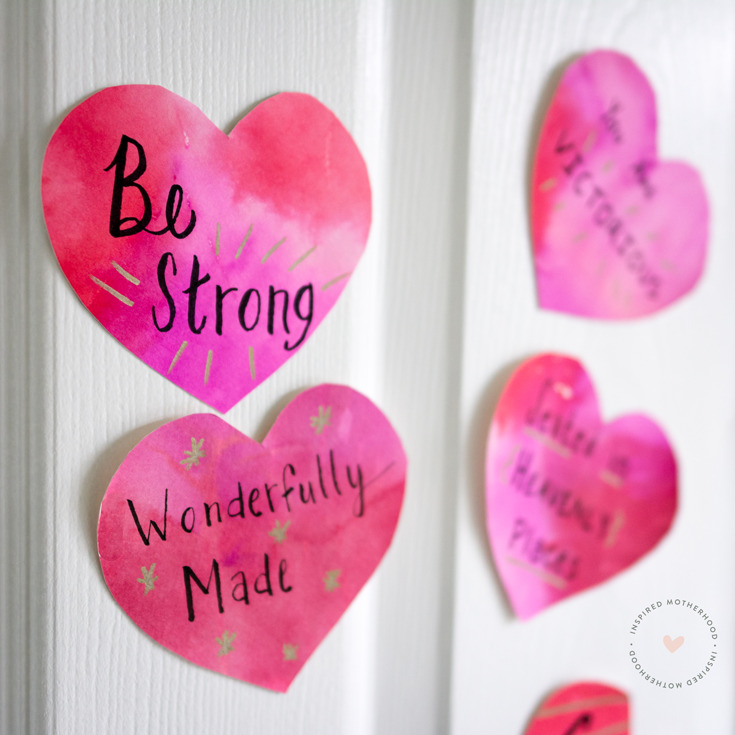 You may have seen this popular idea of posting hearts with compliments on your children's door for Valentine's day. I love this idea, but I wanted to take it a step further. Instead of compliments I wanted to share positive affirmations and God's promises with our kids.
I want to change the narrative in our home. Instead of hearing things I later regret saying, I want my children to hear life coming out of my mouth!
I want them to know who they are in God. I created these Christian positive affirmation hearts to celebrate this idea!
Fun Valentine's Idea! Starting February 1st I will put up one heart each day on our daughter's bedroom door. Then on February 14th she will have a collection of 14 hearts.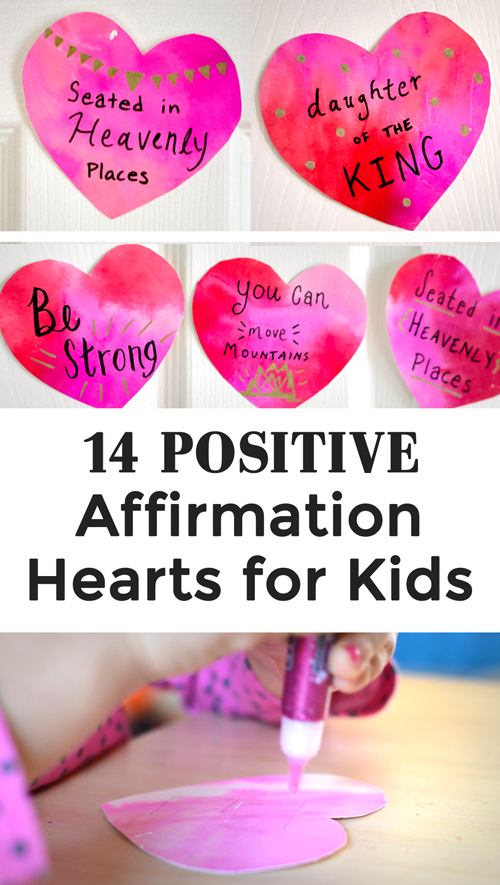 14 Christian Positive Affirmations for Kids
Wonderfully made
Highly favored
Child of God
Daughter of the King
You are filled with unspeakable joy
You are strong
You are victorious
You are never alone
Seated in Heavenly places
You are brave
You are God's masterpiece
Greatly loved
You can do all things
You will see the Goodness of the Lord
So I'd love to hear from you. How do you celebrate Valentine's Day? Do you purposefully speak positive words over your children on a daily basis? Share with us in the comments below!
If you make this craft we'd love to see your work! Be sure to use #InspiredMotherhood or tag us on Facebook and Instagram. I'll repost some of my favorites.
If you want to make your own you can follow my directions to make the watercolor hearts here. Then add the affirmations below on the hearts.
If you aren't feeling crafty, I made hearts to download and print. You can either print the hearts and pack them in your chid's lunch in February or hang them on their door.