Adorable Olaf Fingerprint Ornament Your Kids Can Make Themselves!
Family traditions are big in our house and it seems we have a lot around the holidays. Since our daughter was young we've been crafting an ornament every year to hang on our tree. This year we are making an Olaf fingerprint ornament. Who else is so excited for Frozen 2? Our DIY ornament turned out so much better than I envisioned in my head.
One of the reasons we started this tradition is because I love meaningful decorations. We got married in December and all the guests brought an ornament to our wedding. Since our first Christmas we've loved hanging each one and talking about the special people in our lives while decorating for the holidays.
Hey before we get any further, don't miss an awesome Christmas giveaway at the end of this post. Two families will win $500 to help with Christmas this year!!
One of our favorite family fun events is decorating the Christmas tree. It is so special because the kids have SO much fun looking through all the ornaments and talking about each one. They love reminiscing about past ornaments and asking what each one symbolizes.
This post contains affiliate links.
We've also had a recent obsession with books on tape. We bought this one (Olaf's Frozen Adventure) for the holiday season and it also inspired our Olaf fingerprint ornament.
If you make this craft we'd love to see your work! Be sure to use #Heartofdeborah or tag us @heartofdeborah on Facebook and Instagram. I'll repost some of my favorites.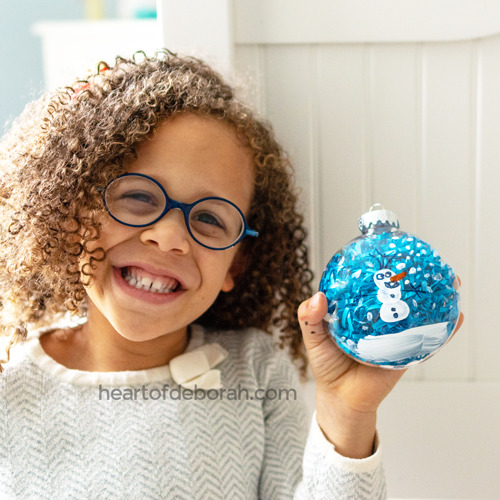 So let's get to it! How can you make this adorable kid made Christmas ornament? First, gather your supplies.
Supplies f0r Olaf Fingerprint Ornament:
Clear plastic ball or disc ornaments
Blue crinkle paper
White paint
Paintbrush
Sharpie or Paint Markers
We bought our plastic ornaments from Michaels. I was so happy to find clear disc ornaments. We did both the ball and the disc because my daughter is obsessed with crafting. I felt like the clear disc was easier to use because it provided more of a flat surface. But do what works for you!
Directions f0r Olaf Fingerprint Ornament:
First, fill your ball or disc with crinkle paper. This is a great fine motor skill and kids don't even realize they are improving their motor skills while crafting.
Next, paint your little one's finger with white paint and make the body. My son used his thumb for all three mounds of Olaf, but my daughter insisted on using different fingers to create her snowman. Again, it's up to you.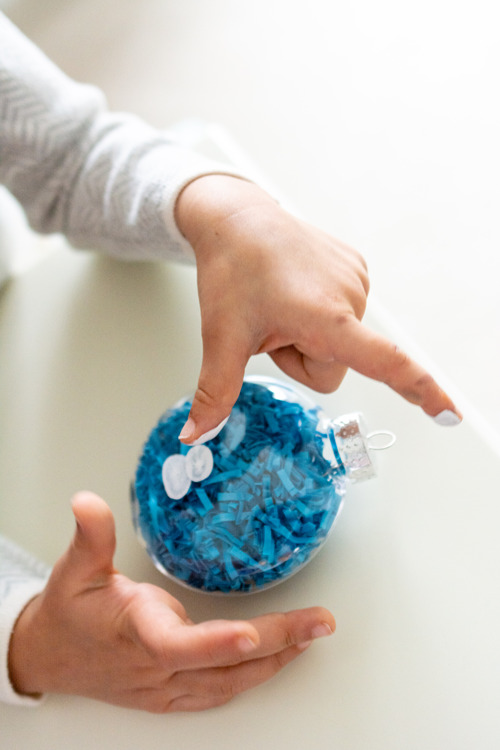 My daughter also added some snow at the bottom and snowflakes throughout the ornament with a thin paint brush.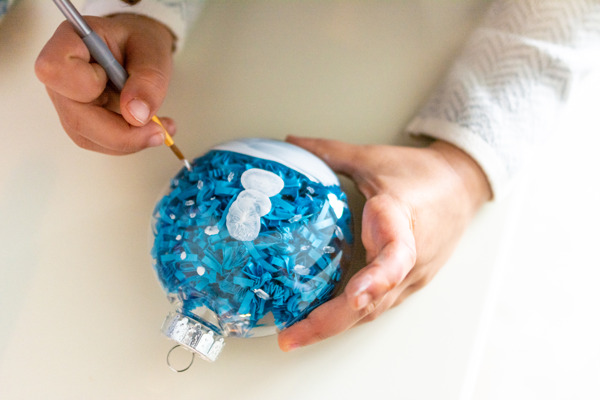 Then wait for your paint to dry or use a hairdryer if your little one is impatient. Now it's time to add the carrot nose, eyes, arms and mouth with your paint markers or sharpies.
Our daughter made this ornament all by herself, she is 5. She looked at the pictures of Olaf in our Olaf's Frozen Adventure Read Along Book and she was able to copy it.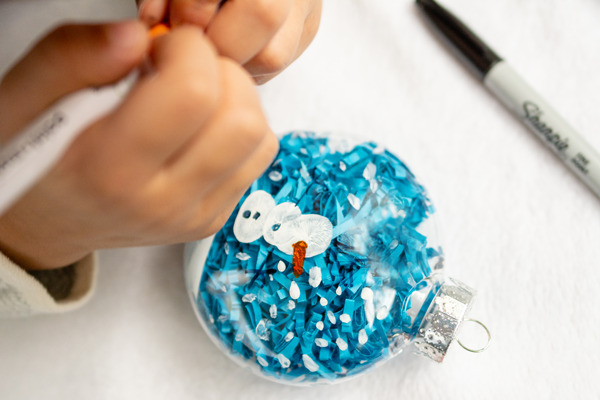 Our son, who is 4, even got into filling the ornaments and stamping his fingerprint, but I helped him a bit with Olaf's limbs.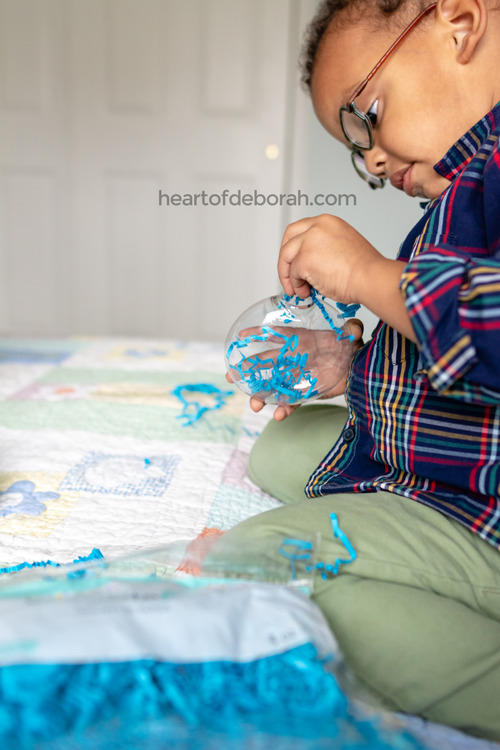 It's as simple as that! Now you can enjoy Olaf on your Christmas tree for years to come. If you love the ornament, but don't have clear plastic balls here is another way to make Olaf on a mason jar lid.
You May Also Like:
DIY Sesame Street Inspired Characters
Mixed Media Curious George
EASY Clay Christmas Trees
Can you believe Christmas is only 37 days away!? This year I teamed up with some pretty generous bloggers for the 6th annual Christmas Blessings Giveaway.
This year there are TWO big prizes. Two families will win $500 (delivered via PayPal).
Enter below! We know there are a lot of entry options in the Rafflecopter form below. But the more you enter, the better your chance of winning! I hope you'll take the time to check out each one. Who knows, maybe you will find some new blogs to follow.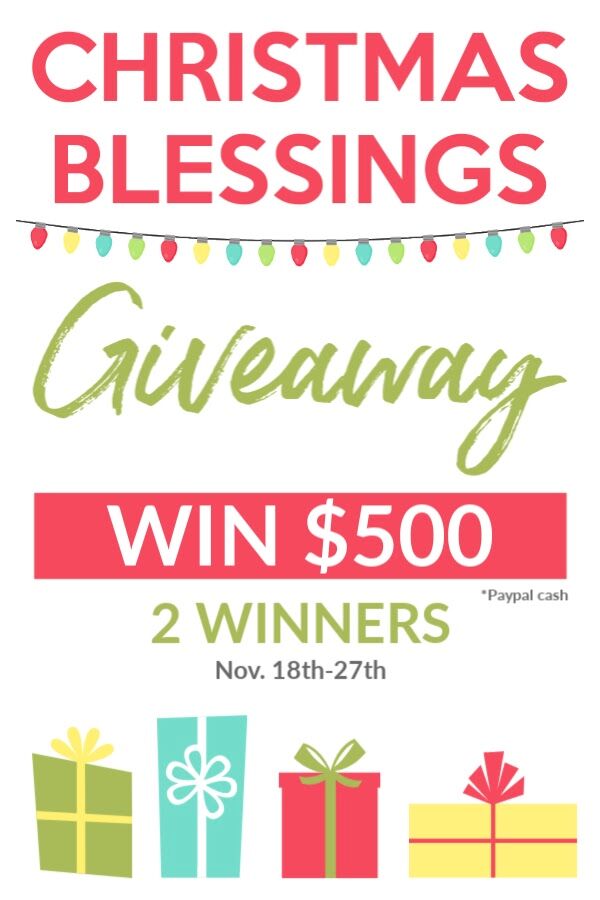 The giveaway will run from Monday, November 18th through Wednesday, November 27th (ends at 11:59pm EST). Winner will be notified by email shortly after the giveaway ends and will have 48 hours to respond to claim the prize or another winner will be drawn. You must have a Paypal account to win.
By entering this giveaway, you agree to be added to the email lists of the participating bloggers. Please be sure to read the Rafflecopter terms and conditions upon entering.