EASY DIY Sesame Street Ornaments, Even Kids Can Craft Them!
Growing up I loved sesame street. It's funny, all of our kids knew the name "Elmo" before they even started watching it. Elmo and Cookie Monster are classic characters that every child loves. As part of our family Christmas traditions we make a kids made ornament every year.
These DIY Sesame Street ornaments are so easy to make and your kids will love hanging them on the tree for years to come.
This kid's craft is perfect for a day inside with your children. I think they are adorable to hang on your own tree or give them as kid made gifts!
Who is your favorite Sesame Street character? Elmo and Cookie Monster are super easy to make, but you could also try other characters as well. See our Olaf Fingerprint ornament here.
Not only is this craft adorable your kids will also practice their fine motor skills by adding the crinkle paper into the ornaments. See the full directions for these adorable DIY Sesame Street ornaments below.
If you make this craft we'd love to see your work! Be sure to use #InspiredMotherhood or tag us @inspired.motherhood on Facebook and Instagram
This post contains affiliate links for products we love. Also please note this is a fan tribute, this post is not endorsed by or contracted by Sesame Street.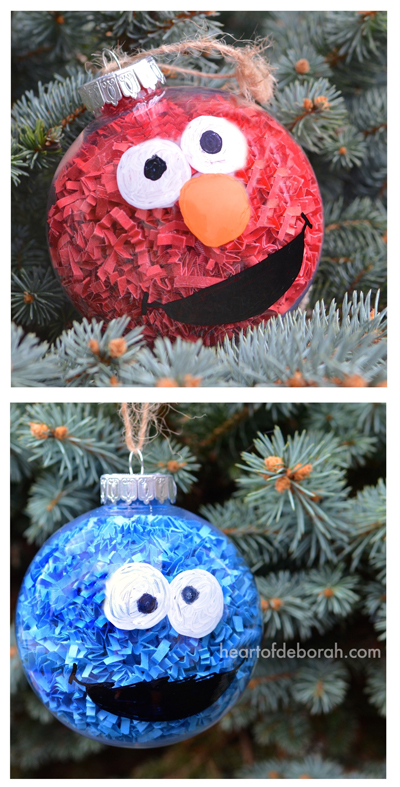 Supplies You Will Need:
Round Clear Plastic Ball Ornaments (I chose plastic to be on the safe side, but glass work as well!)
Crinkle Cut Paper Shred (Blue)
Paint Markers (White, Black, and Orange). I purchased a variety of fine tip and medium tip.
You can buy a lot of these items online and I love hassle free shopping! I also found a lot of these supplies are at the dollar store, which is a great option because it's affordable.
Directions for DIY Sesame Street Ornaments:
First open the paper shred and stuff your ornaments with blue or red paper. We used red for Elmo and blue for Cookie Monster. Our toddler surprisingly sat for 10 to 15 minutes to help me stuff the ornaments. She enjoys fine motor tasks like this, but it may not be suitable for all children and that is okay. If they need some help it's no problem.
Next, add the eyes, nose and mouth to the ornament with your paint markers. The cartoon faces are somewhat simple so I was able to freehand the eyes and mouth.
Please note, I am not artistic at all! You can do this with little artistic ability! If your children have a difficult time with this you could shape the outline and let them fill in the white eyes and the colors of the mouth and nose.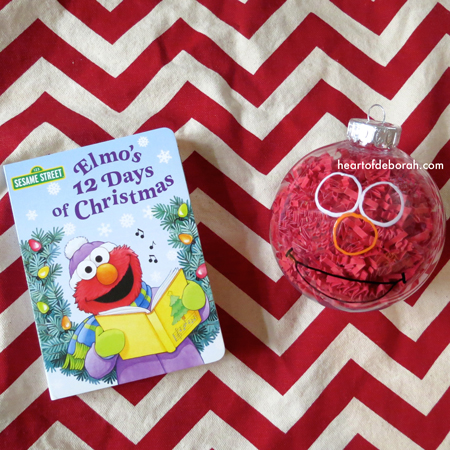 You are finished! I told you that was easy. Now it's time to hang your beautiful ornaments inspired by sesame street on your tree.
This craft would be so fun to make as a mommy and me play date. You could buy the supplies in bulk and craft together. We try to make a new kid made Christmas ornament every year, but I'll be honest we made these a few years in a row. My daughter kept asking to make it over and over again. She loved how she could create something herself.
Now that she is older we reminisce about it every time we hang it on our Christmas tree.
If you make this craft we'd love to see your work! Be sure to use #InspiredMotherhood or tag us @inspired.motherhood on Facebook and Instagram. I'll repost some of my favorites.
So how about you? What are your favorite Christmas ornaments for kids? Tell us in comments below.