Magical Disney Frozen Craft! White Crayon Watercolor Art
"Into the unknown!!!!" Is often being screamed in my house. Frozen and Frozen 2 are still big hits in our house. My kids often like to do act out their favorite movies.
Whether it's summer, spring or fall our kids talk about building a snowman, playing in the snow and finding icicles.
So one day we decided to make a magical Disney Frozen craft using a white crayon watercolor technique. 
It was such a fun and EASY kid's craft. You probably already have all the supplies you need at home.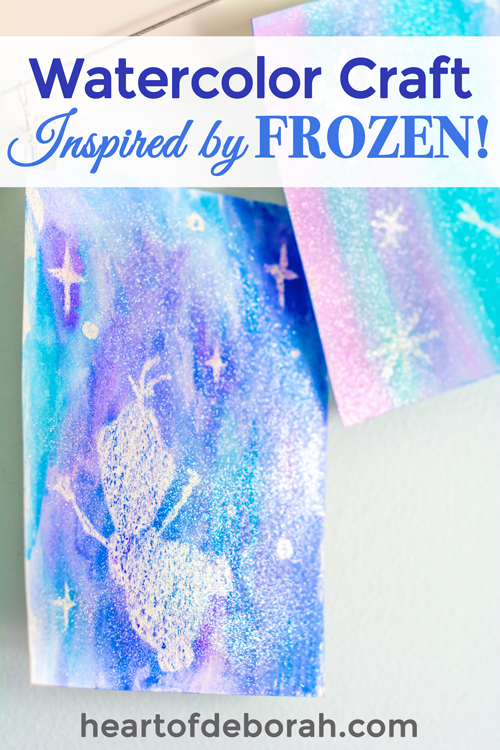 This post contains affiliate links for products we use and love.
Since we are inside more, we thought this was the perfect time to make some Frozen magic.
Here are the supplies you'll need to make this enchanted craft:
Supplies for White Crayon Watercolor Art
If you are a visual learner, check out this YouTube video we made below with specific directions on how to make this at home. Or continue reading for written instructions!
Directions for Frozen Art!
FIRST FIND YOUR STENCIL.
We picked up our Frozen stencils in the Target dollar bin. I REALLY wish I would have picked up more than one pack because of course I can't find the exact ones online. Here are a few options on Amazon OR
Check your local dollar store or target bins and pray you find Frozen stencils.
If not, you can hand draw Olaf or a castle and use these snowflake stencils as accents. 
Alternatives if you can't find a Frozen activity set with stencils in-store:
This scratch activity book comes with a stencil. It has snowflakes and Anna & Elsa silhouette, but no Olaf.
Here is a set of non-Frozen snowflakes stencils.
NOW FOR THE TECHNIQUE
Now for the white crayon watercolor technique. After you decide on your stencil or design, draw it on your watercolor paper with white crayon. I
make 10 of these at a time because my daughter is so obsessed. You can easily make multiple copies and have it ready go for when you hear "I'm BORED!"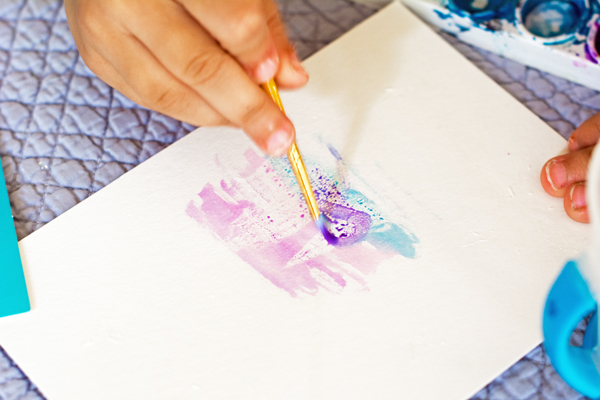 Next, let your children use watercolor paint on the paper. They will LOVE discovering all the designs you drew. My daughter loves how surprising it is and finding new designs all over her paper.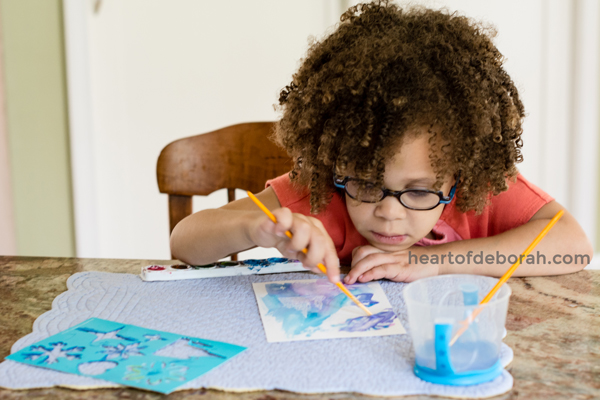 After it dried we added some glitter spray paint to make it extra sparkly.
We also added a few Olaf stickers, but you don't have to. You can just do a search and find with the white crayon. It's the perfect way to jazz up your watercolor art. 
Be sure to follow Inspired Motherhood on Pinterest for more unique kid's crafts.
If you make this craft we'd love to see your work! Be sure to use #InspiredMotherhood or tag us @Inspired.Motherhood on Facebook and Instagram. I'll repost some of my favorites.
So I'd love to hear from you! Who is your favorite Frozen character? Have you tried white crayon resist crafts before?
Share in the comments below.
Read This Next: