Let There Be Light Book Review
Let There Be Light is an engaging children's book based on the biblical story of creation. The easy to understand text and the stunning illustrations bring to life the beauty of God's workmanship. Although the book is aimed at younger children, people of all ages can enjoy this story.
As soon as I opened the book Izzy wormed her way over to look at the brightly colored pages.
The pictures are beautiful and realistic.
Sometimes children's stories can add an element of fantasy to biblical truths.
As a parent I want to be careful not to turn true biblical text into mystical fables.
I've read that others didn't like how the book states "I will make people" and the illustration depicts children of different nations instead of Adam and Eve.
This part didn't bother me.
If a parent is worried about this I think it would be helpful to read the actual scriptures found in Genesis with this story to compare and contrast.
Overall, I would definitely recommend this book to others!
I love the beautiful drawings and the message the author portrays.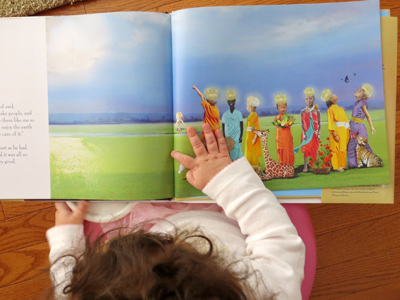 I received this book free from the publisher through the BookLook Bloggers book review bloggers program. I was not required to write a positive review. The opinions I have expressed are 100% my own.