Toddler Finger Painting Craft
Finger painting is a great natural sensory activity for kids. You can also create a beautiful canvas masterpiece from this simple activity. I decided to create this toddler finger painting craft because I love kid made art and I wanted to create something our daughter could look at years from now!
When we first started the activity, Izzy was a little unsure of the finger paint, but with exposure and practice she learned to love the messy craft.
See more details below to make your own toddler masterpiece out of finger paint.
This post may contain affiliate links.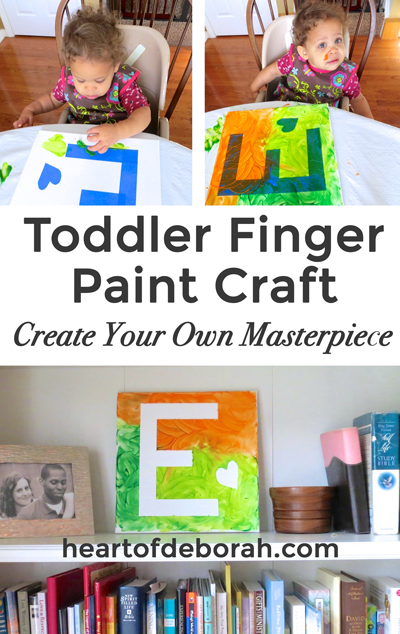 Toddler Finger Painting Craft Supplies:
We purchased a few 12×12 canvases in bulk at a craft store last year. I love buying canvases and coming up with new craft ideas for our house. We had a few leftover so I thought why not let our daughter make her own canvas masterpiece.
I used painter's tape and made the letter E along with a simple heart. Make sure all the edges are sealed to the canvas. I taped a garbage bag to our kitchen table to help control the mess, it also made clean up quick.
Then let your toddler get to work. I helped our daughter with some of the painting since she was new to the paint and not sure how to spread it across the canvas. You can also give your child a paint brush to create a brushed work of art.
I let the canvas dry for about 1 hour then I peeled off the painter's tape. We were left with a beautiful creation! We have it displayed on the bookshelf in our daughter's play area.
Make sure you're following me on Instagram, Facebook, and Pinterest for more fun kid's activities and crafts!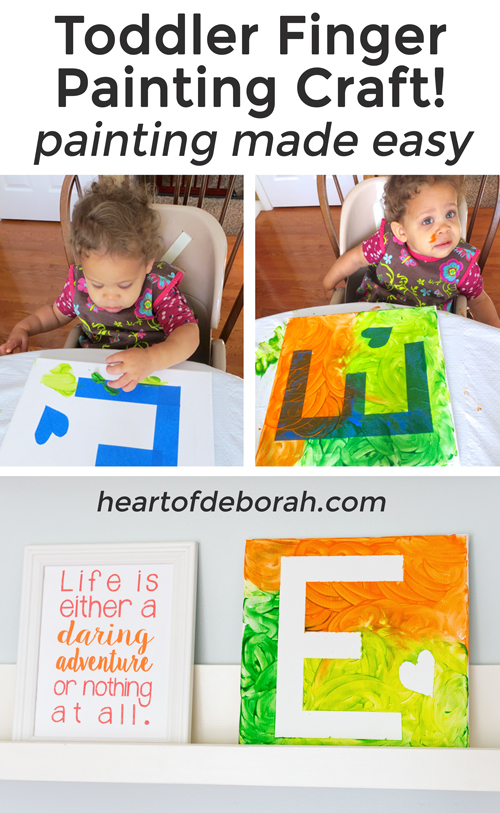 Does you toddler love painting?
What is your favorite toddler finger painting craft?