5 Effective Ways to Keep Your Baby Warm in Winter Outside
Cold weather is coming! My kids CANNOT wait for the first snow to appear while I'm over here counting down the days until summer. But with a 7 month old baby I have to stop dreaming and start facing reality. Soon it's going to get really cold and I need to plan how we can keep our baby warm in winter outside.
We take the older kids to school everyday. Where all 4 of us get out of the car to enter two separate schools.
So how can I keep her warm this winter without a big bulky snowsuit? That you really aren't supposed to put your baby in while in the carseat?
I have a few ideas so keep reading to find out how to dress your baby this winter.
How to Keep Your Baby Warm in Winter Outside
This post contains affiliate links we products we use and love.
#1 Put Her in Her Sleep Sack
Say what? Yes it's true. One of our favorite sleep sacks (see the woolino ultimate sleep sack here) has a closable seat-belt opening so you can easily buckle them in. Then theoretically transfer the sleeping baby to his or her crib (my kids ALWAYS seem to wake up mid-transfer, maybe you'll have better luck).
We've tried this a few times in the car and it's worked out well. Our daughter was super cozy because the sleep sack is made of merino wool. Also I didn't have to take things on or off when we got out of the car. She can also wear it in the stroller or baby carrier because it's long enough and warm enough to wear as a top layer.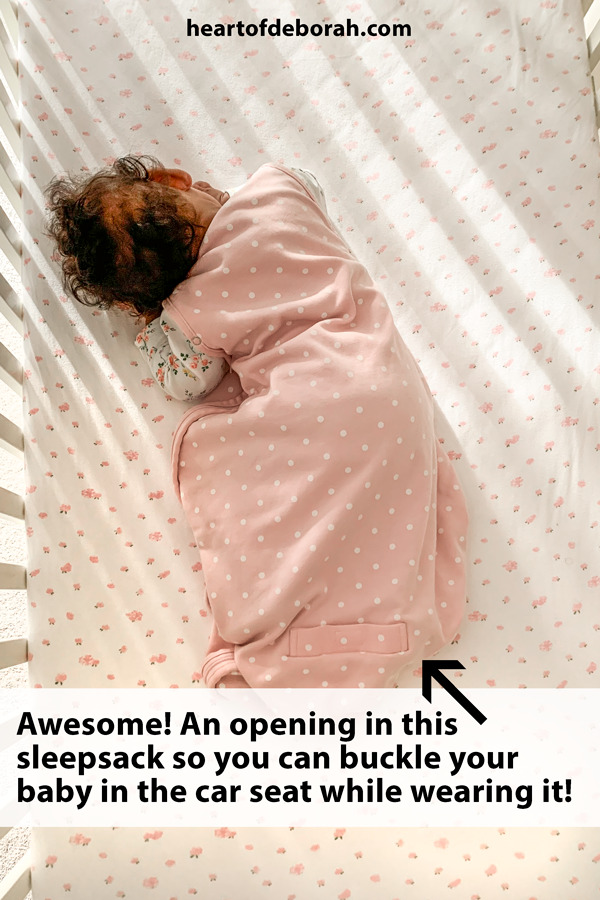 #2 Consider a One Piece Bunting
First, it's important to note that you may want to limit the amount of time your baby spends outside during the coldest days. Obviously though there are times when you can't prevent this.
So we've used warm one piece outfits to keep our babies warm in the winter.
We like this Columbia baby bunting because it isn't too bulky and it is perfect for quick runs in the car. It also has folded sleeves and legs so if you forget socks or gloves you can easily cover your baby's fingers and toes.
If you are looking for something super warm for outside play I'd recommend a thicker one piece like this snowsuit.
Bonus tip: Learn from my mistakes. I loved buying pink everything when our first baby was born. But when our second child was a boy I felt kinda weird dressing him in pink. So if you want to reuse it with multiple children choose gender neutral colors. Snow gear for kids can get pricey!
#3 It's All About the Accessories
Don't forget a cozy hat to keep your baby's head warm. Heat can quickly escape from a bare head! I'm not a huge fan of baby gloves because it just feels like too much work. They wiggle and try to grab the gloves while you are putting them on. Then you eventually give up.
So in the baby bunting we have, it has fold over sleeves to keep your baby's adorable fingers warm inside the fleece.
If you are out driving, we've used this car seat cover with all 3 of our kids. It is much safer than buckling your baby in with a large coat on and it keeps them nice and cozy. The only drawback is if you are getting in and out of the car that means you need to lug around that heavy car seat.
This time around we've also used a cover on the stroller. It's nice to be able to go out for a walk when the sun is shining even in the winter. Bonus because I can do this without worrying about our baby being too cold.

#4 Blankets and Layers
If you are going to be spending considerable time outside I'd consider layering your baby. Merino wool is always a great option because it helps regulate your baby's body temperature and it's a natural material against his or her skin.
You can also use a blanket in the car or stroller to keep your baby covered instead of a big bulky coat.
Though I didn't like using a blanket in the car until our babies were about a year old. Just in case it accidentally went over their face I wouldn't want to panic and swerve the car while trying to remove it from them.
#5 Use a Baby Carrier
I love baby carriers. Especially with 3 kids I like being able to put the baby in the carrier so I have two hands available for antsy preschoolers.
We use the Ergobaby Omni 360 All Carry Positions Baby Carrier. It keeps our baby warm against our chest and we can keep an eye on her if she seems to be getting cold.
So there it is! 5 ways to keep your baby warm in cold weather. Now I'd love to hear from you! How do you keep your baby warm in winter outside?
Share your suggestions in the comments below.
Also be sure to follow us on Instagram for more tips and mom hacks!