Hilton Head With Kids Everything You Want to Know!
On our way to the airport with 3 kids ages 6 and under I had a knot in my stomach. "Are we crazy!?" "Why did we think this would be a good idea?" My husband and I booked a vacation to Hilton Head with kids ages 6, 4 and 6 months old. A few weeks prior we found out our youngest baby was allergic to egg and my nerves were high. I was second guessing everything. But after a smooth flight my heart immediately better. Now that we are home I am SO glad we took the risk and went on this family vacation with small kids.
I've vacationed in Hilton Head when I was younger, but this was our first experience as a family. I always do research before we choose a vacation destination and resort. So I want to give families with small children tips and tricks to have a great vacation with kids at Hilton Head Island!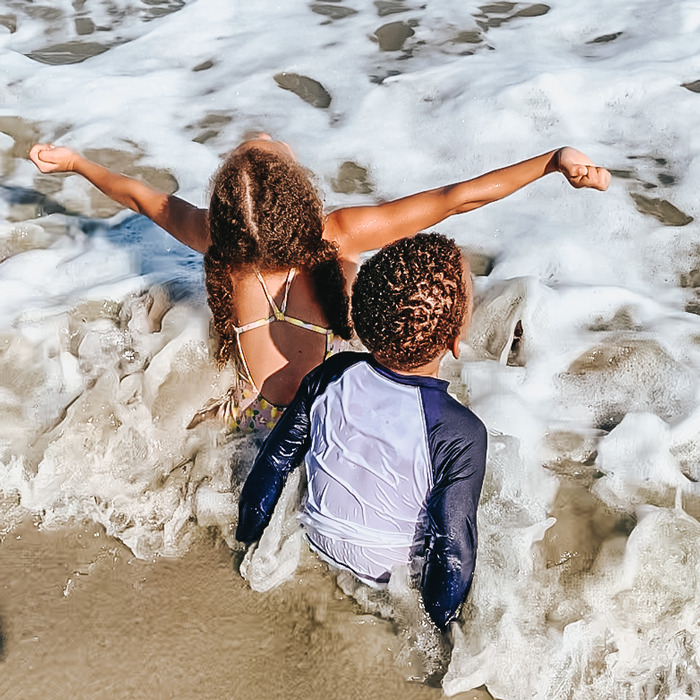 First, a family friendly resort is key.
We stayed at the Disney's Hilton Head Island Resort. When I mentioned this to friends in person and on my Instagram stories many people commented they didn't even realize Disney had a property there. If you are part of the Disney Vacation Club (DVC) you can use your points to stay here, but the great news is you don't need to be a part of the DVC to book a room or villa.
We found the hospitality top notch at this resort. We experienced all the Disney magic, but in a low key setting.
Read our post all about vacationing at Walt Disney World with Preschoolers here.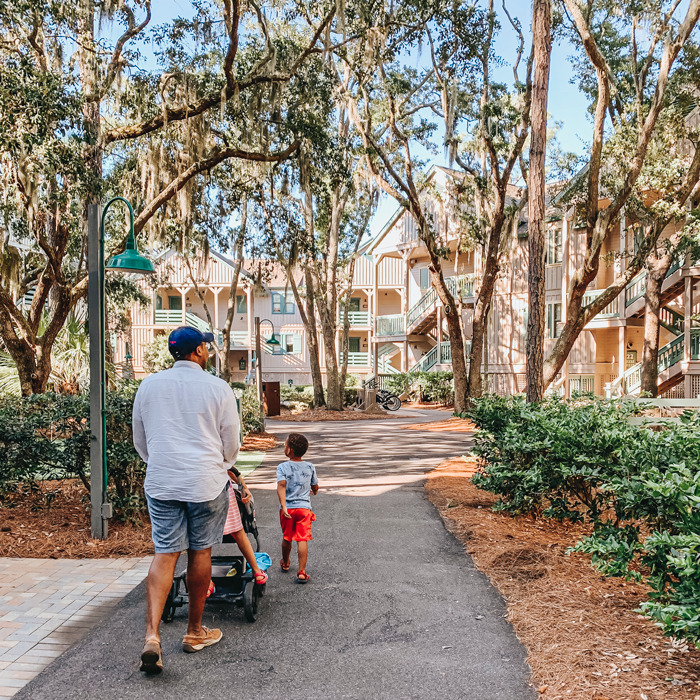 I would 100% go to this resort again! It was PERFECT for our family. We stayed in a 2 bedroom villa and I was amazed at how much room we had. You can see a quick tour in my Instagram story highlights under "Disney HHI."
One of the best features was the kitchen. I wanted to go on vacation with our family, but eating out at every meal with 3 active kids just didn't seem like something we could handle yet. So we ate breakfast in our room every morning and we often brought food back to our villa.
Second, find out what kid's activities are available.
When we picked this spot as a family vacation we wanted something fun but low key. With a 6 month old we wanted to be able to relax and go back to our room if she needed to nap. So we thought a beach vacation would suit our family best.
The beaches in South Carolina are so clean and the waves at the beach were perfect for our small kids.
When it came to planning our vacation's itinerary, the Disney's Hilton Head Island Resort made it easy. There are kids activities throughout the day at the resort. Many of them are free such as Goofy's Bingo, Shadow's Playtime or the night time campfire.
There are a few activities such as Mickey Tie Dye or Beach Bracelets that include an extra charge. But we felt the price was minimal.
Throughout the resort there are also a few play spaces. Our 6 and 4 year old had a blast practicing their putt putt skills and basketball skills. One of us would often go out to play with the older kids while the baby napped in the room.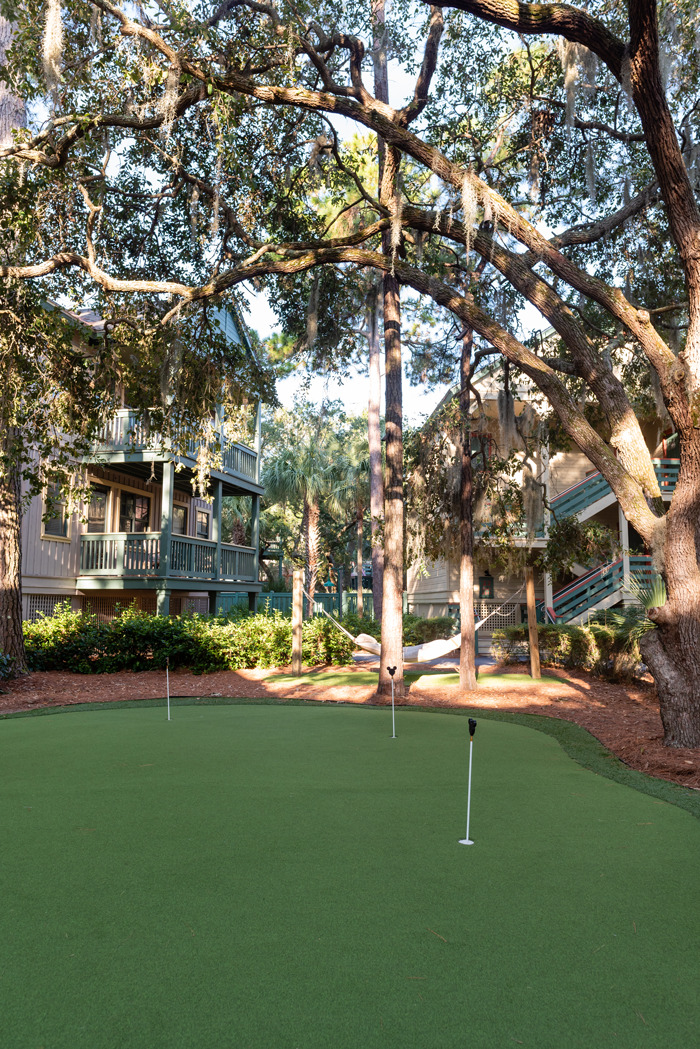 We definitely wanted to go to a larger mini golf place during our stay and of course there are a few themed courses on HHI. We chose Pirate's Island. The kids loved the pirate theme and they had several courses to choose from. We also visited a few shopping centers to get some souvenirs including the Broad Creek Mercantile Shop at our resort!
Many of the outside shopping centers had kid friendly activities and nice places to walk. We visited Coligny Plaza and Shelter Cove Community Park.
Other than mini golf and resort activities we spent a large part of our time at the beach and pool. Our daughter was so proud to go down the slide all by herself and the lifeguard gave her a "queen of the slide" button. This made her day and now it proudly hangs on her school backpack so she can see it all the time.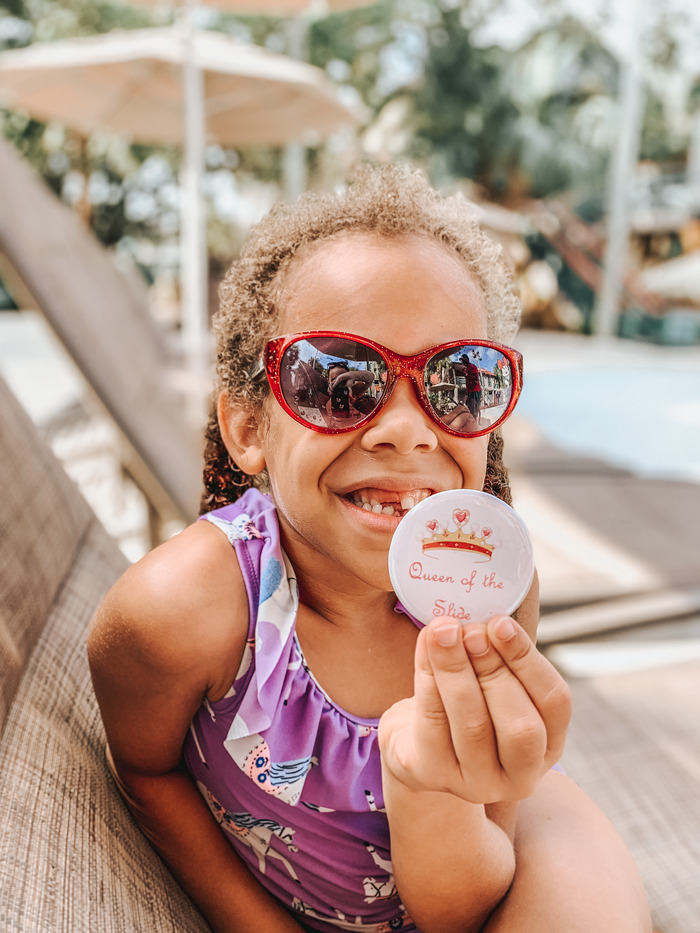 Again we wanted something low key so this was enough activity for us. If you have older kids or want to explore more of the island here are a few great places I researched ahead of time:
The Sandbox Interactive Children's Museum
Gregg Russell Harbour Town Playground
Finally, the bike paths!! There are so MANY places to rent bicycles and there are awesome bike paths in HHI. We hope to come back when the kids are a bit older so we can explore the island this way too.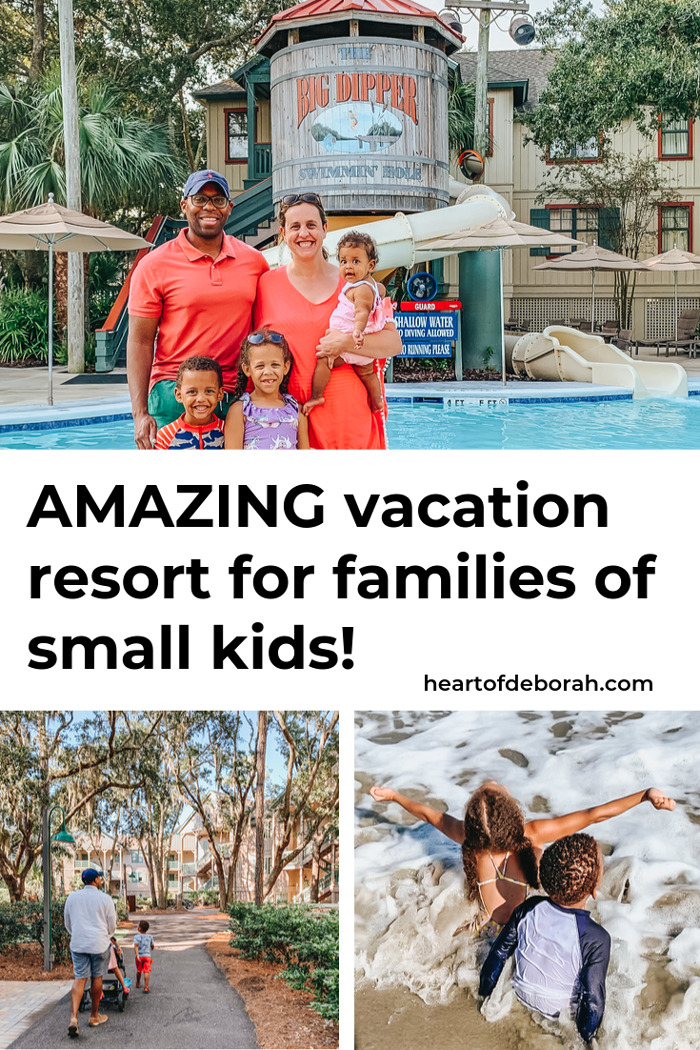 Third, find the best food options.
Our resort had two counter service food options. One near the pool at our resort and one at their beach house. All the food we tried was delicious. We especially enjoyed their kale salads and the kids loved the power pack lunch option. They also have mickey waffles, pineapple dole whip and mickey ice cream!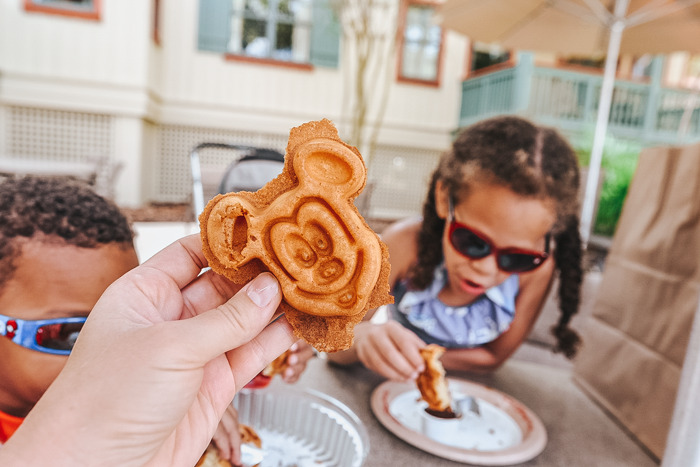 A few miles from our resort was a Whole Foods and Kroger grocery store so we stocked up on snacks and breakfast foods. We drove to these stores, but you could easily take the 15 minute walk.
Outside of the resort we ate at Delisheeyo and the Java Burrito Company. Both had delicious healthy food options!
Finally, I want to address some complaints I read online when researching resorts. A few people complained that the Disney resort didn't have any sit down restaurants or character dining. For us that didn't matter. To be honest our kids don't love waiting for food and with a small baby it was just easier to have quick service options. We loved the food at the Disney beach house and of course the famous pineapple dole whip didn't hurt either!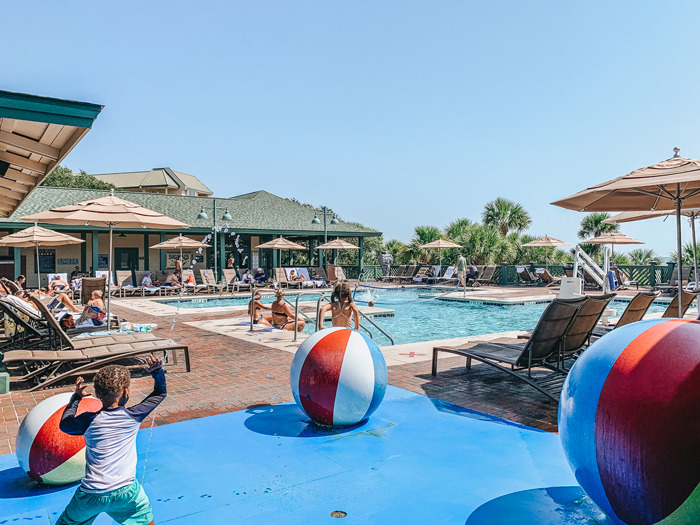 I also read that people didn't like how the beach was not right on the property. You have to take a shuttle, ride your bike or drive your own car over to Disney's beach house. Again, this didn't bother us. We kind of liked that there was an additional pool, splash pad and restaurant separate from our villa.
They also have restrooms with showers at the beach house. So we could get all cleaned up and organized there before we headed back to our room (less sand in our space). Since we rented a car from the airport we felt it was really convenient to drive the 3 minutes to the beach house.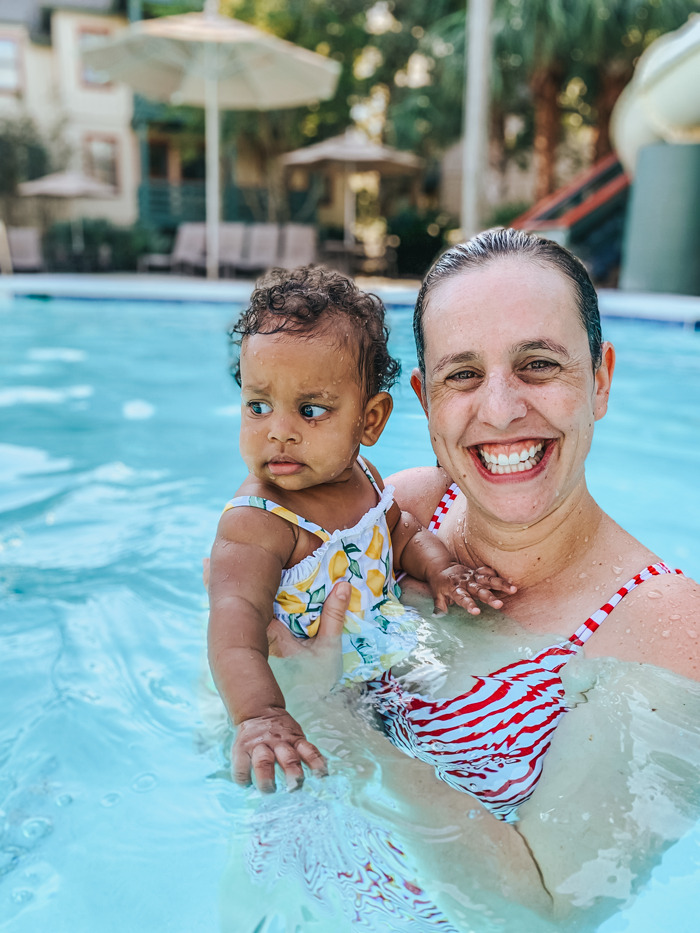 For the price I would highly recommend staying at Disney's Hilton Head Island Resort if you have kids. We felt for all the space and amenities the cost of the room was extremely reasonable.
So how about you? Have you stayed at Hilton Head with kids? I'd love to hear your tips and experiences in the comments below.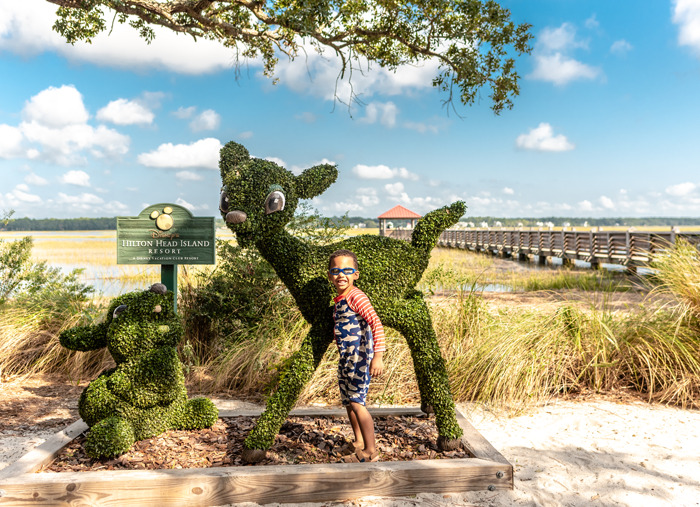 Also this post is not sponsored just one mom's views on a vacation!