5 Meaningful Ways to Support Health Care Workers Today
I'll be honest, I never really thought of the dangers of being married to a physician until last month. Last week my husband worked in the hospital for 7 days straight.
The day before his 7 day stretch I broke down in tears, I was nervous. For him. For our family. For the world.
But throughout the week, we both felt an abundance of support from friends and family. It really made the week go by faster and it was amazing to feel love from so many people.
It doesn't cost a lot of money to send someone love and I can tell you firsthand it makes a big difference.
So today I want to share with you 5 meaningful ways to support health care workers.
#1 Write a Note
I can't tell you how BIG of a difference this made in my husband's overall mood. He is a man of few words, but when he received cards in the mail, I could tell it made his day.
He even proudly displayed a few on our TV console.
Handwritten notes seem so simple, but they are so powerful. Write to health care workers you know and thank them. Tell them you are thinking of them and write a scripture in the card to encourage them.
You may never know just how big of a difference this simple gesture can make in someone's life.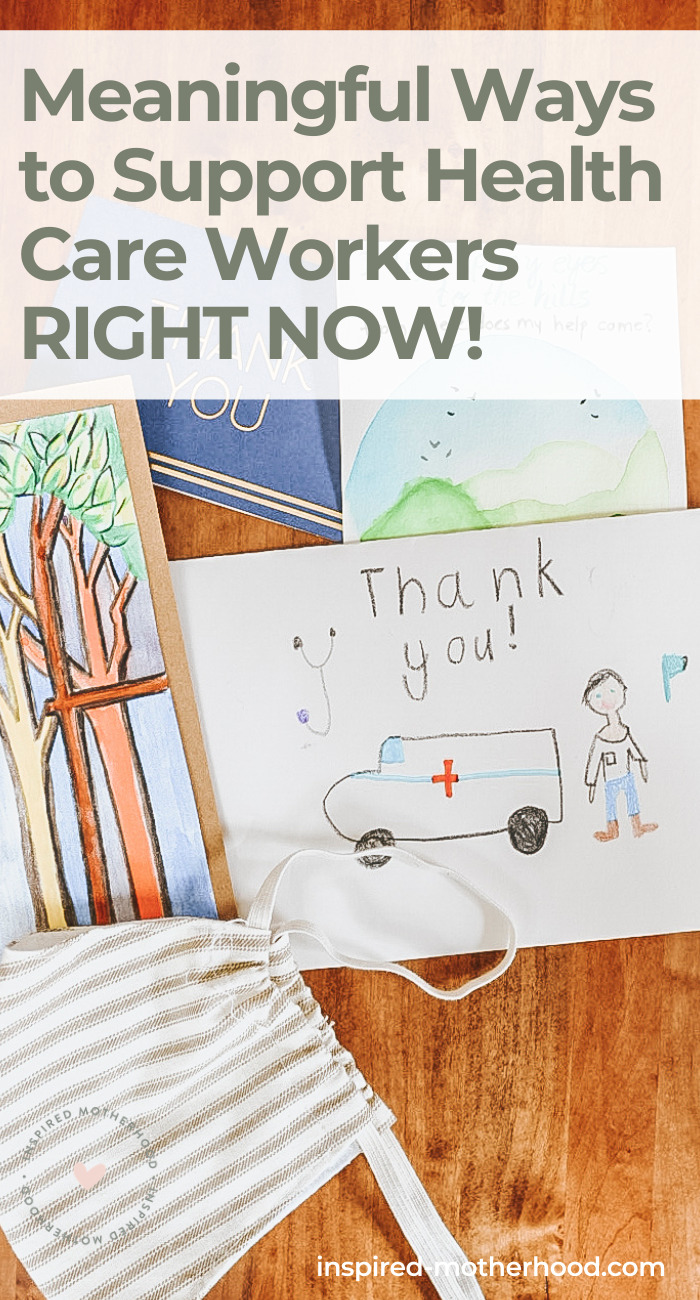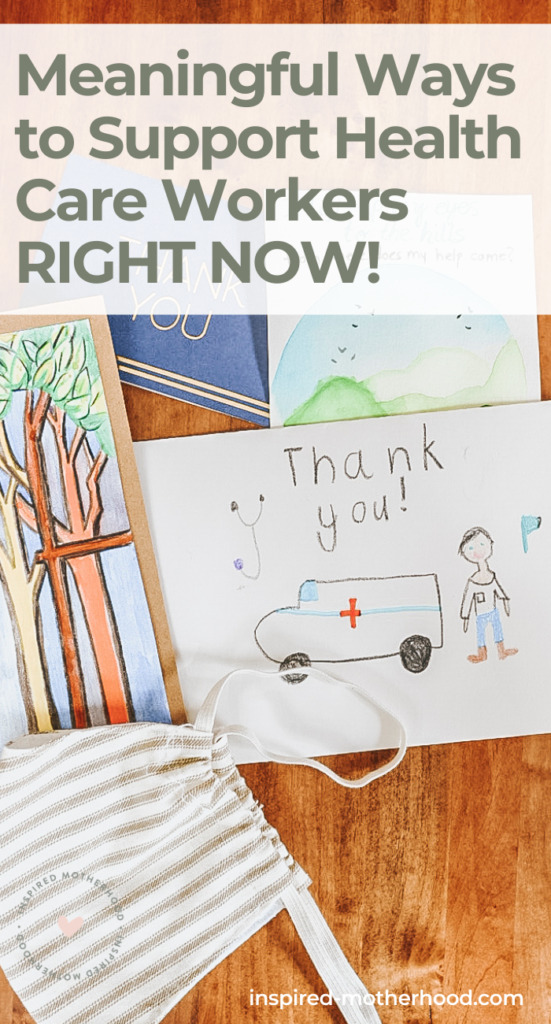 #2 Send a Care Package
One of my Instagram friends made a care package for her childhood best friend who is a health care worker. She filled it with snacks, tea and words of encouragement.
I am SURE it made her friends day. It's these little things that let other people know they are loved.
Really for any friend who is going through a difficult time, how wonderful would it be to receive a little care package?
Reach out to others. I know I would appreciate it.
#3 PRAY
The day my husband went in the hospital he said to me "you know how you can just tell people are praying for you? I feel that right now."
WOW! So if you prayed for us in the past few weeks, thank you.
This is maybe the most powerful thing you can do right now for health care workers. Pray for their safety, protection, wisdom and discernment.
Pray the virus retreats and we can find safe and effective ways to heal this disease.
Storm heaven with your prayers!
#4 Get Your Kids Involved
Although there are perks to being married to medicine there are also drawbacks. Like patient phone calls at 2 AM, daddy missing special holidays (like Christmas 2 years ago) and weekends alone with the kids while everyone else seems to be having family time.
My mother in law has encouraged me from the beginning not to complain about this in front of our kids.
She would say like things "tell them how important daddy's job is and what a blessing it is that he can bring joy to patients on Christmas." Instead of making them feel even worse that daddy isn't around.
This advice has come back to me during this stressful time in our world. Instead of bringing worry to their little hearts, I'm being intentional about sharing with them the importance of essential workers.
One way we did this recently was through chalk art. We aren't pressuring our kids to be nurses or doctors, but we don't want them to shy away from it because of fear.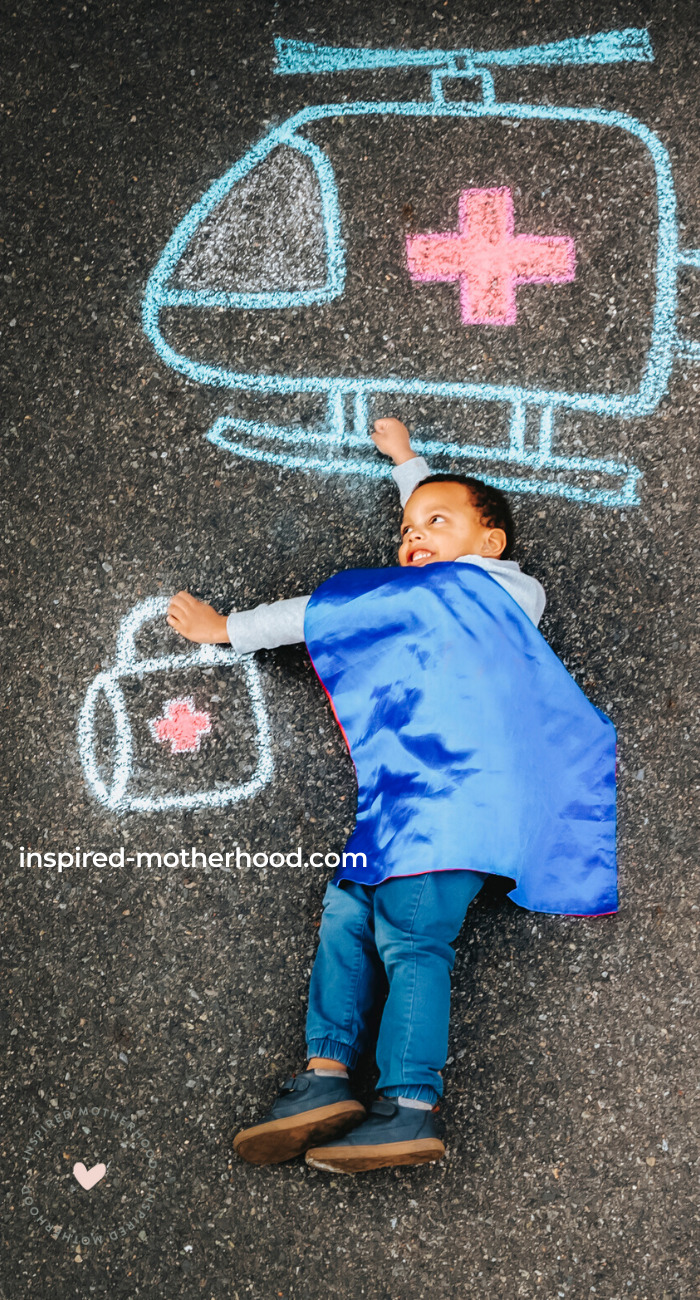 We want them to see essential workers as super hero's and to thank these hero's for their service.
So involve your kids. Whether it's making uplifting sidewalk messages for your neighborhood or having them draw pictures and cards for essential workers.
Don't ignore their little hearts during this situation. I guarantee they are listening. What message are you sending them?
#5 Do What You Can
Don't stress if you can't add one more thing to your to-do list. If you are in a tough situation right now, take care of yourself and your family. Do what you can.
And when it comes to medical supplies…you don't hear about mask shortages as much anymore, but I can tell you it's still something health care workers are thinking about.
We've received multiple handmade masks and surgical caps and it's been such a blessing. It's a great way to support health care workers.
But you don't have to know how to sew to be helpful. If you love to cook, make some meals. If you have a heart for encouragement, send notes, text messages or emails. If you have extra supplies to donate, find a medical practice to donate them to.
Also don't forget your favorite health care worker's spouses and kids. Yes they aren't fighting in the front lines, but this is impacting them too. Check in on them, I'm SURE they will appreciate it.
It doesn't need to be a big grand gesture to be impactful. Find your gifts and spread the love.
So what about you? Do you know someone in health care? Or an essential worker? What are your favorite ways to support health care workers during this difficult time?
I'd love to hear from you in the comments below and on Instagram @inspired.motherhood.
Read This Next: