Encouraging Kids to Play Creatively
As parents we have the ability to encourage our kids to play creatively! We are powerful role models for our children. We teach them how to play and how to use their imaginations. As a psychologist I find this fascinating! My husband and I recently had a conversation about encouraging kids to play creatively and we brainstormed a few ideas to help parents create a culture of play in their homes. Here are 4 easy ideas to bring your child's imaginations to life and maximize playtime.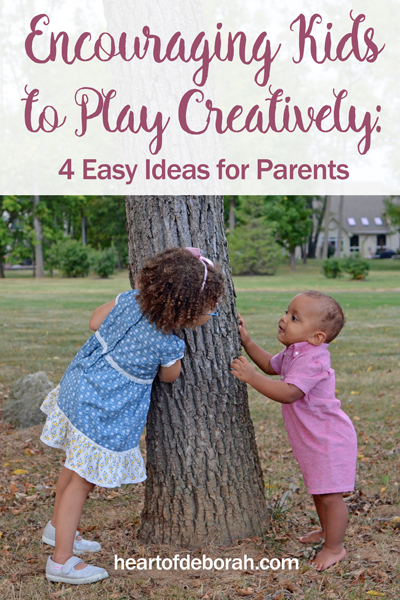 Encouraging Kids to Play Creatively
Slow Down & Limit Toys With Batteries: If you are a parent I can almost guarantee someone has told you "appreciate it now; it goes by so quickly." It's so true! We can miss moments with our kids when we are too wrapped up in life and it's so easy to do. One way to foster creativity in your home is to put down the electronics. Now I know this isn't easy, but play is essential for early learning. As parents we are our children's first partners in play and some of their greatest role models. So as hard it may be we need to find time to put down our gadgets and get on the floor to play. In our family, the number one tip for maximizing playtime is to slow down and meet our kids right where they are, on the floor!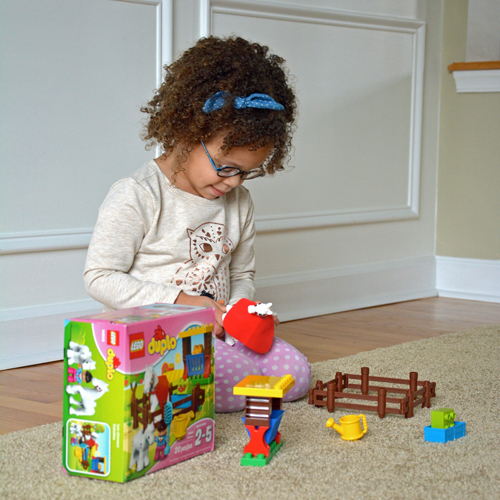 Choose Toys Wisely: Finding the perfect toy isn't an easy task, especially with all the options out there. In our house, LEGO bricks are an all-time favorite. Our daughter loves to build and pretend when she plays with her LEGO toys. DUPLO bricks are perfect for preschool age kids because they are designed for small hands and twice the size of standard LEGO bricks. Izzy loves creating different stories and adventures with her horses set. I like it as an adult because the possibilities are endless. We can engage in free play and build as we wish or we build the suggested DUPLO brick designs. If you get "stuck" and don't feel too imaginative go to the instructions or the box for inspiration!
4 Easy to Implement Ideas for Parents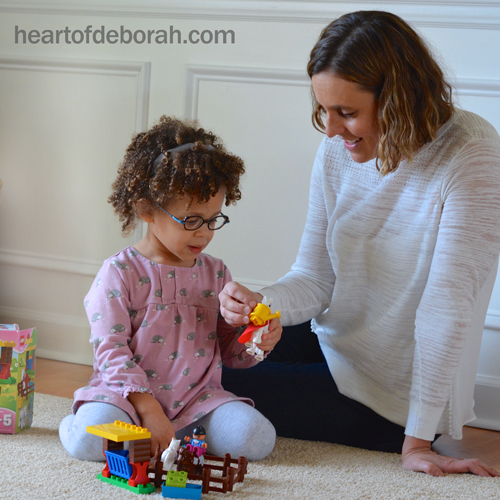 Ask Questions: As a busy mom I understand that you may not always want to engage in imaginative play. For whatever reason pretend play can be difficult for adults. On the flip side, we must remember it comes so naturally to children! One of the best ways to build a culture of creativity and play with your little one is to ask questions. LEGO DUPLO suggests asking "what if?" when playing with the DUPLO bricks. During our playtime I asked my daughter: "What if your horse gets hungry?" She wanted to give him a drink of water right away, it was too cute. Asking questions is an easy way to nurture imagination and engage your child in pretend play.
Encourage Problem Solving: Last, but certainly not least inspire creative play by encouraging problem solving. It's so tempting to jump right in when our kids need help. It's not easy for me to see our daughter struggle, but I'm working on letting her figure it out first. I give her space and time to solve the problem before I offer any help. You never know, she may come up with a solution I never thought of! Using our creativity often leads to innovation. What a great skill to pass down to our children. Finally, model problem solving skills to your kids during play time. Do this by thinking aloud and sharing your frustrations as well as your victories. Also ask questions like "I wonder what would happen if…"
I'd love to hear from you! How do you maximize playtime in your home?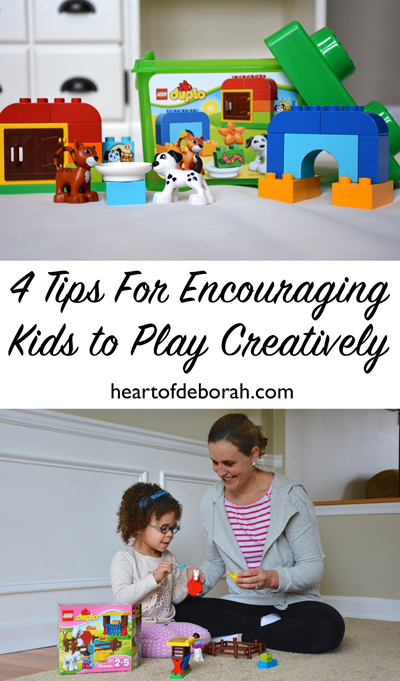 I was selected for this opportunity as a member of CLEVER and the content and opinions expressed here are all my own.