Season Everything with Love Printable
A few weeks ago I shared some of my favorite simple farmhouse kitchen decorations. We don't have a huge budget for decor right now so I tried to find affordable yet tasteful ways to spruce up our kitchen. I love designing things on the computer and chalkboard backgrounds seem to be really in right now. I've created a few chalkboards with paint in the past, but this time I decided to use a chalkboard background on the computer. I added the text "Season Everything with Love." I love the simplicity of the design and how it looks in our kitchen.
You can download the printable for yourself! It is formatted for 8 x 10 inches.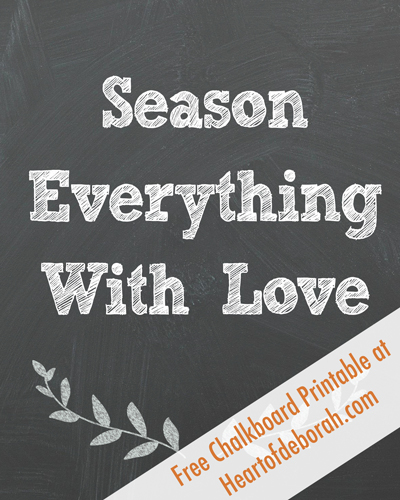 I hope this printable brightens up your kitchen! Thanks for stopping by Heart of Deborah. Be sure to follow us on Twitter, Pinterest and Facebook.