Freshly Picked Moccasins Giveaway
One of my favorite ways to prepare for baby is to set up the nursery. I also love buying adorable baby clothes. I'm a sucker for cute clothes. As expected, it seems our boy is going through multiple outfits a day. So far I've loved dressing him in soft blues and grays. When our daughter was first born we got a few of Freshly Picked moccasins for her. It was the perfect addition to her wardrobe and we felt the soft soled shoes helped when she was first learning to walk. We couldn't wait to get a pair of the moccasins for our baby boy.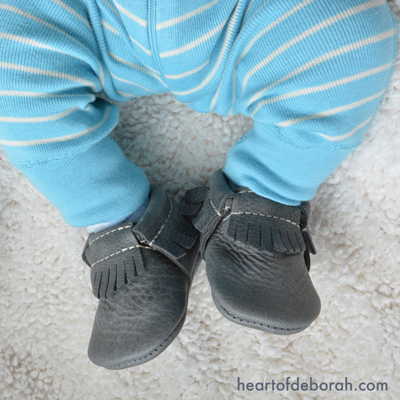 We decided on the Blue Spruce color from the Utah Collection. I honestly debated between ordering the crib moccs made for newborns and size 1. Our baby boy was large at birth and he is probably already 11-12 pounds at 3 weeks old. I ended up going with size 1. There is a little room to grow, but I'm happy with the decision I made. There is a nice size chart on Freshly Picked's website. I would definitely recommend measuring and remeasuring before you order. I always seem to have trouble ordering shoes online for our kids, but I'm thrilled with how these turned out!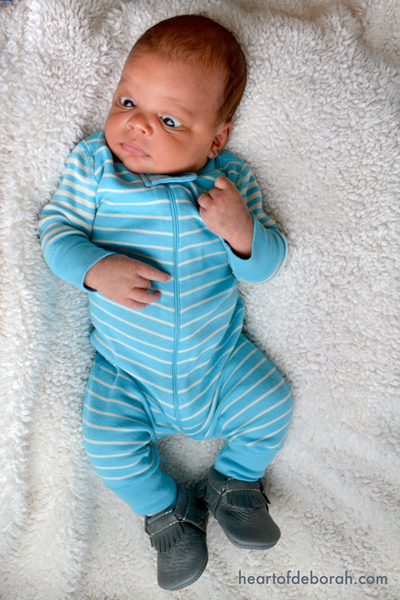 One of the reason I love soft soled shoes for newborns and babies is because they are flexible. The shoes seem to mold to your baby's feet and I personally think this is best for natural growth. I also love that Freshly Picked moccasins are made in the USA and the leather is amazingly soft. It was difficult choosing only one color for our baby boy. There are so many beautiful choices. I know the moccasins are pricey, but because of the quality they last a long time. I'm hoping to clean up a pair of neutral colored moccasins we had for Izzy so our baby boy can wear them when he gets older. In my opinion, the moccasins are an investment worth making.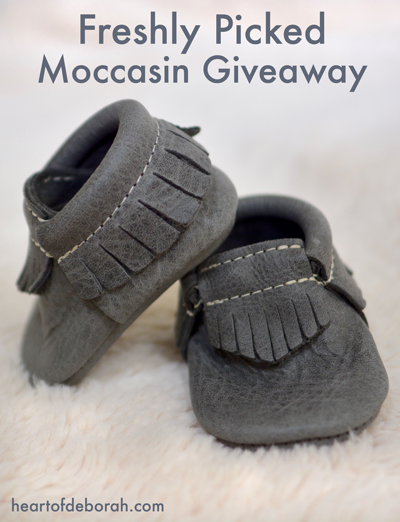 Now for the best part! I love that I can give away one pair of Freshly Picked moccasins (retail value $60) to a Heart of Deborah reader. You choose the color and the size! Open to US residents only.
Disclosure: This post has been sponsored by Freshly Picked. Although I received a pair of moccasins to review, all opinions expressed are 100% my own. All giveaways are free of charge, no purchase necessary to win. Giveaways are not affiliated with or endorsed by Facebook, Twitter, or Pinterest. Heart of Deborah is not responsible for any prize not fulfilled by the sponsor or damaged during shipping.