Little Passports: Gift Idea for Preschoolers
I can't believe our 3 year old is going to start preschool in less than a month! It seems like just yesterday we were bringing Izzy home from the hospital as we started our journey in parenthood. Although we are sending her to preschool we love reading, exploring and crafting at home as well. I've been eyeing Little Passports for a few months now. When they asked if we wanted to try their early explorers subscription I was so excited. Who doesn't love a good subscription box? Have you ever tried one?
My interest was initially peaked with Little Passports because their boxes emphasize exploring and exposing children to different cultures. The early explorers set is for children ages 3 to 5. There is a new theme each month such as music, oceans or world celebrations. This month we got to explore the ocean! My daughter was so excited because she has been really into Finding Nemo recently. The ocean theme couldn't have been a more perfect fit. The package included an activity booklet, souvenirs, trading cards, photos and stickers. Izzy loved putting the stickers on her suitcase and reading about all the different animals living in the ocean.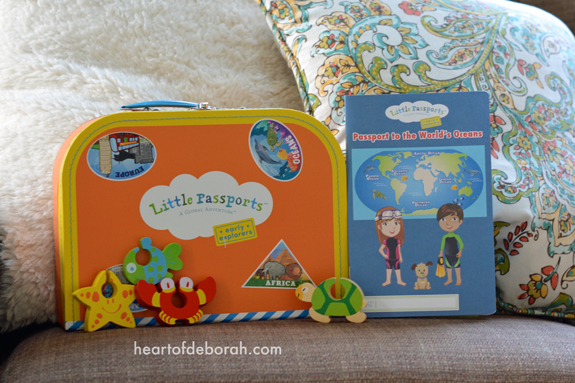 I have to be honest the activity book is probably best for 4 to 5 year olds. Although the skills were somewhat advanced for Izzy she wanted to do everything. I could tell she was really excited about trying all the activities. At this point, she is still young and we don't want to force her to do schoolwork. But I have to say she didn't see it this way at all. Izzy thought all the activities were fun. She even asked me to do more. This made my mama heart happy.
Little Passports: Gift Idea for Preschoolers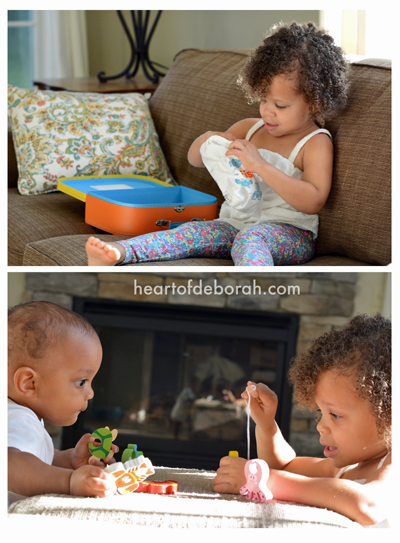 Izzy has also really enjoyed the ocean fishing toy. It's great for fine motor skills. You can also play with the wooden animals in other ways too. Even her baby brother got in on the action. Every morning when Izzy wakes up she asks "Where is my suitcase?" She loves pretending she is packing for a trip and she takes her suitcase to different parts of her world (our house).
I want to summarize the main benefits of the Little Passports subscription box. First, it is the gift that keeps on giving. I love this as a birthday gift or Christmas present. Each month there is anticipation about receiving the new theme in the mail. Who doesn't love getting mail!? I also like that you can use the theme as a base, especially if you are homeschooling. You can build on each theme by getting books from the library, finding related crafts on Pinterest or exploring the outdoors. I also like that the older subscription boxes include different cultures and countries. I love learning about different cultures and trying different ethnic foods. This is something I definitely want to share with our children.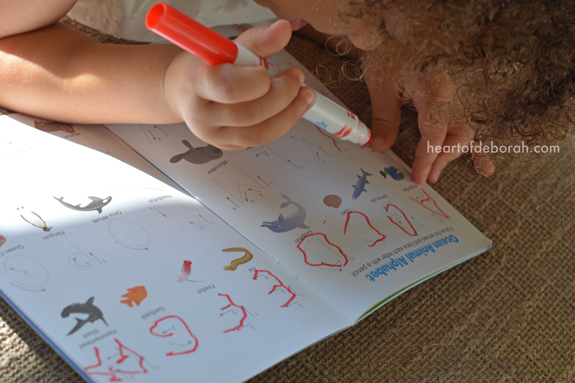 I want to give an honest review and there were two negatives I could think of. First, I felt a few of the activities were too advanced for a 3 year old. Lastly, I wish there were a few more hands-on activities. That being said I enjoyed our experience and Izzy seemed to enjoy it much more than I thought she would!
Learn more about the Little Passports subscriptions here. Also be sure to follow them on Facebook for the latest sales!
What do you think of Little Passports?