Oops is Okay – Building Problem Solving Skills in Kids
Our oldest child is somewhat of a perfectionist. At her preschool end-of- year ceremony, the teachers asked the students, "what is the hardest thing about being a kid?" She said "staying inside the lines while painting!" It made me laugh because I know her personality. Our daughter is very diligent and someone who wants things to be just right. She sometimes gets upset if she makes a mistakes or has an "oops" moment.
As parents, we can teach our children that "failures" are okay. Life is all about trial and error and learning from our mistakes. Everyone makes errors, so how can we use these "oops" moments to help build problem solving skills in kids?
First, don't let these moments of "failure" get your kids down. In fact, especially in childhood, they are often great opportunities to teach our children. We can ask questions like "Why did this happen?" and "What can we do differently next time?" to help our kids think things through. Dealing with failure and trying again are important parts of the learning process.
So instead of worrying about making a mistake, what would happen if we encouraged our children to try their best even if that means failing?
It's easier to teach kids these life lessons in low-pressure situations.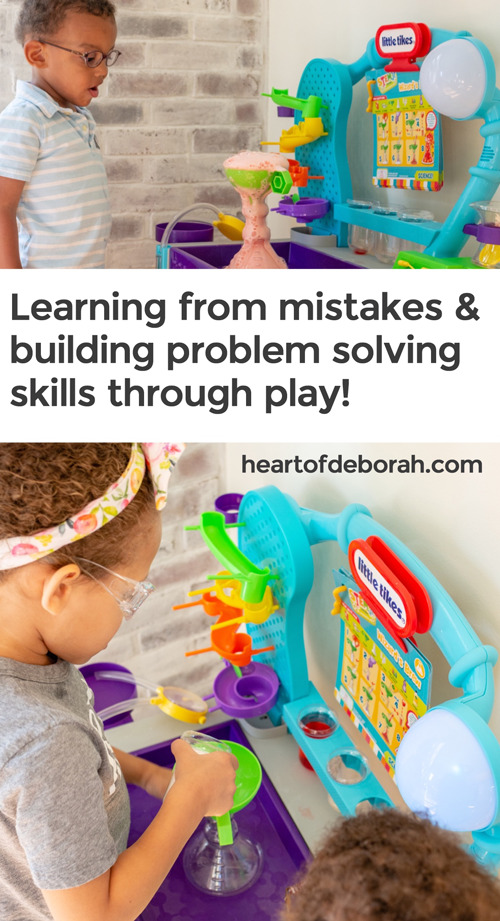 For example: when kids are playing or experimenting!
Enter the new STEM Jr. Little Tikes Wonder Lab from Little Tikes. Thanks Little Tikes for sending us this awesome toy!
It's the perfect toy to build your child's problem solving skills and explore STEM (science, technology, engineering and math) concepts. With 20 unique experiments and 50+ accessories, your kids won't want to stop exploring!
STEM is all about trial and "error" and exploration.
We've done all 20 of the engaging experiments Little Tikes created for little scientists. Our kids really seemed to enjoy the variety of experiments. Each experiment added different skill and something new to their growing foundation of scientific concepts.
One of the experiments, Wizard's Brew, didn't work out the first time we tried it. I later learned, it was my fault for not completely following the directions! This "oops" moment was the perfect opportunity to teach my children to learn from their mistakes.
Instead of getting frustrated, I remained calm and told them we'd try again. In the process, I demonstrated that "oops" moments are okay and we can learn something new when we make a mistakes. I shared with them the importance of following the directions and gathering all the ingredients before you start the experiment.
Modeling patience and perseverance is another great way to build problem solving skills in kids.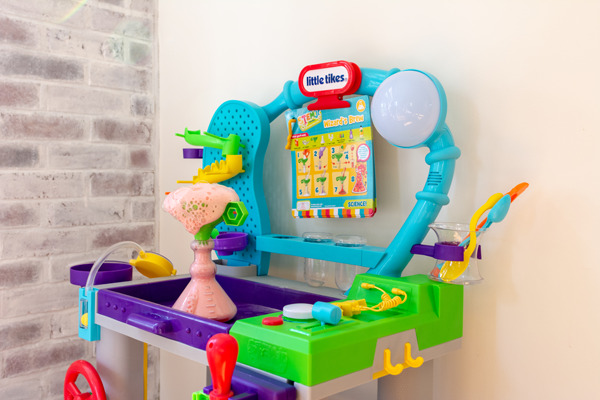 When we tried doing the Wizard's Brew experiment a second time, it worked perfectly. The kids were so excited to see our beaker bubbling over!
Do you have a little scientist who loves hands-on play? You must check out the STEM Jr. Little Tikes Wonder Lab from Little Tikes.
Use the Wonder Lab to build problem solving skills in your kids and build lasting memories together. It's the perfect educational toy that your kids won't want to stop playing with.
Be sure to follow Little Tikes and Heart of Deborah on Instagram for more inspiration!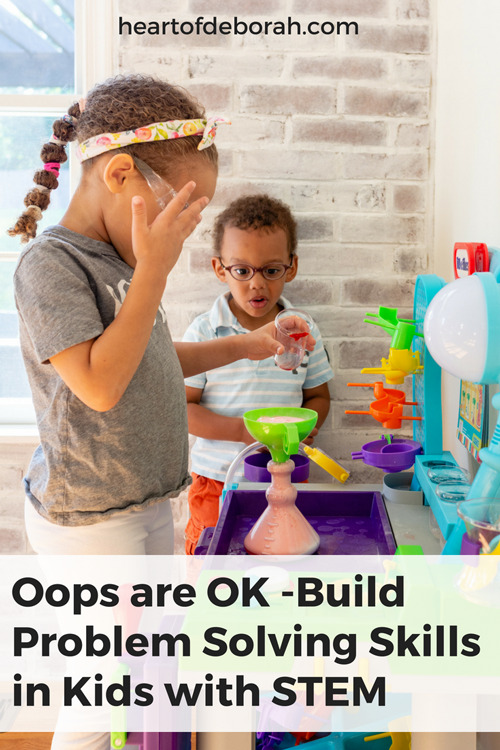 Thank you Little Tikes for sponsoring this post