The Ultimate Dramatic Play Coffee Shop For Kids
Pretend play is a preschooler's dream! Kids love to make believe AND it's great for their development. Kids are constantly learning even as they play.Because I love imagination so much I created several dramatic play center for preschoolers.
The good news? You can download the free signs and order forms at the end of this post so you can create your own dramatic play coffee shop at home!
P.S. You don't want to miss our whimsical floral shop!
Your kids will love playing coffee shop in your own living room.
This post contains affiliate links.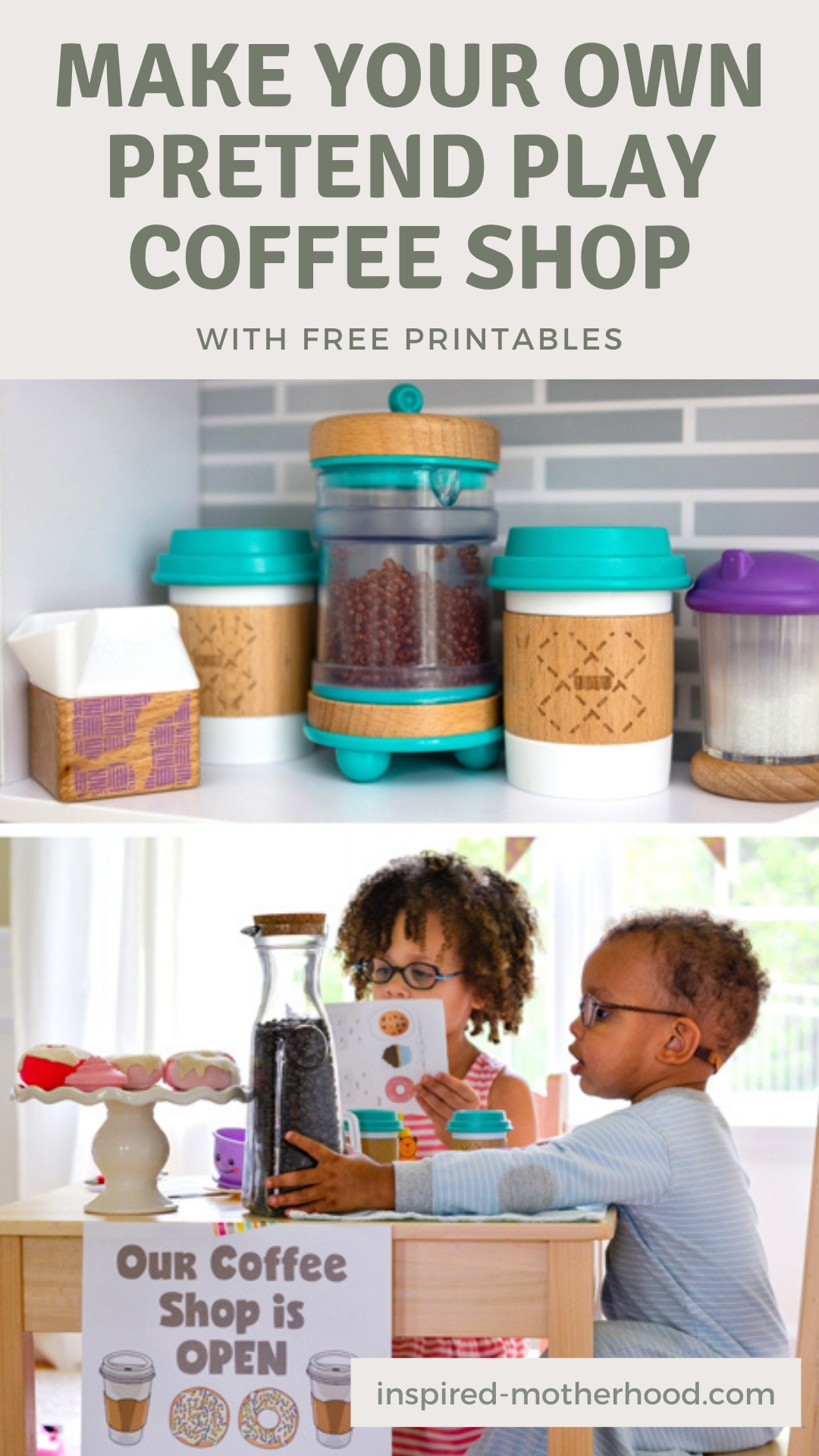 Supplies for Your Fabulous Coffee Shop:
Dramatic Play Coffee Shop
Before you open your shop, gather your supplies. We had a lot of the kitchen accessories already. So I tried to gather all the cups, mugs and desserts that went with a coffee shop theme. You don't need to buy all new sets, use what you have!
We love this barista coffee set for our favorite coffee drinks! You don't necessarily need a play kitchen to set up your coffee shop.
We used our wooden kid's table and a ledge in our family room to set up shop.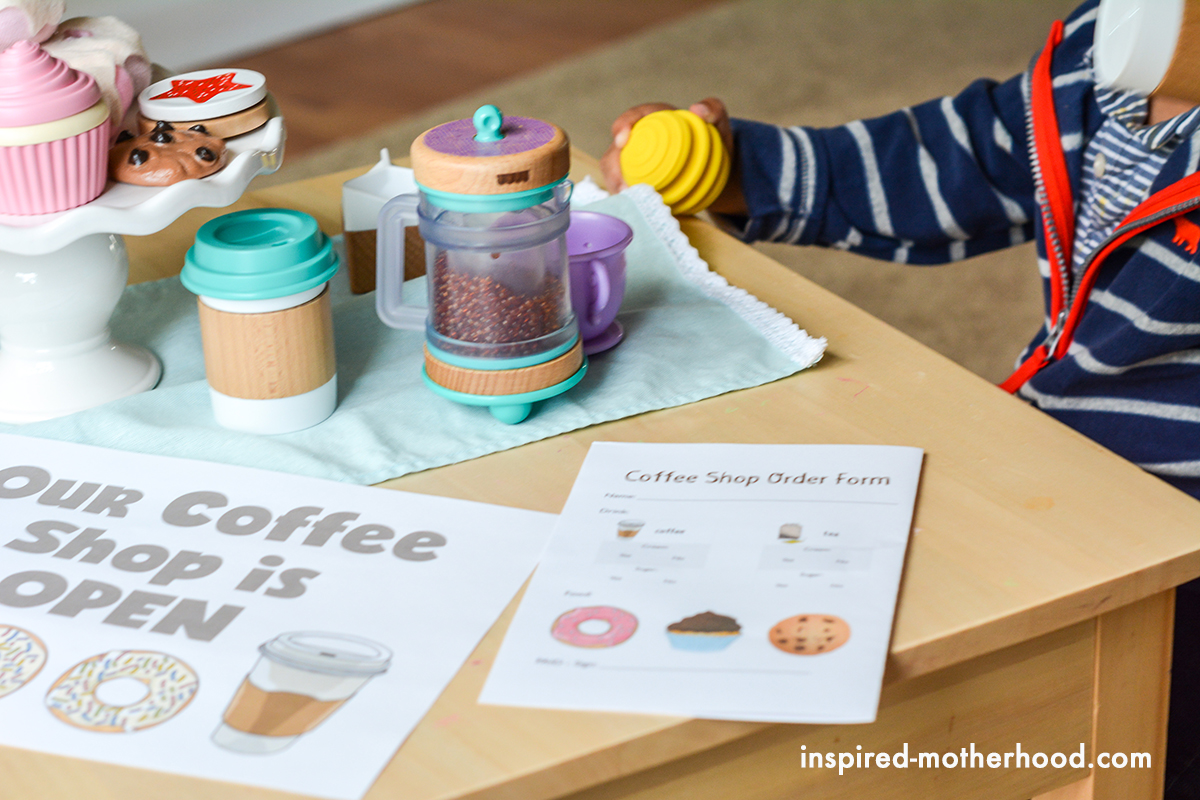 Again, it can be as simple or complex as you'd like. Kids don't need anything fancy to enjoy pretend play. Our daughter loves taking our order using the free printable order form.
Then she makes our coffee or tea. She uses her cash register to ring up our order. After I showed her how to take orders, she was able to play by herself.
Moms know how nice it is to have an activity where kids can play by themselves!
Also Kids LOVE repetition. Our daughter will take our order over and over again.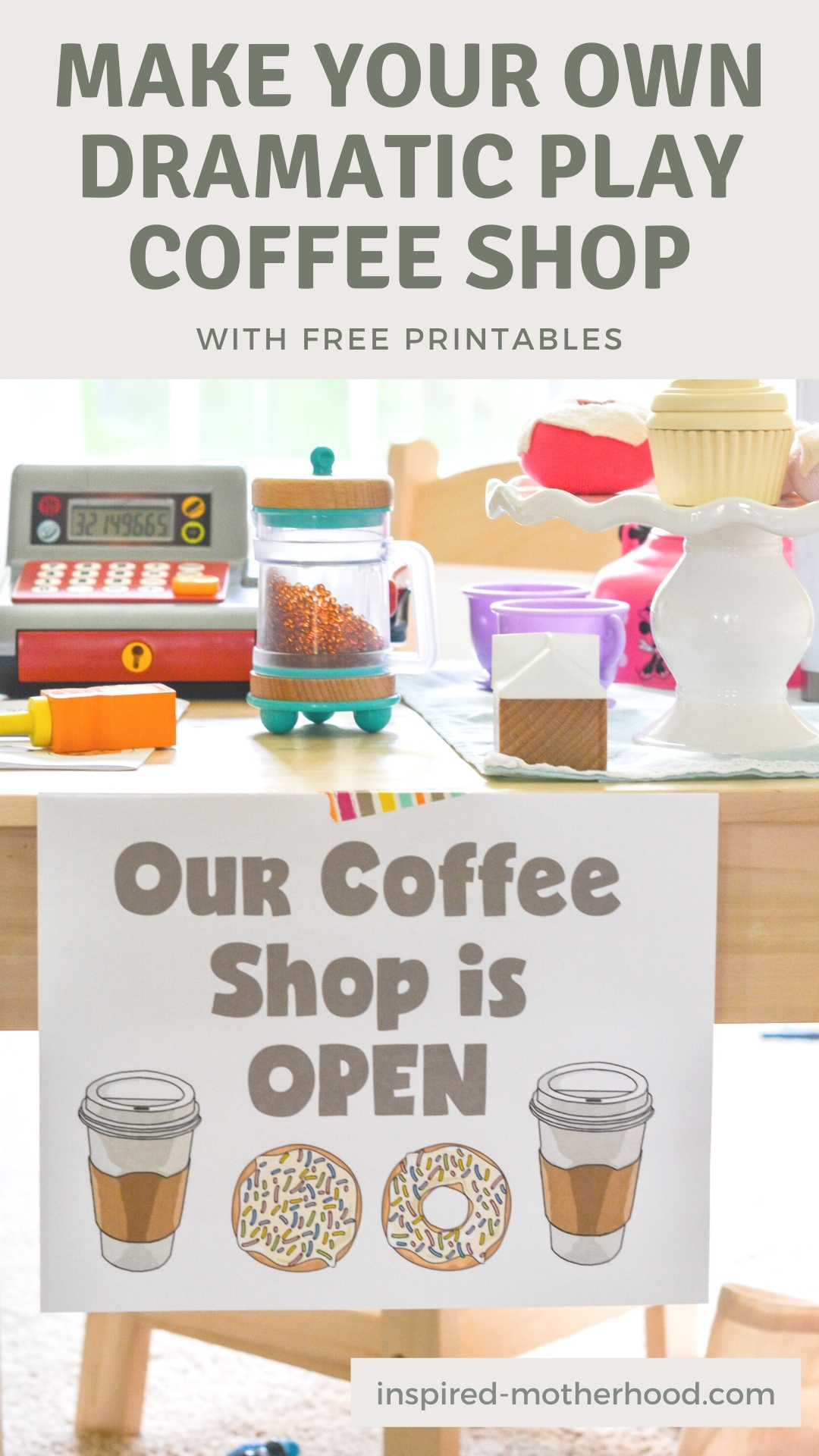 Leave your coffee shop open for a few weeks. Your kids will love opening shop each day. When they get sick of it, pack it up and save it for later. Rotating toys is a great way to fight off boredom.
Be sure to download our coffee shop freebies below!
Please note the order form includes two sides. You can fold it or cut it so you have two forms on one sheet of paper. Feel free to print multiple copies!
Now I'd love to hear from you. What is your child's favorite pretend play station? Do you try to rotate the toys in your home? Let us know in the comments below!
Have you ever set up a dramatic play coffee shop?
Also be sure to follow Inspired Motherhood on Instagram for more daily inspiration in motherhood.