Is Gentle Parenting Biblical?
If you're a parent, you may have encountered the term gentle parenting. You may have even thought to yourself, should I be following this parenting philosophy? I don't want to ruin my kids! Is this what Christian parenting should look like?
I've debated writing this post for a while now because it's something I see many parents questioning. We want to raise strong, resilient, emotionally healthy kids. But are the actions we take as parents producing the fruit we want to see in our children? I'm not sure the two are lining up the way we want them to.
Many of us grew up in the era where we heard, "Stop crying, or I'll give you something to cry about." Emotional intelligence was not something our parents learned. Therefore, they didn't teach us about it. But are we swinging the pendulum too much in the other direction? And allowing every emotion to be explored because we fear our kids won't have emotional intelligence if we don't?
What if our kids can't understand emotions? What if we unintentionally psychologically damage their minds and hearts? Is gentle parenting the answer to these questions circulating our heads?
What if we are parenting out of our childhood hurt and shielding our kids from every negative emotion which is inadvertently making matters worse? What if our actions are overreactions? What if allowing every emotion to be explored is causing our children to be less confident and emotionally secure because they don't know how to face adversity with confidence?
Together we're going to explore these thoughts and the question: Is gentle parenting Biblical?
First, we need to ask: What exactly is gentle parenting?
In an article from the Cleveland Clinic, they write, "The goal of gentle parenting is to raise confident, independent and happy children through empathy, respect and understanding, and setting healthy boundaries."
At first glance, this type of parenting sounds wonderful. Who wouldn't want to raise confident, independent, and happy children? Most parents read this and respond, yes, sign me up!
As we dig deeper, we see gentle parenting focuses less on 'good' and 'bad' behavior and more on trying to discern what a child's behavior is communicating. When following this approach, Forbes tells us a parent may ask: Is an unmet need causing my child to tantrum, talk back, or act out?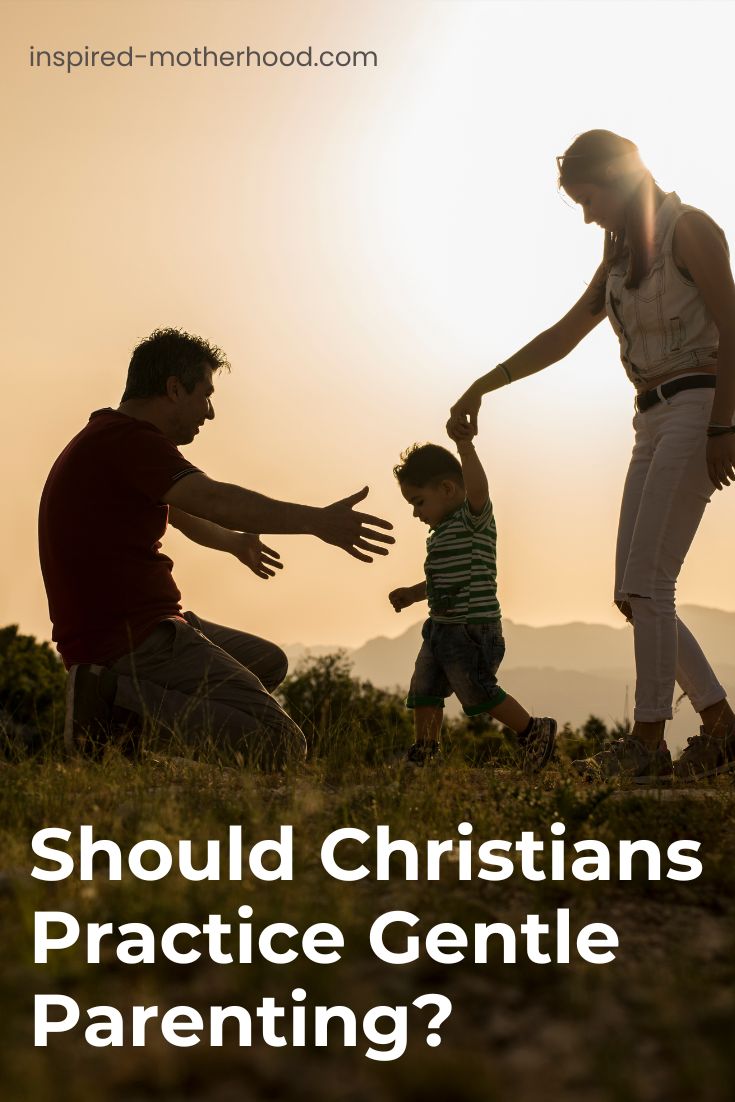 In gentle parenting, you look beyond the behavior and ask what's really going on here? Pausing and reflecting as a parent sounds like a good thing. Is it possible to take it too far? Constantly psychoanalyzing our children to find hidden emotions, thoughts, and needs is exhausting. And if we focus less on 'good' and 'bad' behavior, does that cause us to ignore sinful behavior unintentionally?
Lastly, I often see the proponents of the gentle parenting philosophy cite research on authoritative parenting and its benefits to a child's development.
So what is authoritative parenting?
Authoritative parenting is a style of parenting that is warm and sensitive to the child's needs and encourages children to make decisions with developmentally ready (Laura E. Berk, Development through the Lifespan , 282). Authoritative parenting balances parental control with parental responsiveness. Time and time again, research has proven this approach to be most beneficial for a child's social, intellectual, moral, and emotional growth.
Gentle parents assert they apply the authoritative parenting approach. The trouble is that when I see gentle parenting in action, I don't see the balance between control and responsiveness. Instead, I see a heavy emphasis on responsiveness to children's feelings.
I agree that building healthy relationships with our children is extremely valuable. But should it be the main focus of our parenting? And are feelings king?
What does the Bible say about parenting?
Now that we have a general idea of gentle parenting, let's explore what the Bible says about parenting in general. Then we can determine if Christians should use this philosophy to guide their parenting decisions.
Proverbs 22:6
Train up a child in the way he should go [teaching him to seek God's wisdom and will for his abilities and talents], Even when he is old he will not depart from it. (AMP)
Deuteronomy 5:29
Oh that they had such a heart in them, that they would fear [and worship Me with awe-filled reverence and profound respect] and keep all My commandments always, so that it may go well with them and with their children forever! (AMP)
Deuteronomy 6:5-7
You shall love the Lord your God with all your heart and mind and with all your soul and with all your strength [your entire being]. These words, which I am commanding you today, shall be [written] on your heart and mind. You shall teach them diligently to your children [impressing God's precepts on their minds and penetrating their hearts with His truths] and shall speak of them when you sit in your house and when you walk on the road and when you lie down and when you get up. (AMP)
Proverbs 1:7-10
My son, hear the instruction of your father,
And do not reject the teaching of your mother.
For they are a garland of grace on your head,
And chains and ornaments [of gold] around your neck. (AMP)
Proverbs 29:17
Discipline your children, and they will give you peace of mind and will make your heart glad. (NLT)
Ephesians 6:1-4
Children, obey your parents in the Lord [that is, accept their guidance and discipline as His representatives], for this is right [for obedience teaches wisdom and self-discipline]. Honor [esteem, value as precious] your father and your mother [and be respectful to them]—this is the first commandment with a promise— so that it may be well with you, and that you may have a long life on the earth.
Fathers, do not provoke your children to anger [do not exasperate them to the point of resentment with demands that are trivial or unreasonable or humiliating or abusive; nor by showing favoritism or indifference to any of them], but bring them up [tenderly, with lovingkindness] in the discipline and instruction of the Lord. (AMP)
Hebrews 12:7-11
You must submit to [correction for the purpose of] discipline; God is dealing with you as with sons; for what son is there whom his father does not discipline? Now if you are exempt from correction and without discipline, in which all [of God's children] share, then you are illegitimate children and not sons [at all].
Moreover, we have had earthly fathers who disciplined us, and we submitted and respected them [for training us]; shall we not much more willingly submit to the Father of spirits, and live [by learning from His discipline]? For our earthly fathers disciplined us for only a short time as seemed best to them; but He disciplines us for our good, so that we may share His holiness. For the time being no discipline brings joy, but seems sad and painful; yet to those who have been trained by it, afterwards it yields the peaceful fruit of righteousness [right standing with God and a lifestyle and attitude that seeks conformity to God's will and purpose]. (AMP)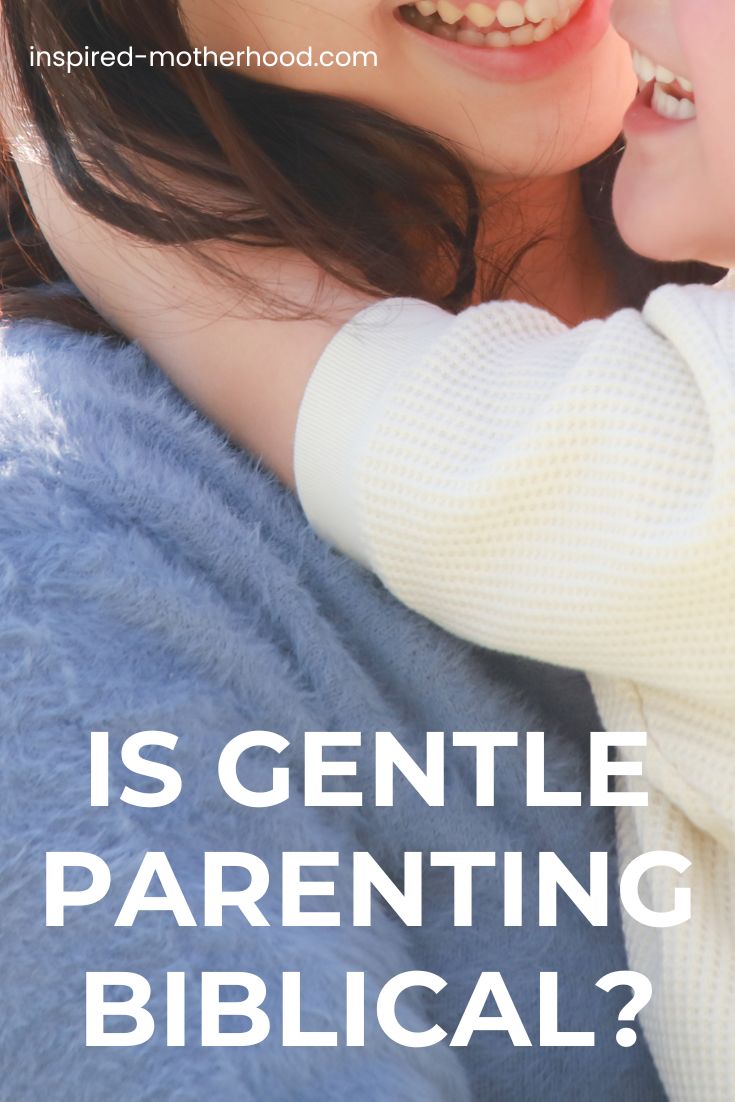 Is gentle parenting too good to be true? Is gentle parenting biblical?
God wants whole, healthy relationships between children and their parents. We see this in Malachi 4:6a (NIV), "He will turn the hearts of the parents to their children, and the hearts of the children to their parents."
Biblical parenting means parents and children enjoy each other's company. They share a heart connection and love between the family members. Gentle parenting also focuses on building that loving relationship. But is the heart the connection the only aspect we should focus on when raising our children? I'd argue the Bible takes it a step further.
Parents should love and enjoy their children. They should protect their children's hearts and not provoke their children to anger, but that's not the only role of a parent. The Bible also talks about parents instructing and disciplining.
Parents following God's instructions don't make excuses for sinful behavior. Biblical parents don't try to find hidden meanings in a child's sinful behavior. They don't say, "Oh, they just need to get their feelings out…" when their son hits his brother during a temper tantrum.
Is it okay to feel sad? Yes, of course. Read Psalms, and you'll see a range of emotions. But just because we feel sad or angry doesn't give us a pass to do whatever we want. Kids need to understand it's okay to feel, but feelings aren't king. I'm not sure gentle parents teach that when they allow their kids to tantrum for 45 minutes.
There will be times in life when we don't feel like doing something, or someone says something hurtful to us. Our kids need resilience, perseverance, and patience to face those challenging situations without letting them completely dismantle their peace. Does gentle parenting teach that?
As we conclude, I want us to honestly ask ourselves the following questions.
When we discipline and instruct our children, are we teaching our children to be separated from sin and set apart for God?
Are we addressing sin when we see it in our children's lives?
Do we fear our children's discomfort? Are we unintentionally allowing them to avoid difficult situations because we don't like seeing them stressed or stretched?
Even when we are in God's will, adversity may come. Do we run from hardships? Are we allowing God to prune and discipline us?
Do our children accept our guidance and discipline?
Final Thoughts.
My mom often told me as a child to look at other people's lives. What fruit did I see? We can often observe others and see the consequences of their actions (for good and for worse). So I think it's appropriate to end with this advice.
What are the fruits of gentle parenting? Have you observed families who follow it? What do you notice? How do their children behave? What fruits do you see in their lives?
Observe. Notice. Take note of what works and what doesn't in these families. Are their children well-adjusted? Resilient? Confident? Do they respect authority? Do they have the qualities you want your children to have?
Many times parents have good intentions, but unexpected consequences occur. Could this be happening with gentle parenting? It sounds good, and it feels good. No one likes discomfort or discipline. But at the end of the day, what is it teaching our children when we allow exploration of every emotion? Ultimately, we need to ask ourselves: What am I intentionally and unintentionally teaching my child when I respond to their misbehavior?
Now I'd love to hear from you. Do you follow gentle parenting? What do you like about it? What don't you like? Share with us in the comments below!