Teaching Kids to Stop Playing to Go Potty
We recently went through potty training with our 2.5 year old daughter. It was not what I expected! Now that we are on the other side I hate to admit it, but she still occasionally has accidents. After talking with other parents, this is one of the hardest things for parents to understand. You initially think, once they are potty trained, they should be accident free right? Unfortunately that is not always the case. Our daughter's accidents are become very rare, but it sometimes happens when she is so engrossed in an activity and she doesn't want to stop playing to go potty. So I've been trying out a few strategies to help her stop and go. I am sharing them with you today.
3 Ideas to Teach Kids to Stop Playing to Go Potty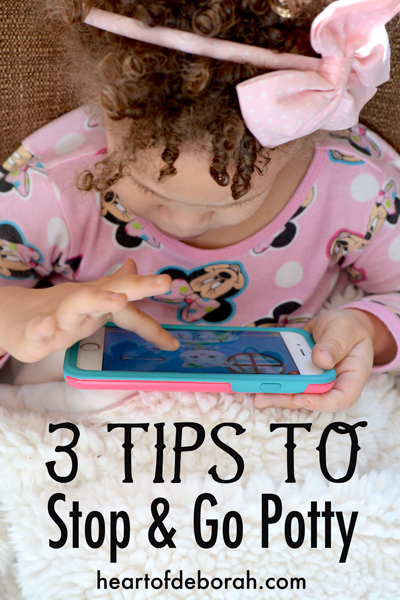 Sing a Song
Not only does singing enhance memory and learning it makes potty training more fun. Songs are great mnemonic devices and music can make it easier for a child to retain information. According to an article on PBS Parents, sounds help "hold our attention, evoke emotions, and stimulate visual images" (3rd paragraph).
If you follow Heart of Deborah on Instagram you know my daughter is in love with Daniel Tiger. Why make up a potty song if one already exists?! Our daughter loves singing the jingle "When you have to go potty just stop and go right away. Flush and wash and be on your way." Izzy is so proud when she uses the potty just like Daniel Tiger. She was so excited to learn there is a Daniel Tiger's Stop & Go Potty app! The app encourages kids to practice bathroom routines at the potty and at the sink. Izzy loves helping Daniel Tiger go potty, wipe, flush and wash. This app is a great reminder for kids.
When I worked as a school psychologist we often used social stories to help children learn or practice new skills. The stories I created were often based on learning to share, sitting quietly during story time or keeping your hands to yourself. Children seemed to do best when they could talk about the event and see a character in the story act out the appropriate response. The Daniel Tiger Stop & Go Potty app reminds me a great interactive social story!
Give Reminders
I noticed a few weeks after Izzy was potty trained I stopped giving her as many reminders. I soon realized her accidents were increasing. It's important to give reminders to stop and go. Izzy is still young and may become so engrossed in an activity that she forgets she isn't wearing a diaper anymore. Give reminders even when you think your child is 100% potty trained.
I've also heard of moms setting timers or alarms on their phones as reminders to stop and go. With two young kids I sometimes forget to ask Izzy if she needs to use the potty. Setting a timer is a great way to remind yourself and your children to take a break and go potty.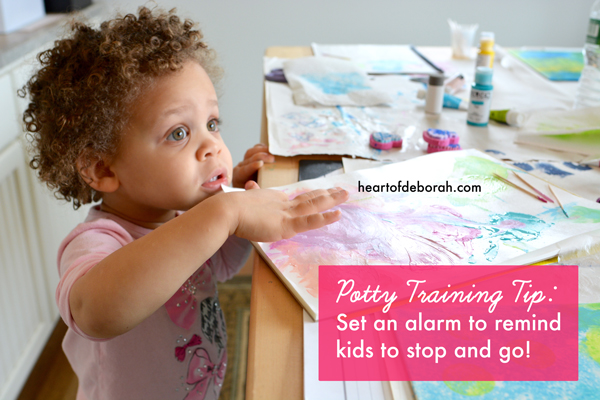 Make it Routine
Although Izzy still wears a diaper at night we still have her sit on the potty as part of her bedtime routine. It's great to have scheduled potty breaks throughout the day. This may help reduce the amount of reminders because the child knows before I eat lunch I use the potty.
It will also hopefully reduce the arguments. Sometimes Izzy doesn't want to stop playing and use the potty. We found it's helpful to give her something to do on the potty. Although we try to set limits on screen time we occasionally let her play an app while she sits on the potty. We also give her books, snacks or we sing songs to help make potty time fun. Most of her tantrums happen when she is engaging in a desirable activity and has to switch to an undesirable activity. So we found if we make using the potty more desirable she won't tantrum as often.
Did you know Daniel Tiger is based on the teachings of Fred Rogers? We love Daniel Tiger because it's a wholesome show we can feel good about. The app has four fun games that teach kids about using the potty! One of our daughter's favorite things is changing baby Margaret's diaper. Learn more about the Daniel Tiger app here.
Disclosure: Although I received the Daniel Tiger app for free, I was not required to write a positive review. I strive to find products I love and can support.