Little Tikes Cozy Coupe Mobile Entertainer
Disclosure: This post has been sponsored by Little Tikes. I received a promotional item as a thank you for participating. As always all opinions are 100% my own, I was not required to write a positive review.
Our family loves Little Tikes toys. A big reason is because Little Tikes strives to create thoughtful and imaginative toys for kids. We value toys that encourage creativity, imagination and joyful moments. Our daughter has loved her cozy coupe and now IJ has a Cozy Coupe 3-in-1 Mobile Entertainer to match. We were so excited to review this toy. IJ is almost 6 months old and he seems to be the perfect age to start using this toy. He is becoming more and more aware of his surrounding everyday. He loves watching his sister play so when he is sitting in his mobile entertainer he has the perfect view across the room.
First, let's start with assembly. I have to be honest and say I let my husband do most of the toy assembly jobs in our house. It took him 20 minutes or less to assemble the Little Tikes Cozy Coupe Mobile Entertainer. I know this can be frustrating for some people, but I'd say compared to other toys he has put together this one was fairly easy. A great feature of this toy is the adjustable height of the seat so the toy can grow with your baby. Right now IJ is at the lowest setting and his feet touch the ground perfectly. I'm also grateful for the removable fabric seat. One of the first times he played it in he spit up all over it. YUCK! Thankfully, I could throw the fabric seat right in the washer.
Little Tikes Cozy Coupe Mobile Entertainer Review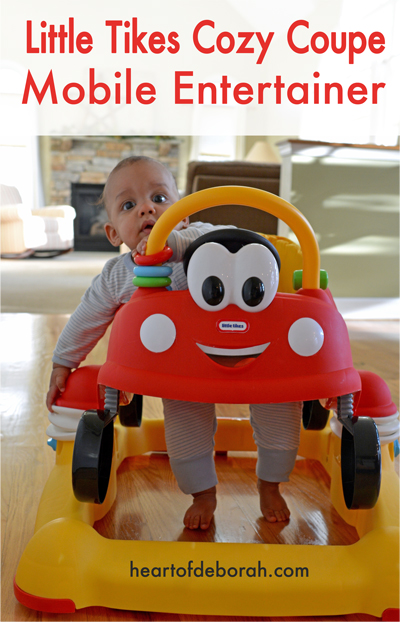 Our baby also loves the activity center on the car. There are colorful rings he can slide back and forth and when he pushes the buttons on the steering wheel fun sounds and music play. Another added bonus: our daughter loves playing with it too! Whenever IJ is in the car, she is right there with him. Showing him how to push the buttons and turn the steering wheel. She even pulls him around sometimes. I love when I can find toys that they can play with together.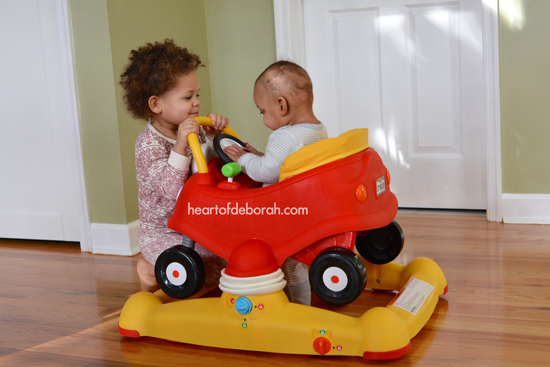 Although IJ is just learning how to move his feet in the walker he still really enjoys the toy. It's perfect for when I'm making dinner and he wants to be near me. He can slowly move around the kitchen, push the buttons and listen to fun music as I cook. It's a win-win for both of us. Lastly, I have to be honest we haven't really used the bouncing feature for stationary play. We already had a bouncer from when our daughter was first born. I think it's a neat feature, but I'm not sure we will really take advantage of it.
Overall, we really like the Little Tikes Cozy Coupe Mobile Entertainer & think it's a perfect first car for IJ!
Connect with Little Tikes
Facebook | Twitter | Instagram