Cooler weather is right around the corner and I can't wait! My sister is pregnant and due any day. This past week we were talking all about babies. She asked how we keep baby warm at night? More specifically, how do you dress a newborn, infant or toddler to stay warm without putting a blanket in his or her crib!?
This got my thinking. Over the years I've found different sleep sacks, onesies and wool outfits we couldn't live without.
We want our baby to be safe at night, but like any first time mom I worried "Is she too hot?" or "Is she too cold?"
So in this post I'm sharing with you three ways to keep your kids warm at night during the winter without blankets or chemicals.
These tips can be used for babies as well as older kids. Our 3 year old son never keeps a blanket on a night! So we've had to get creative so I'm not going into his room every hour to adjust his blanket since he is cold.
This post contains affiliate links for products we love.
Before we get to the sleep outfit options…let's talk about the perfect sleep environment. Just how cold should your baby's room be at night?
According to sleep.org, a sleep environment of 60 to 67 degrees Fahrenheit is recommended for your best chance at a good night's rest. They also note toddlers may like a slightly warmer room. For kids, 65 to 70 degrees Fahrenheit may be better.
So how do you know what the temperature is? Our baby monitor tells us the temperature in our kid's rooms. We also have the ecobee thermostat which allows us to monitor the temperatures in the upstairs bedrooms with sensors.
We don't keep an extremely warm house in the fall and winter months and for safety reasons we didn't put blankets in the cribs when our kids were infants.
So what are the best ways to keep your baby warm at night?
Here are the three ways we keep our kids warm in winter. Also note, we try our best to avoid flame retardant pajamas. They are often soaked in chemicals and can impact your children's health (read this article from the Cleveland Clinic and you'll want to avoid flame retardant too!).
First option, the sleep sack.
For warmer weather we love the cotton HALO SleepSack or the Burt's Bees Baby Organic cotton sack. I like that these are made from 100% cotton and they are the perfect top layer with long sleeved pajamas. We used different sizes from about 1 month old to 2-2.5 years of age.
The sacks are super cozy and since our kid's did not like to be swaddled it was a good alternative to a blanket. These are the right thickness to be used for fall or spring weather, but once it gets colder you'll want something warmer.
A warmer option is the Woolino 4 Seasons Wearable Blanket (2 months to 2 years). They also have it in a toddler size (from 2 to 4 years of age). I know, it's expensive and I hesitated to buy it, but it was SO worth the investment. It is incredibly soft and cozy.
Our children have loved sleeping in their Woolino sleep sacks and now I recommend it to any new mom. You can actually wear them year round and they have held up through multiple kids using them in our family.
Besides the durability and coziness I recommend the Woolino options because the merino wool helps regulate children's body temperature and we use it year round. We used the toddler size sack until our son was 3.5 years old.
He loved it and again I didn't have to worry about the blanket falling off him at night. And him waking me up because his blanket was "messed up." This mama loves her sleep!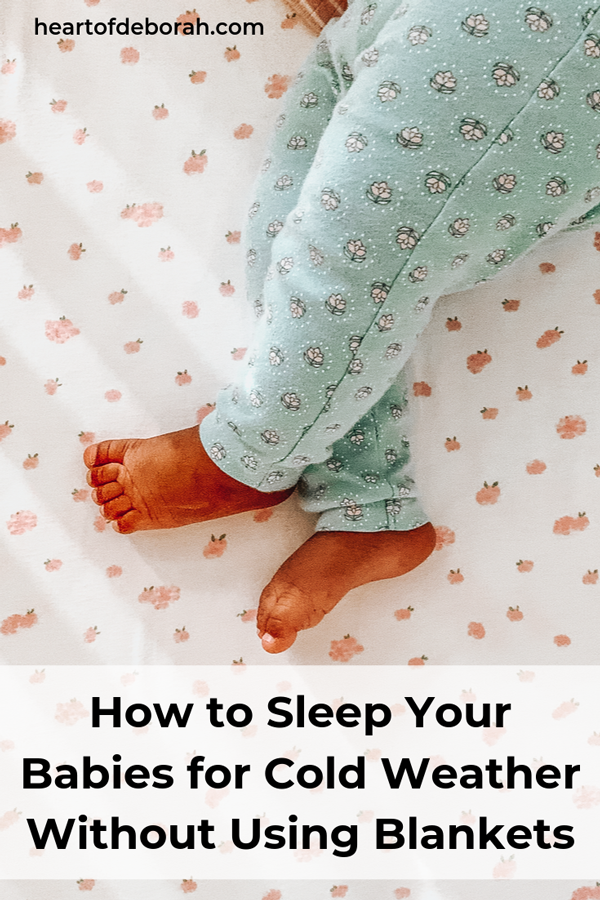 Another warmer option is the fleece HALO SleepSack. It's less expensive which is a plus and it's cozy. Though it could possibly be easier to overheat in because it doesn't breathe like cotton or merino wool. So we alternated this with the wool sleep sack.
BONUS TIP: Consider the crib sheets or toddler sheets you are using for your kids.
We typically like Burt's Bees Baby crib sheets because they are a soft 100% organic cotton jersey material. Plus they won't break the bank. Though in the winter I've used some organic flannel sheets and 100% cotton flannel sheets. It does seem to make the bed extra cozy!
Second option, layer clothing!
We chose this option when our son was first born. He didn't like being swaddled and I wasn't sure how to keep him warm at night. So I'd put a snug Burt's Bees Baby onesie or bodysuit on first, then layer with a warmer sleeper.
We also love the Hanna Andersson pajamas. They are so cozy and a bit thicker. For the spring and fall this was perfect.
*Get 20% off your first Hanna Andersson order (then we get 20% off too!)
RELATED: How to Keep Your Baby Warm Outside This Winter
For cooler months you may want to consider a merino wool coverall. We used this with our daughter and son. It was snugger than a sleep sack (which made me feel like it was a bit safer) and the wool helped regulate their temperature. So they never got too hot or too cold.
This is the one we used, but I also like the Disana pants and the Engel romper. Again these will be investments, but you can use it for years to come and with multiple kids.
Third option, wool pajamas.
Above I shared our favorite wool sleep sack and wool overall, but the other option is wool pajamas. There are so many to choose from so how do you find the best? We love merino wool because it is breathable and provides natural temperature regulation (see more benefits here).
It is more expensive than cotton pajamas, but you don't have to wash it as often and it dries quickly! Instead of buying 10 footed pajamas buy 1 or 2 wool pieces and you are set. Again you can wear the wool night after night without washing it. Also it's more absorbent than other materials.
So when my son used to leak through his diaper at night, it wouldn't get all over his crib with the merino wool. And yes we'd wash the wool if got covered in baby fluids!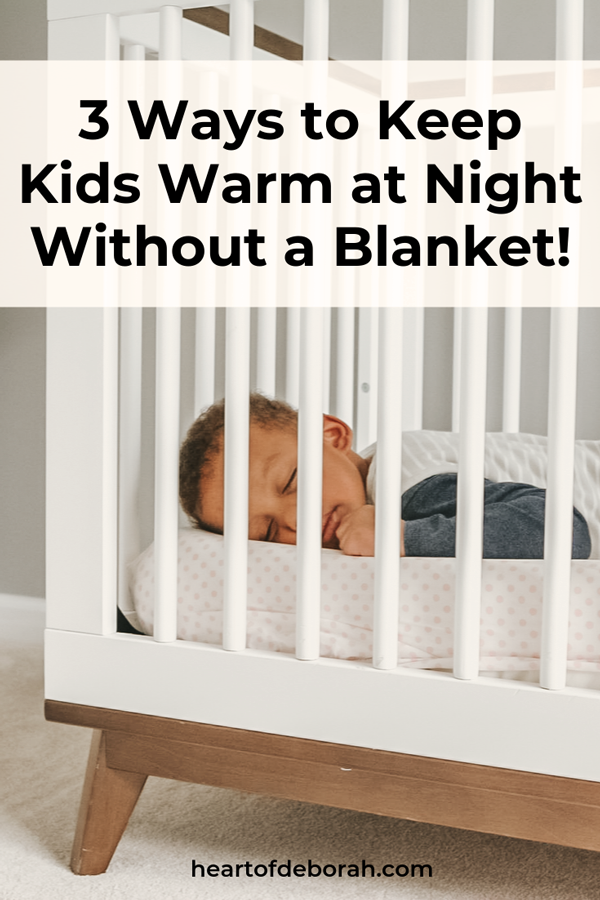 Here are a few of our favorite wool playsuits and pajamas. The Woolino pajamas. The Janus playsuit. Lastly, the Engel romper overall.
That is three ways we keep our kids the correct temperature at night worrying about them getting tangled in a blanket.
So what about you? How do you keep baby warm at night? Do you have a favorite sleep sack? I'd love to hear from you in the comments below!
Also be sure to follow us on Facebook for our latest parenting tips and tricks.
What do you dress your baby in during the winter?