Iodine Supplements and Pregnancy
Are you getting enough iodine in your diet? Has your doctor ever talked to you about taking iodine supplements during pregnancy? A new policy statement released by the American Academy of Pediatrics suggests that many women of reproductive age in the United States are marginally iodine deficient. So what does this mean exactly? Iodine intake in our diet is necessary in order to produce thyroid hormone. The statement mentions this is especially important to pregnant and lactating women because thyroid hormone is required for brain development in children.
This post contains some affiliate links for products we love.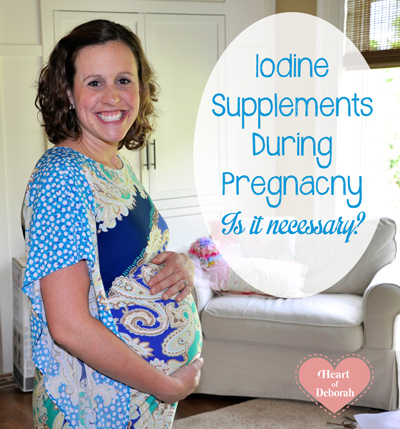 Are you a vegetarian or vegan? You may be surprised to find out a study published in the Annals of Nutrition and Metabolism found 25% of vegetarians and 80% of vegans suffer from iodine deficiency compared to 9% of people with a mixed nutrition diet.
So what can you do about this? Take a supplement! The American Academy of Pediatrics recommends breastfeeding mothers take a daily supplement with at least 150 micrograms of iodide. I used Dr. Fuhrman's Gentle Prenatal Multivitamin
before and during pregnancy. I found it was the cleanest on the market and it didn't include any harmful chemicals or toxins. His prenatal vitamins include 150 micrograms of iodine.
What supplements did you take during pregnancy?
I know many people who try to avoid excess salt in their diets. So instead of adding iodized salt, what can you do? In addition to a supplement you can eat kelp, which is a great source of iodine. Always talk to your doctor before you start taking supplements and if you are concerned about your iodine intake. They can help direct you in the best course of action! Please remember Heart of Deborah shares information with readers that should not be used as medical advice. Always consult your doctor for professional medical help.
Did you take iodine during pregnancy?
In the interest of full disclosure, some of the links in this post are affiliate links. They are all for products I truly believe in and buy for myself. If you decide to purchase any of these products through these links, I will earn a small commission. All prices are the same if you decide to purchase through my links. Thank you for supporting Heart of Deborah!