As a family we try to eat healthy, but as a busy mom with random work-from-home jobs I love finding quick and healthy meals.
This tortilla soup recipe is perfect for a fast and nutritious meal. When I was pregnant I also tried to get enough folate as it is important for the baby's neural tube development.
Do you know the difference between folate and folic acid?
During my first pregnancy I created a folate foods chart to ensure I was getting enough in my diet each day. This may sound crazy, but I try to eat beans at least once a day! My body has adapted to this kind of diet and it doesn't upset my stomach.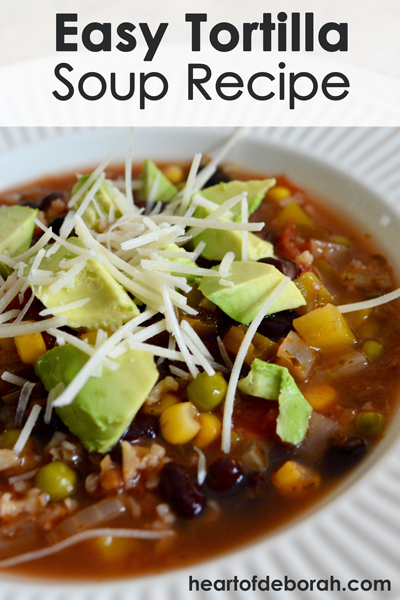 This soup is great for your whole family. It is one of our daughter's favorites.
Additionally, if you are pregnant it is a great pregnancy food to ensure you are getting enough folate.
Black beans (1/2 cup) add 128 micrograms of folate to your diet. If you top with 1/2 avocado you are getting an additional 81 micrograms of folate.
That's a little over 200 micrograms (half of the recommended daily value) in one meal. 
One Pot Meal: Tortilla Soup Recipe
We love this soup. It's a great meal to make at the beginning of the week and reheat for lunch or dinner. You can also spice it up by adding different toppings.
We usually choose a medium salsa for our tortilla soup recipe because we love spicy food. We hope your family enjoys this recipe as much as we do.