5 Reasons to Date Your Spouse
I don't often write about my marriage on my blog, but since it's the season of love with Valentine's Day right around the corner I made an exception. I've been thinking about this a lot lately and today I am sharing why we value date nights as well as 5 reasons to date your spouse.
Now that we have small children my husband and I treasure the quiet moments where we can spend time together. In the beginning of December we took a trip to the Lodge at Woodloch and it was amazing! We spent some quality time together, ate amazingly delicious food, enjoyed relaxing spa treatments and didn't hear any crying for over 24 hours. Life can be stressful and overwhelming, that's why it is so important to get away.
5 Reasons to Date Your Spouse
So You Can Stay Connected: There is no convenient time to get away. When we traveled to the Lodge at Woodloch we just started potty training Izzy and I felt terrible leaving her with my parents. Thankfully they were so gracious and did a great job helping her in her potty training journey. I am also exclusively breastfeeding IJ so I had to bring my pump along with me. Sometimes it seems easier to just stay at home. Date nights or date weekends can wait right? For us, when we are kid-free it is easier to connect with each other (no distractions). Although there isn't always a convenient time we try to go on dates together because we value our alone time.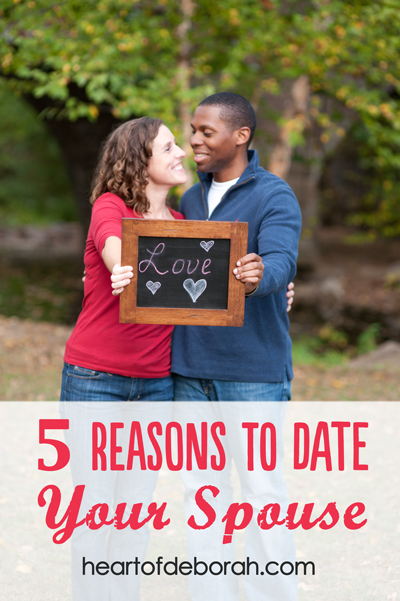 So You Can Build Your Friendship: Sometimes it feels like our lives constantly revolve around our children. In a way this is wonderful because we love Izzy and IJ. I remember a friend saying she noticed she always talked about her kids with her husband. Although she loved her family, she wanted to make sure they shared other interests besides the kids. Although it's great to reflect on all the funny things your kids do, it's also important to check in with each other as friends. How is your spouse doing? What have they been up to lately? What hobbies or shows are they in to? Your spouse is your partner in life and it's great to have a foundation as life long friends.
So You Can Relax: Parenting small children is no joke! It can take all of your energy and time. When you date your husband and get away from the children it can help you relax. I noticed when we have less stress in our lives we are naturally more patient and loving with each other. We were so grateful to spend a weekend away for our 5 year anniversary and get some time to focus on relaxing. You may need to be intentional about this because relaxation takes practice when you are constantly on the go.
So You Can Increase Your Dopamine: Darryl and I love to try new things as a couple. I remember taking a social psychology class in college and learning that experiencing new and thrilling things together increases your levels of dopamine and in turn strengthens the connection with your partner. "New experiences activate the brain's reward system, flooding it with dopamine and norepinephrine. These are the same brain circuits that are ignited in early romantic love, a time of exhilaration and obsessive thoughts about a new partner" (New York Times, 2008). When we were at the Lodge at Woodloch we were able to try archery together and it was so much fun! I'll have to keep brainstorming new activities for us to try every so often so we can keep our dopamine levels high.
So You Can Remember Why You Married Your Spouse: Life is busy. Days, weeks and years seem to fly by. In the middle of the hustle and bustle of life it's easy to start taking your spouse for granted. It's so important to date your spouse so you can remember why you love them. We all need moments where we reflect back and thank God for all He has done. Each anniversary we try to share with each other 1 new thing we learned about each other in the past year. We also reflect on God's will and purposes in our marriage. It's so important to remember why you married your spouse and reflect on the wonderful qualities you fell in love with years ago.
What is your favorite date spot with your spouse?