Thank you Stonewall Kitchen for sponsoring this post.
Summer is a great time to eat fresh fruit and vegetables. I always think about eating a salad for lunch, but sometimes it just doesn't sound appetizing. I find I'm more likely to eat a salad when I have great toppings! It can transform a simple salad into something gourmet. Today I'm sharing with you four easy salad recipes.
Especially as a mom with young kids I'm always looking for "easy" and quick recipes. These salads don't take long to make, but are so delicious! Even though we've switched to eating vegan 80% of the time, I can't give up goat cheese. It's so delicious and it pairs perfectly with fresh fruit and nuts. It's part of our first salad. The last salad recipe uses shaved brussel sprouts. It's so delicious and a great way to eat raw food!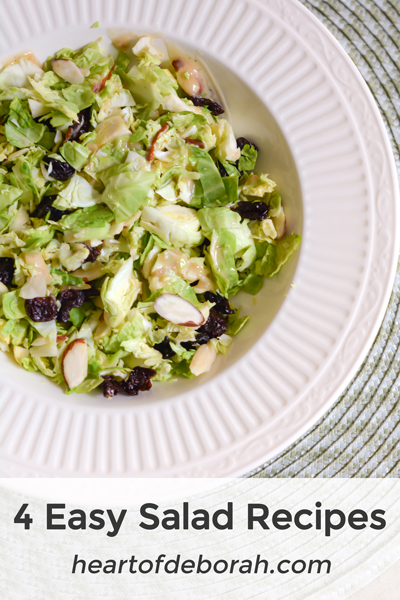 Fruit & Goat Cheese Salad:
Fresh Farm Salad:
Brussel Sprouts Salad:
Mandarin Orange Salad:
Four Easy Salad Recipes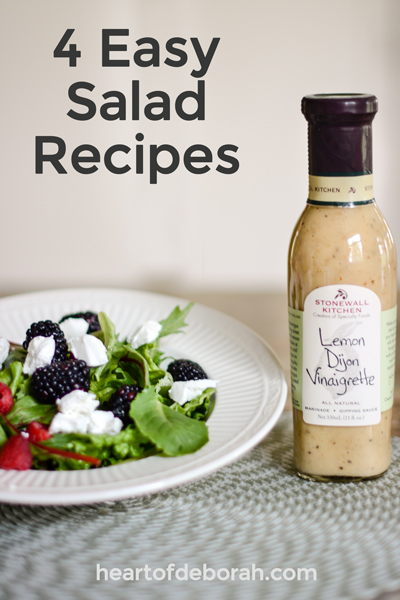 What are your favorite go-to salads? Looking to mix it up? Try one of Stonewall Kitchen's gourmet salad dressings. It will instantly transform your salad into something spectacular.