Fill in the blank. I'll be happy when ______. Occasionally, I find myself having this type of thinking. I've had it for years. I'll be happy when…I'm done with grad school, making money, we have children, my husband finishes residency, I'm done breastfeeding. The list go could on! Did the completion of any of these events make me happy? Yes and no. I consider myself an emotional person. I also have a problem with expectations. I love to have a plan. I think about the future, short term and long term, and plan what I want to happen. But we all know things rarely go according to plan. I can become upset, discouraged, or saddened when my expectations don't match my reality. Can anyone relate? I'm getting better at it, but it isn't always easy for me to readjust my thinking or my plan.
I could live in the state of "I'll be happy when…" forever.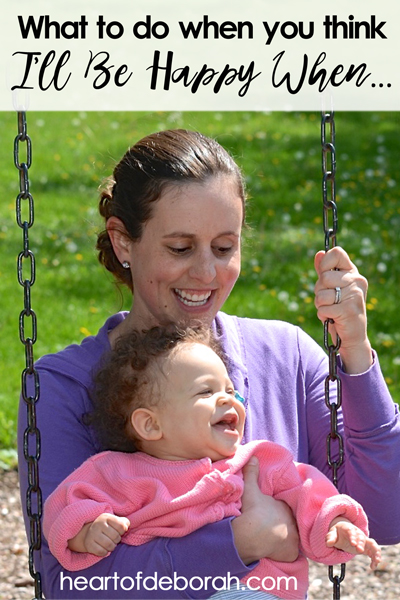 And I would never fully be happy. Instead of thinking like this, always wishing for the future, I try to make a conscious effort to live in the moment. It's okay to wish and dream, but nothing in this world will ever truly satisfy me. Only God can do that. Romans 15:13 (ESV) says:
May the God of hope fill you with all joy and peace in believing, so that by the power of the Holy Spirit you may abound in hope.
He is my hope, my joy, my strength. 1 Peter 1:8 (NIV) also tells us:
Though you have not seen him, you love him; and even though you do not see him now, you believe in him and are filled with an inexpressible and glorious joy,
My prayer for you and for myself is that you would be filled with God's unspeakable joy. Allow him to come into your life and you will never be the same. Lean on him, trust him, love him, and you won't ever have to worry about the future. He has the whole world in His hands and he is a loving, faithful God.
Do you ever have 'wrong thinking?'
What do you do to change your thoughts?