7 Psalms to Pray Over Your Kids at Bedtime
Prayer changes things and as parents we can pray daily for our children. I love praying the psalms and in this post I share a psalm for protection, a psalm of praise, a psalm of promise, and more!
When I was pregnant with our first child, I memorized scripture to prepare for my labor and delivery. I knew birth would be painful, so I prepared myself mentally by meditating on different psalms and promises of God. His Word calmed my anxious heart!
The funny thing is I didn't realize until after our daughter was born that God had me memorize Psalm 121 for childrearing, not pregnancy. Soon I found myself praying it over our daughter before bed every night.
I love when God uses situations like this in unexpected ways. I found so much comfort in the psalms through the years, and now I love using them as bedtime prayers with my children.
If you've never prayed the scriptures before, I want to share with you how to do it. And I also want to share my favorite psalms to pray with my kids.
*Looking for more inspiration? Follow us on Instagram for daily encouragement in motherhood!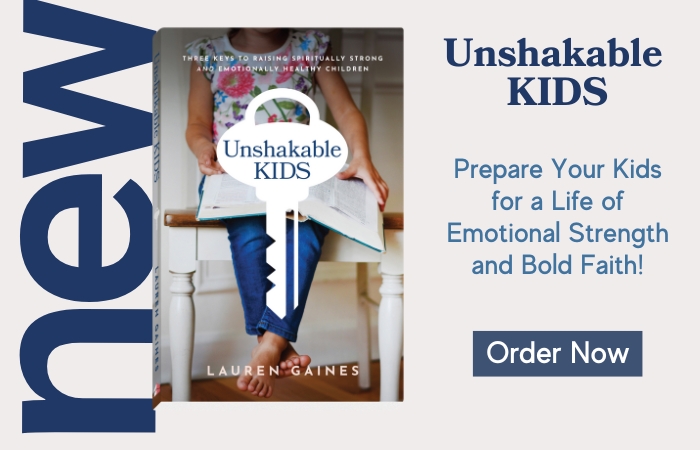 How to Pray the Psalms
Before we get to the specific psalms, let's look at how you can pray them as prayers. First, don't make it more complicated than it seems! After you read 2 or 3 verses, pray the parts that stick out to you. Then declare the promises over yourself and your family.
Here is an example of how to pray the Psalms:
Read Psalm 121:3-4: "He will not allow your foot to be moved; He who keeps you will not slumber. Behold, He who keeps Israel shall neither slumber nor sleep."
Pray: Thank you, heavenly Father, that you never sleep nor slumber. You are always watching over me. I praise you because even when I sleep, you are watching over our daughter. I do not have to be afraid because you will not allow her foot to be moved. Thank you for your faithfulness.
Speak the words that the Spirit leads you to pray. God's word is so powerful, and when we speak it out loud, something shifts in the atmosphere.
Along my path in motherhood, I've found many psalms to be comforting and healing. So I wanted to share with you 7 powerful psalms to pray over your kids at bedtime.
Why I Chose These Psalms
There is a specific reason I chose each of these psalms. As parents, we want our children to know who God is (Psalm 147) and how wonderful it is to praise Him (Psalm 100). Our heart's desire is to teach our children His ways and for them to understand they were uniquely made by the creator of the heavens and the earth (Psalm 139).
When we are in difficult or unsettling situations, we can pray for his protection and guidance (use Psalm 91, Psalm 121 as a psalm for protection). There are so many promises from God that we can claim as believers (Psalm 23, Psalm 46). Here are just a few: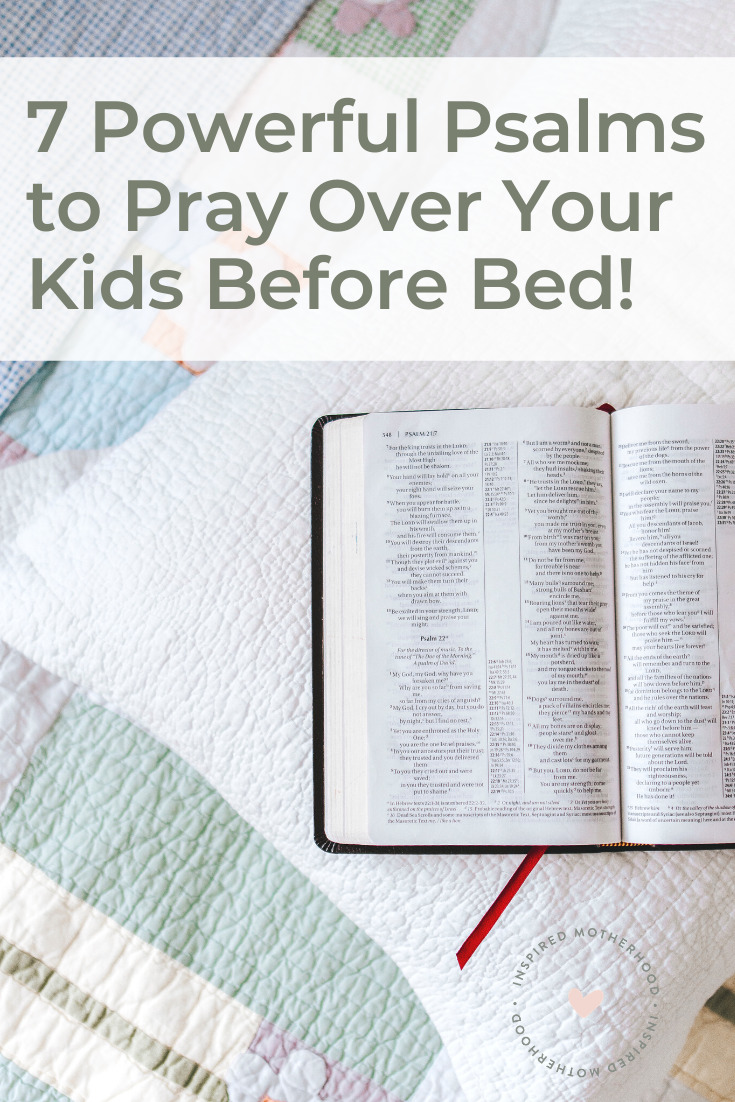 Psalm 121 (A Psalm for Protection)
I will lift up my eyes to the hills— From whence comes my help?
My help comes from the Lord, who made heaven and earth.
He will not allow your foot to be moved; He who keeps you will not slumber.
Behold, He who keeps Israel shall neither slumber nor sleep.
The Lord is your keeper; The Lord is your shade at your right hand.
The sun shall not strike you by day, nor the moon by night.
The Lord shall preserve you from all evil; He shall preserve your soul.
The Lord shall preserve your going out and your coming in from this time forth, and even forevermore.
Psalm 23 (A Psalm of Promise)
*We also have this children's board book based on Psalm 23 and our kids love it!
The Lord is my shepherd; I shall not want. He makes me to lie down in green pastures; He leads me beside the still waters. He restores my soul; He leads me in the paths of righteousness For His name's sake.
Yea, though I walk through the valley of the shadow of death, I will fear no evil; For You are with me; Your rod and Your staff, they comfort me.
You prepare a table before me in the presence of my enemies; You anoint my head with oil; My cup runs over. Surely goodness and mercy shall follow me all the days of my life; And I will dwell in the house of the Lord forever.
Psalm 46 (A Psalm of His Power)
God is our refuge and strength, very present help in trouble. Therefore we will not fear, even though the earth be removed, and though the mountains be carried into the midst of the sea; Though its waters road and be troubled, though the mountains shake with its swelling. Selah
There is a river whose streams shall make glad the city of God, the holy place of the tabernacle of the Most High. God is in the midst of her, she shall not be moved; God shall help her, just at the break of dawn. The nations raged, the kingdoms were moved; He uttered His voice, the earth melted.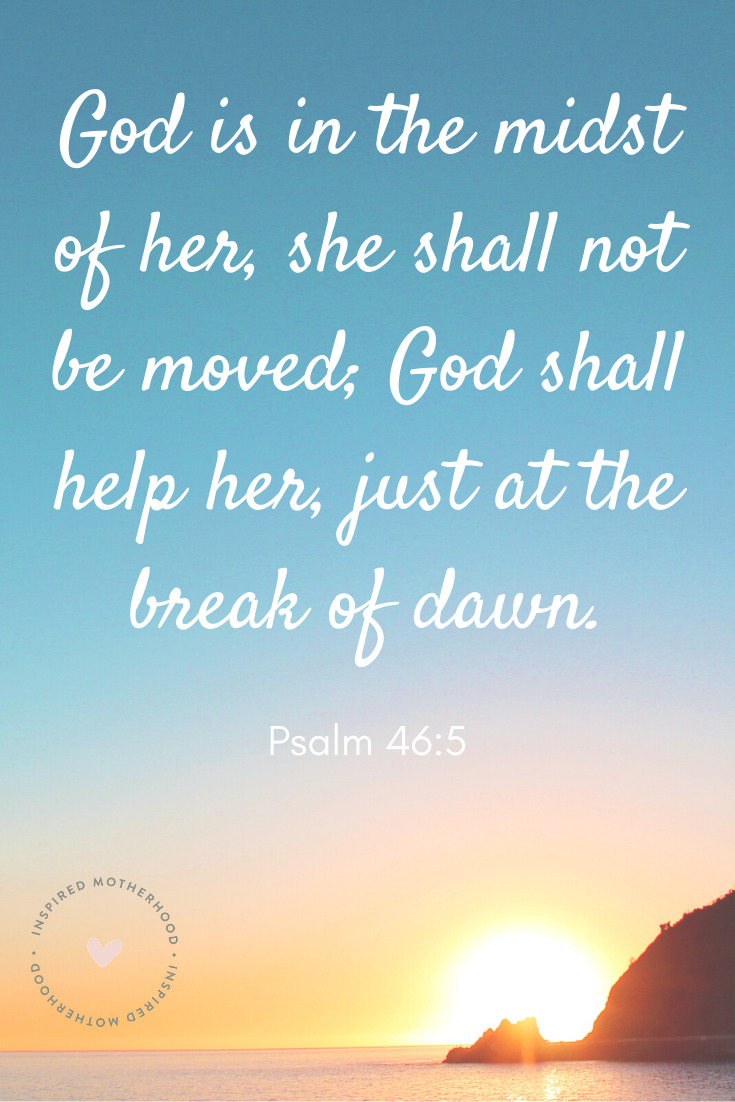 The Lord of hosts is with us; The God of Jacob is our refuge. Selah
Come, behold the works of the Lord, who has made desolations in the earth. He makes wars cease to the end of the earth; He breaks the bow and cuts the spear in two; He burns the chariot in the fire.
Be still, and know that I am God; I will be exalted among the nations, I will be exalted in the earth! The Lord of hosts is with us; The God of Jacob is our refuge. Selah
Psalm 147 (A Psalm of Who God Is)
Praise the Lord; For it is good to sing praises to our God; For it is pleasant, and praise is beautiful.
The Lord builds up Jerusalem; He gathers together the outcasts of Israel. He heals the brokenhearted and binds up their wounds. He counts the number of the stars; He calls them all by name. Great is our Lord, and mighty in power; His understanding is infinite.
The Lord lifts up the humble; He casts the wicked down to the ground. Sing to the Lord with thanksgiving; Sing praises on the harp to our God.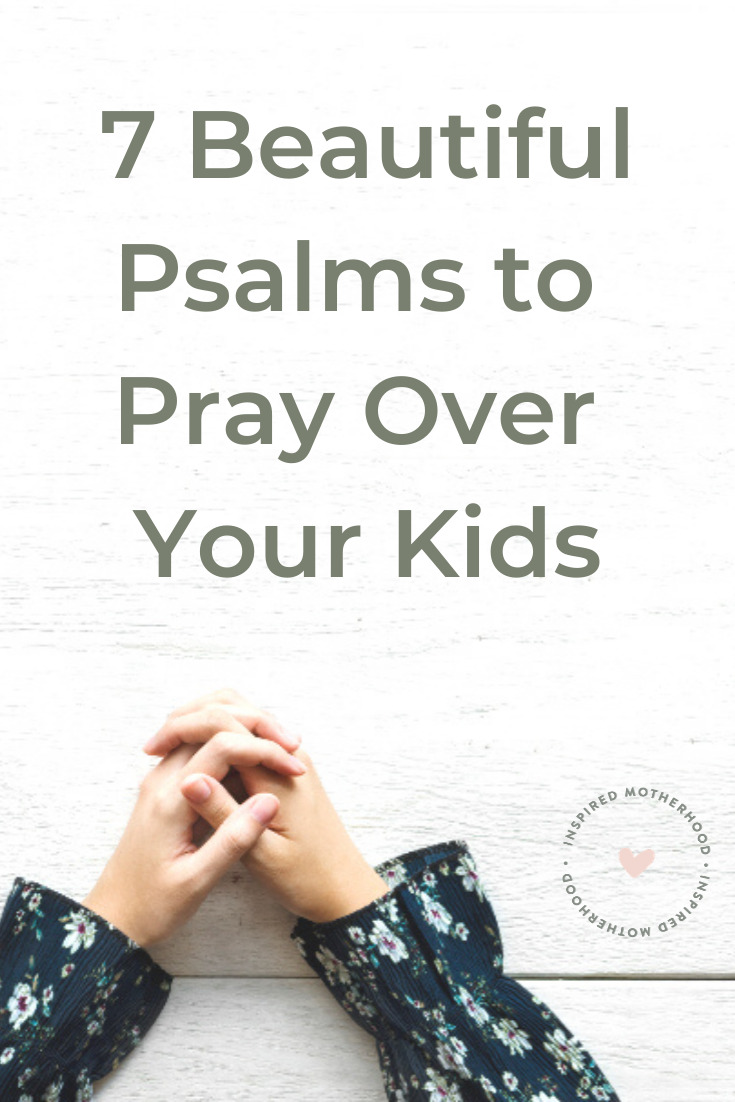 Psalm 91 (A Psalm for Protection)
*Verses 1-8
He who dwells in the secret place of the Most High shall abide under the shadow of the Almighty. I will say of the Lord, "He is my refuge and my fortress; My God, in Him I will trust." Surely He shall deliver you from the snare of the fowler and from the perilous pestilence.
He shall cover you with His feathers, and under His wings you shall take refuge; His truth shall be your shield and buckler. You shall not be afraid of the terror by night, nor of the arrow that flies by day, nor of the resilience that walks in darkness, nor of the destruction that lays waste at noonday.
A thousand may fall at your side, and ten thousand at your right hand; But it shall not come near you. Only with your eyes shall you look, and see the reward of the wicked.
Psalm 100 (A Psalm for Grateful Praise)
Make a joyful shout to the Lord, all you lands! Serve the Lord with gladness; Come before His presence with singing. Know that the Lord, He is God; It is He who has made us, and not we ourselves; We are His people and the sheep of His pasture.
Enter into His gates with thanksgiving, and into His courts with praise. Be thankful to Him, and bless His name. For the Lord is good; His mercy is everlasting, and His truth endures to all generations.
Psalm 139 (He Knows You)
*Verses 13-18
For You formed my inward parts; You covered me in my mother's womb. I will praise You, for I am fearfully and wonderfully made; Marvelous are Your works, and that my soul knows very well.
My frame was not hidden from You, when I was made in secret, and skillfully wrought in the lowest parts of the earth. Your eyes saw my substance, being yet unformed. And in Your book they all were written, the days fashioned for me, when as yet there were none of them.
How precious also are Your thoughts to me, O God! How great is the sum of them! If I should count them, they would be more in number than the sand; When I awake, I am still with You.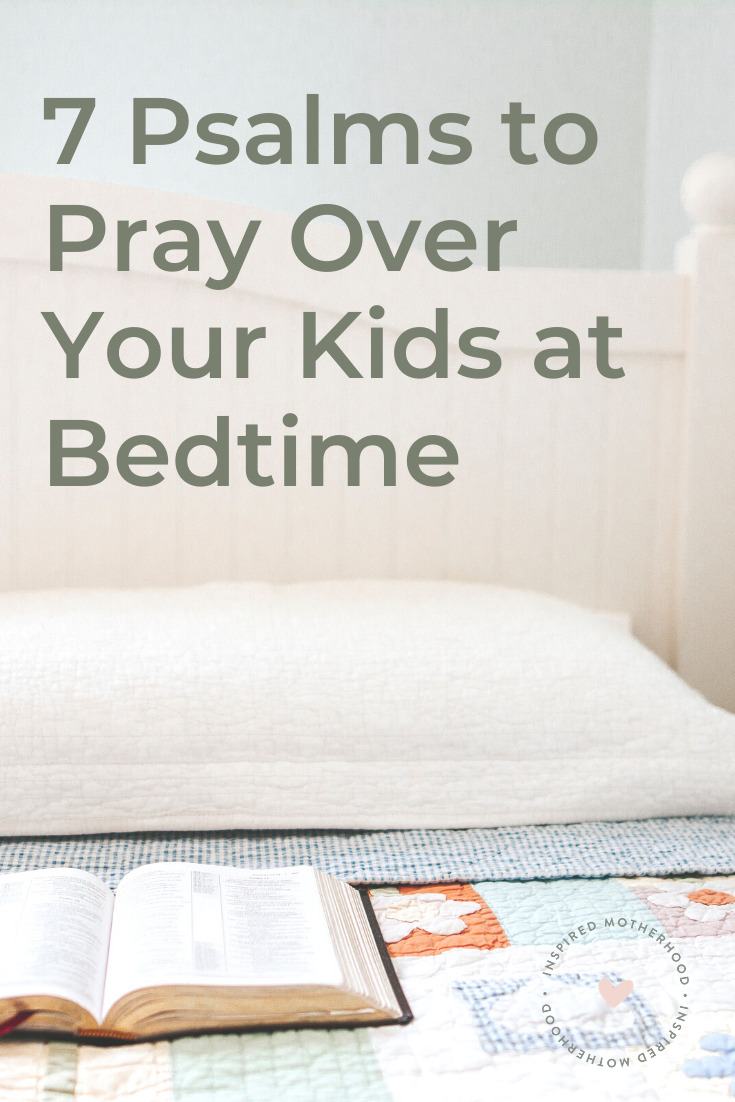 So there it is, 7 Psalms to Pray Over Your Kids!
You can certainly use the passages I pointed out, but you can pray any scripture over your child. I've already prayed the entire first chapter of Ephesians, and it was so powerful!
My prayer is that you find these psalms comforting as you pray them over your kids at bedtime.
To send you off I wrote a prayer for you:
Heavenly Father, we enter your gates with thanksgiving and your courts with praise. You know our children, unlike anyone else, for you knit together their most inward parts. We thank you that they are under your shadow, and you will not let the sun harm them by day nor the moon by night. You are in our midst, and we are blessed to be in your presence. Your goodness and mercy shall follow our children all the days of their lives. Amen
Do you have a favorite psalm or scripture to pray over your kids? What is your favorite psalm for protection?
Share your family prayers in the comments below.
Read This Next: