To Follow Baby Boy's Journey Read More Here
I try to write down milestones and highlights of IJ's months because I love looking back and seeing how much he has grown. Time is certainly going too fast and I want to document everything I love about him so he can read it when he is older. IJ you are such a content and smiley baby. Many people say you look like me and your smile/mouth are just like mine. You absolutely LOVE watching your big sister and it melts my heart. You will turn your head in every which direction to see what she is up to.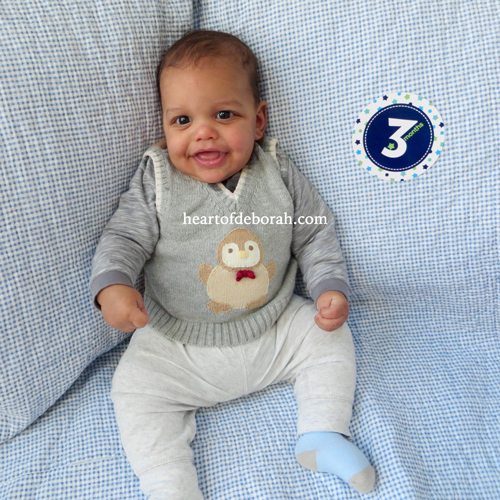 She loves you back which is even sweeter. Izzy sings patty cake to you and you always smile at her when she sings. Right around your 3 month birthday you learned how to roll from your belly to your back. This is a wonderful thing, but you like doing it during sleep which sometimes interrupts your naps. You are on a fairly consistent schedule with eating and sleeping now. Except you don't love naps as much as I'd like you to. But whenever I get from your crib and you give me a big smile it's hard to be upset that you only slept for 45 minutes.
You also love to wake up early. I wonder if you will be an early bird when you grow up. You are a big boy and everyone comments on how old you look and act for your age. You can hold your head up very well and you don't mind tummy time. This past weekend we travelled to NJ to celebrate your Auntie Kate's birthday. You screamed the entire hour car ride. But as soon as someone holds you everything in the world is okay.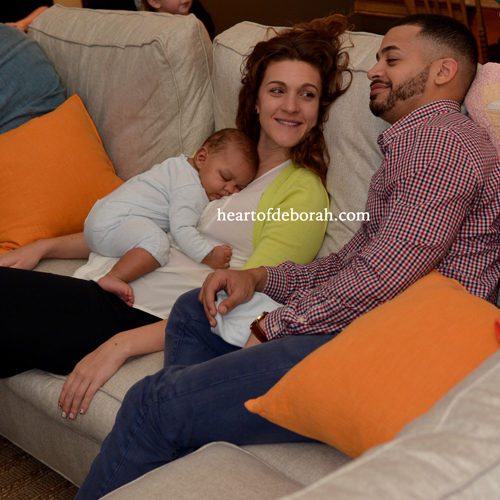 You seem to like holding on to your burp cloth and cuddling close to mommy or daddy. You also love chewing and sucking on your hand and fist. You are getting really good at bringing rattles and small toys to your mouth.
We love you IJ and can't wait to see what the next few months have in store.