Raw Vanilla Coconut Macaroons Recipe
I recently bought a package of raw vanilla coconut macaroons at the grocery store and I immediately fell in love. It was the perfect snack and dessert that I could feel good about.
The only problem was the price. I noticed treats like this range from $5-7 and the bag I bought only contained 8 macaroons! I knew there had to be a better way.
I looked at the ingredient list and decided it was time to create my own recipe. I've made power snacks similar to larabars before so I figured it couldn't be that different.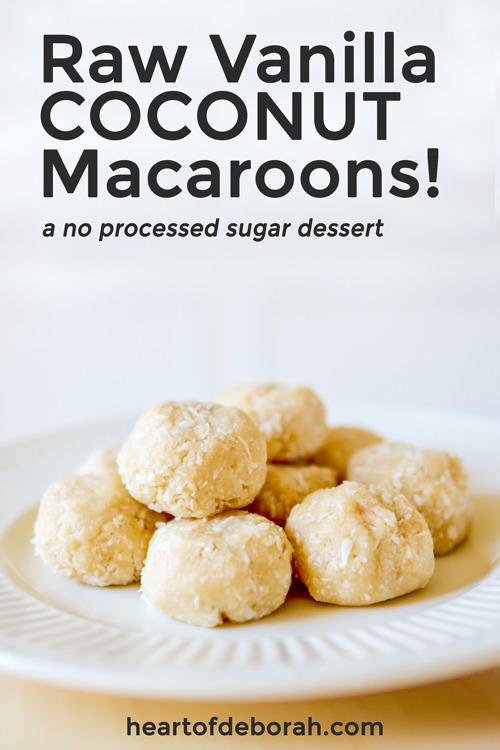 I think this recipe is even better than the store bought brands. The macaroons seem fresher and not as dry.
As I still have some baby weight to lose we have been avoiding desserts. It's so hard for me to never have a "treat" so this is the perfect solution. Another treat I love and feel good about is frozen yogurt blueberries.
Raw Vanilla Coconut Macaroons Recipe
Ingredients:
1 cup unsweetened grated coconut
3/4 cup almond meal/flour
2 tablespoons maple syrup
2 tablespoons coconut oil
1 teaspoon vanilla extract
1/4 teaspoon himalayan pink salt
Directions to Make Your Own Raw Macaroons
Place all ingredients in a food processor or blender. We use a Vitamix. Then blend until smooth.
If you desire a chunkier style macaroon you can hand mix the ingredients.
Roll the dough into 1-1.5 inch balls.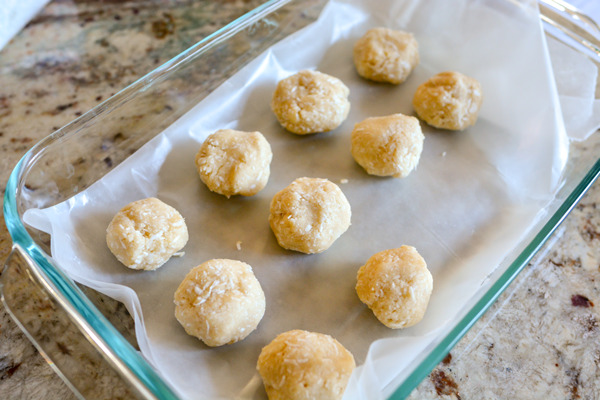 That's it. It truly is such a simple recipe. Now it's time to eat! Store in an airtight container. Best when refrigerated.
When we made this recipe for our family we used organic ingredients. It is not a necessary, but I had all of these ingriedients already in our pantry.
It's the perfect tasty treat that you don't have to feel bad about. They are sweet, but not too sweet and have no refined sugar! When I used a nutrition calculator online with the ingredients listed above one macaroon came out to approximately 95-115 calories depending on how large you make the macaroon.
I hope you enjoy this raw vanilla coconut macaroons recipe as much as we do!