I talked before about why we are limiting TV exposure for our little one (read here). Today I want to share about sleep and TVs in your bedroom. A new study recently came out in Pediatrics analyzing bedroom television viewing and sleep duration in infants and children. The study analyzed 1,864 mothers and children who reported average sleep and TV viewing. The authors found that more TV viewing was associated with shorter sleep from infancy to mid-childhood. They also found that boys and ethnic minorities may be more vulnerable to TV's effects on sleep.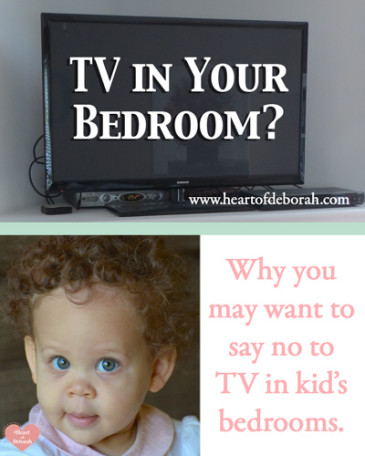 Personally, I wasn't too surprised by the findings. Growing up we weren't allowed to have TVs in our bedrooms. Of course I thought this was so unfair, but now as an adult I am so thankful. I believe it fostered my creativity and imagination. I also rarely hung out in my room. Instead I was downstairs at our kitchen table or in the family room. I want to create the same atmosphere for Izzy when she grows up. I loved spending time with my family after dinner. I believe it's important to stay connected by engaging in face-to-face interactions. With the rise in social media, I feel there has been a decline in personal interactions and an increase in 'Facebook likes' as a way of connecting.
Here are some practical tips to limit TV exposure in your children's bedroom:
Start early! Don't give in and put a TV in your children's room. If you never start, it will be so much easier and you won't have to break any bad habits.
Spend more time together. Play a board game, use conversation starters at dinner, or do household chores with one another.
Get outside and play! More active moms tend to have more active children.
Set up a play area in your children's bedroom to encourage imaginary play.
Encourage your children to read instead of watching TV. I love reading before bedtime because it helps me relax. Here are some greats tips to get your children to love reading.
How cute is this play hut for a little girl's room? Or this knight's playhouse for a boy's room?
What about you? Do you believe children should have TVs in the bedroom?
Looking for devotions, baby tips, parenting help, uplifting scripture? Follow my blog as I journey through life as a daughter, wife, and mother.


In the interest of full disclosure, some of the links in this post are affiliate links. They are all for products I truly believe in and buy for myself. If you decide to purchase any of these products through these links, I will earn a small commission. All prices are the same if you decide to purchase through my links. Thank you for supporting Heart of Deborah!