I'm not sure anyone likes to hear a baby cry. It can be heartbreaking to see your child upset and not know what is wrong.
As we prepare for our third baby, coming in March!! I'm trying to mentally prepare myself for the newborn phase.
With our first child, this was something I definitely struggled with. It was so much harder than I expected! The crying tugged at my mama heart like nothing else.
I remember telling my husband in the first few weeks of her life I felt such anxiety when she cried. Partly I think it was my motherly instincts. I wanted to nurture her and care for her. When she cried I felt the need to console her, which is good thing. But it also caused me more stress than necessary.
After I had baby number two I had a different experience. Sure there were times when I would get frustrated, especially when it seemed like nothing would calm him down.
But I also came to realize sometimes babies just cry.
Even if you try all the 5 S's (swaddling, shushing, swinging, side-lying, and sucking) your baby may still cry.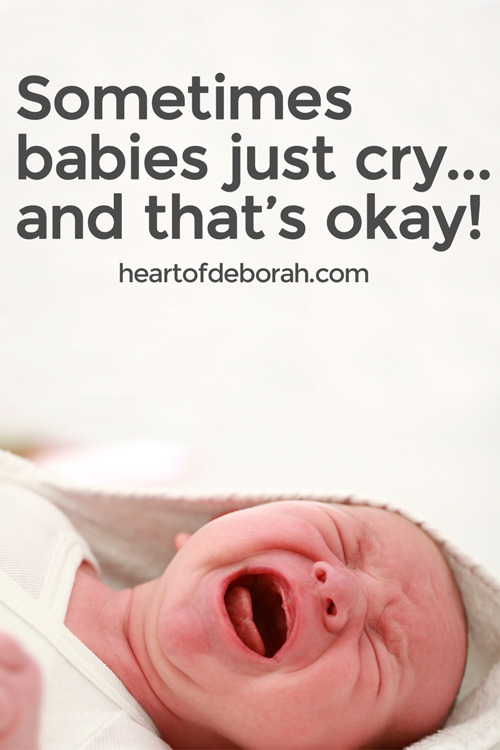 As a first time parent I didn't fully comprehend this. I thought for sure I should be able to console my baby at all times. I also didn't realize just how much babies cry and how natural of a thing it is!
Now I'm not saying you shouldn't try to comfort your baby or figure out what his or her cry means. Yet I've come to realize even if I try my best techniques, sometimes babies are going to cry for no reason. And guess what? That's okay! It's part of being a healthy baby.
I remember interviewing a doctor for an article I wrote for Care.com and he said that crying is okay sometimes. In this article Dr. Michael Hobaugh reported "If it is just fussiness … it's not harmful. It can drive a parent crazy, but it's not necessarily hurting the baby at all to be fussy."
Yes it can certainly drive me nuts, he got that part right.
But what I really remember during our conversation….was how he emphasized that crying is a normal stage of development.
Now certainly if you think something is wrong with your child please seek medical advice or attention. But if it's typical fussiness, take a breath, remember it's just a phase and say out loud "it's going to be okay."
It's okay if baby cries sometimes. It doesn't mean you are a bad mother and it doesn't mean your baby will be like this forever!
What You Can Do To Stay Calm When Baby Cries
I wanted to share this because it's something I'm mentally preparing myself for in the coming months, but I've also found it's not something many moms talk about.
Here are 3 things I did the second time around to stay calm when our son cried:
Prepare Mentally:
This is huge. I think the first time around I didn't realize how much babies cry. Many times they do cry for a specific reason, but I couldn't believe how many times our daughter cried and I had no idea why. It's important to understand this and to know prepare yourself and know your triggers.
For me, it was crying in the middle of the night. That was when I needed the most help and wanted my husband to step in.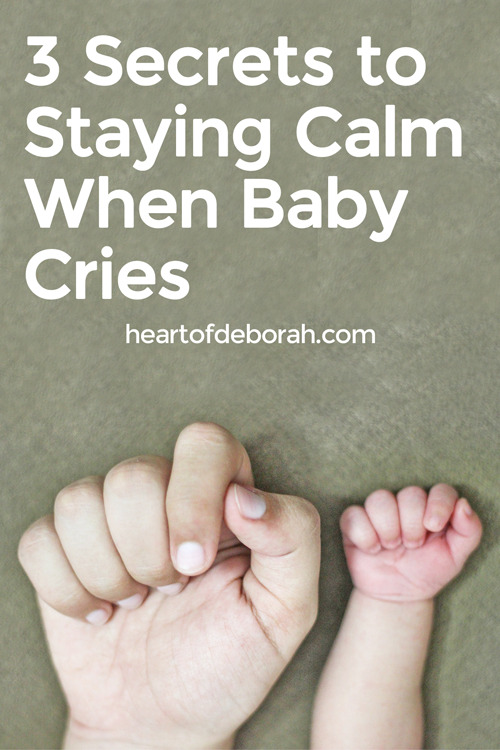 Of course we tried different things to make our daughter happy, but when none of them worked I had to tell myself it was okay. We talked to our pediatrician and he felt she was developing normally so a little bit of crying was to be expected.
Ask for Help:
This is where I am so grateful for my husband! He is so patient and the crying doesn't seem to get to him like it does me. That being said he can't read my mind and he doesn't always know when I'm on the brink of a meltdown. So I need to keep him in my mental loop and not be afraid to ask for help.
Take a Break:
If you are home by yourself and you've tried everything, it's okay to take a break. I remember our pediatrician saying put the baby in a safe place and walk away for a few minutes. You may need to do this to avoid a breakdown and tere is nothing wrong with this! Don't feel guilty about it. Your baby will be okay and so will you.
Lastly, motherhood is hard! And most of the time we feel like we have no idea what we are doing. That's when we need each other and need the friends who can encourage us. Find your support system!
So what about you?
How do you feel about your baby crying? How do you remain calm when your baby doesn't seem to be comforted?
I'd love to hear from you in the comments below. Also be sure to follow Heart of Deborah on Instagram for encouragement in motherhood.
Reminder: this is not a website giving you medical advice, just one mom's experience.