Freshly Picked Giveaway – Moccasin Love
Our baby girl's newest obsession, besides standing in her crib, is taking her shoes and socks off! As soon as we get in the car, I look back in my rearview mirror and see little baby toes wiggling and squirming. I think it's kind of cute! But there are times when I would love for her to keep her shoes on. Have you heard of Freshly Picked? I was so excited to review their adorable baby moccasins. I'd seen them all over Instagram and on Shark Tank (our favorite Friday night show), so I had high expectations.
Overall, I have to say I was very impressed! Not only do the shoes come in the cutest colors, they stay on your baby's feet! I love how soft the leather is and the fact that they are handmade in the USA. The only drawback I found was the price. They are somewhat pricey so I'm hoping they last a long time.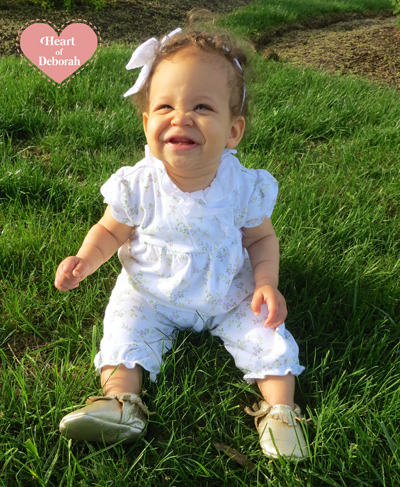 Izzy isn't walking yet, but I wanted to see what shoes the experts recommend for babies. After a short google search, I found a great resource about baby shoes from the American Academy of Pediatrics. They recommend shoes that are lightweight, flexible, and leather. It isn't necessary to buy shoes with arch support until children are older. Barefoot is great and when that isn't possible freshly picked moccasins seem to be the next best thing (in my opinion). Not only are these shoes adorable, they are a great choice for your baby's first steps!
Now for the Freshly Picked Giveaway!!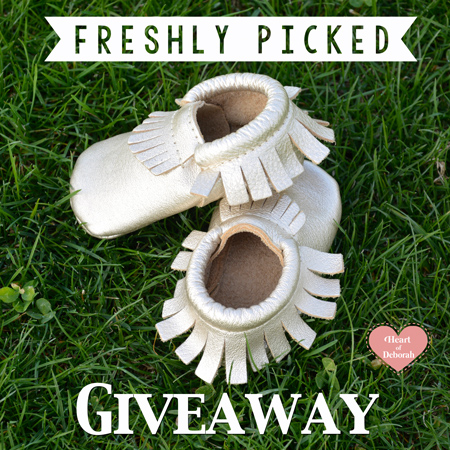 One reader will win a pair of Freshly Picked Moccasins (retail value $60). You choose the color and the size!
Disclosure: This post has been sponsored by Freshly Picked. Although I received a pair of moccasins to review, all opinions expressed are 100% my own. All giveaways are free of charge, no purchase necessary to win. Giveaways are not affiliated with or endorsed by Facebook, Twitter, or Pinterest. Heart of Deborah is not responsible for any prize not fulfilled by the sponsor or damaged during shipping.