Thank you Bump Boxes for sponsoring this post.
Growing a baby is a tough job. By 42 weeks with my first baby I was uncomfortable. For me, a little pregnancy pampering went a long way. Over the years I've tried several subscription boxes. They seem to be a fun new trend. Most of them were focused on my baby girl. Don't get me wrong, I love finding adorable outfits and fun toys for my daughter. But sometimes mama needs a little attention if you know what I mean! This brings me to Bump Boxes. It's a subscription box specifically designed for expectant mothers. How fun is that?
I was initially drawn to Bump Boxes because their themed boxes are filled with safe, all natural and non-toxic products. When they asked if I would like to review a Be Ready box I was so excited. As a mom of a toddler I don't always take the time to relax and rest. The items I received in my box will certainly help me take a break and destress. I even got my husband to use the body massager on my back multiple times.
Here is what I received in my Be Ready Box:
Deep Steep Candy Mint Foot Cream: This stuff smells amazing. It's also very refreshing when you rub it on your feet after a long day.

Deep Steep Lavender Chamomile Bubble Bath: Lavender is one of my favorite scents. At the end of my first pregnancy I enjoyed many relaxing baths to help with sore and stiff muscles. I can't wait to use this.

Earth Mama Angel Baby Organic Peaceful Mama Tea: I love a cup of warm or cold tea. This product is designed specifically for mama and it's great to sip on before bed.
Due North® Foot Rubz™ Massage Ball: Thankfully my feet haven't been hurting this pregnancy, but it may be coming. I remember my feet aching by the end of the day with Izzy. All three of us took turns rubbing our feet on this ball and overall it felt good.

Accu-Pressure Body Massager: My husband claims he can massage me longer when he uses a body massager. I'm just glad he is willing to massage me at all! I think this may come in handy during the early stages of labor.

Dream Essentials Snooz™ Silky Soft Eye Mask: My sister let me borrow her face mask when Izzy was first born so I could sleep during the day and block out any light. I'm not 100% convinced, but I will definitely try it again because this mama needs her sleep.

Weleda – Lavender Relaxing Body Oil: We are big fans of Weleda in our household, but I've never tried their lavender body oil. I'm thinking this may be good to rub on my head or neck before bed. Again, the smell of lavender is so relaxing to me.
Overall, I thought this box was super fun and I think I will honestly use all of the items included. Bump boxes has 9 different types of boxes you can choose from to suit your pregnancy pampering needs. If you none of the boxes seem relevant for you, you can build your own box using hundreds of non-toxic products from their online marketplace.
What helps you relax during pregnancy?
What is your favorite pregnancy pampering item?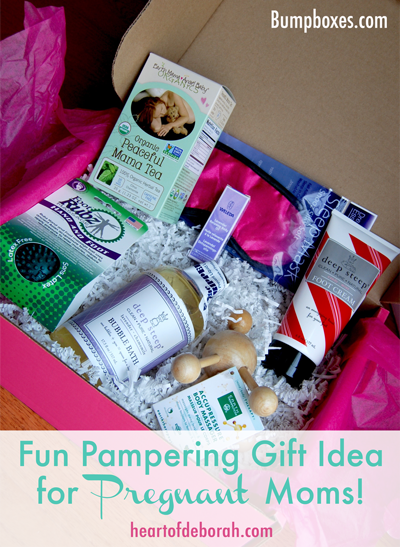 Disclosure: Although I received a review product free of charge, all opinions expressed are 100% my own.