What does Wonders of His Love Really Mean? An Advent Devotional
Today is the first day of advent and I was so happy to hear some of my favorite Christmas carols at church! This year I am looking at a different Christmas carol each week of advent.
One of my favorite songs is Joy to the World. Of course, Mariah Carey's famous version is one of the reasons I enjoy it. But I also love the beauty of the original lyrics. In the fourth verse, it reads:
"He rules the world with truth and grace,
And makes the nations prove
The glories of His righteousness,
And wonders of His love,
And wonders of His love,
& wonders, wonders, of His love."
So what does the wonders of His love really mean? First, let's take a look at the definition of wonder.
I love the definition from the English Oxford Living Dictionary: wonder [mass noun] A feeling of amazement and admiration, caused by something beautiful, remarkable, or unfamiliar.
Wow! After I read this I was really challenged on my view of God's love. Do I feel a sense of amazement and admiration when I think of His love toward me? Do I really understand what His love means?
Wonders of His Love: Understanding God's Lovingkindness 
Though we can't fully fathom or understand God's love for us, we can learn many things about His unfailing love in His word.
In Psalm 17:7 (NIV) David prays "Show me the wonders of your great love, you who save by your right hand those who take refuge in you from their foes." The NKJV reads "Show Your marvelous lovingkindness by Your right hand..."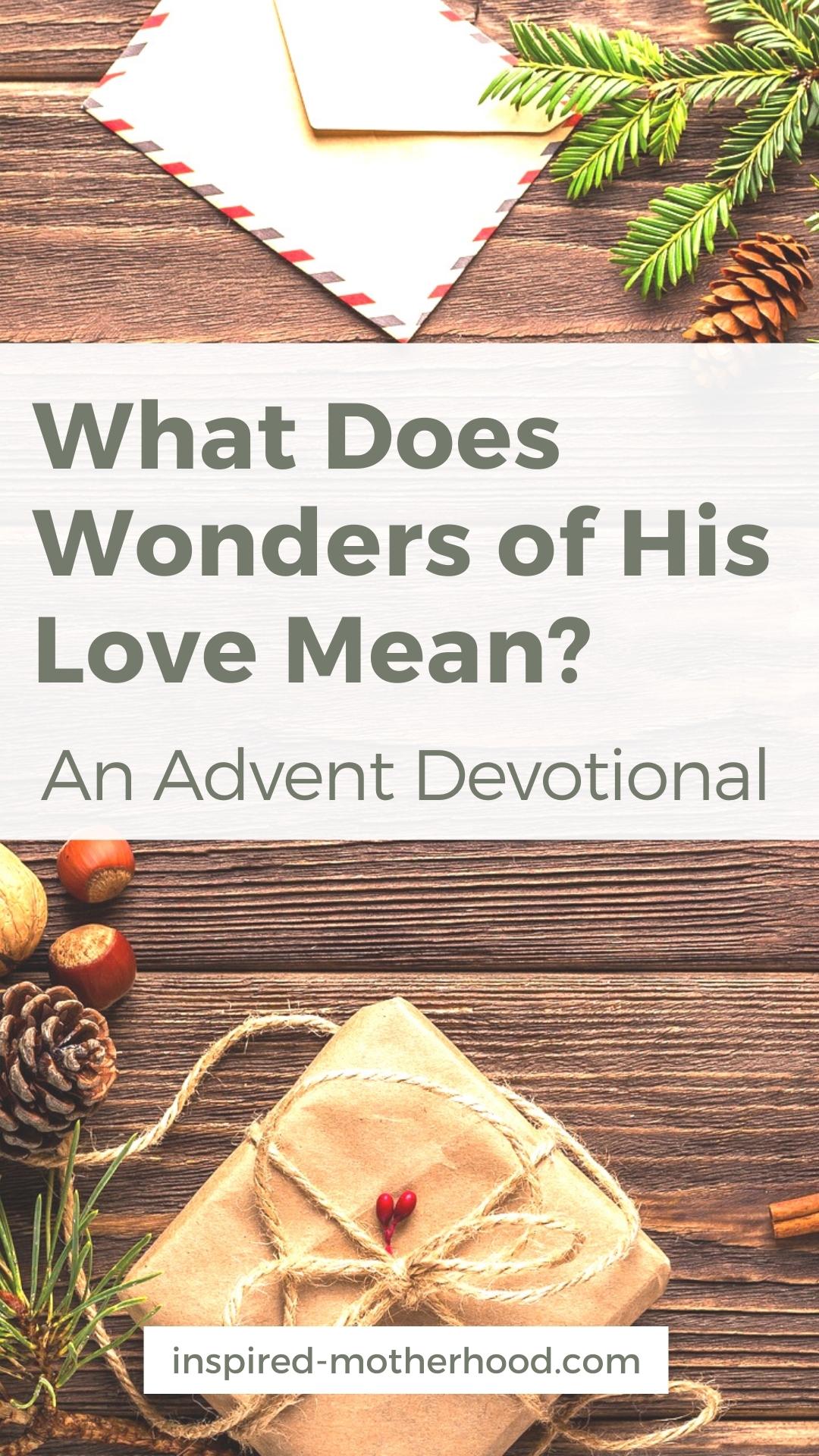 Next, I did a word study based on this verse and I was reminded of how wide and how deep God's love is! In Psalm 17:7 the word lovingkindness is the Hebrew word checed.
I read in my Strong's Concordance that God's lovingkindness incorporates three principles: strength, steadfastness and love. The Strong's Concordance went even further by saying to truly understand lovingkindness we must incorporate all three of these principles into the definition.
This got me thinking. How does God's strength relate to his lovingkindness toward me? His love is so hard to fathom because we often think of it in human terms. Thankfully (for us), God's love isn't at all like human love.
His love never fails (Psalm 136:1-2) and it has the ability to cast out fear (1 John 4:18). His love is strong for even when we are faithless and undeserving He remains faithful and steadfast. When my heart really understands this I am left with wonder! That feeling of amazement because of something so beautiful and remarkable.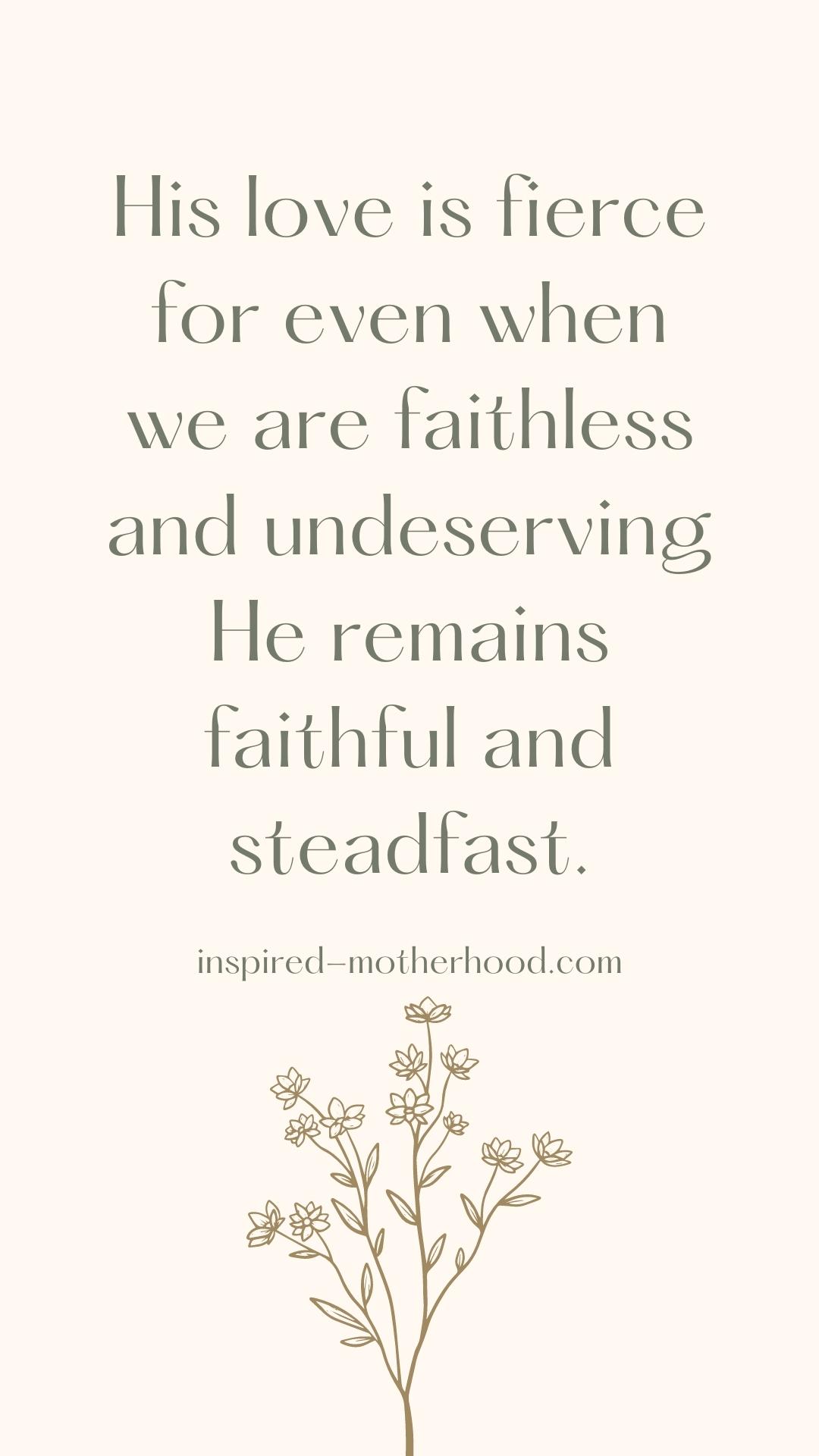 Lastly, I've been meditating on God's love toward me the past few weeks. In years past I always started the New Year by reading the 31 Proverbs.
This year I plan to read and pray the different names of God for the 31 days of January. I believe it will help me to better understand just how vast and awesome God's lovingkindness really is!
Looking for more this advent season? I have a FREE 4 day devotional on YouVersion inspired by my favorite Christmas carols. Be sure to read the advent devotional here.
Now it's your turn. What does the Wonder of His love mean to you? How would you describe God's lovingkindness? I'd love to hear from you in the comments below!