My Favorite 10 Gifts This Year! A Holiday Gift Guide
Christmas is only 5 weeks away! I can't believe how quickly this year has gone by. Some years I'm not feeling all the Christmas decorations and music starting before Thanksgiving, but this year I've been totally into it. Life is too short to wait until the "perfect" moment. Why not spread Christmas cheer now!? With Black Friday deals coming up next week I thought it would be the perfect time to share a holiday gift guide and my favorite 10 gifts of 2017.
At the top of my list is this women's JORD wooden watch. I love the Navy face and the Zebrawood band (see watch here). You may remember my husband got one for Father's Day and he received SOO many compliments. I was so excited to partner with JORD on this guide gift and review a woman's watch for myself. It is absolutely beautiful and so unique. JORD also offers custom engraving. You can add a special message to your watch this holiday season. Be sure to sign up for an instant 25% off coupon code to use on your holiday shopping!
This post contains affiliate links.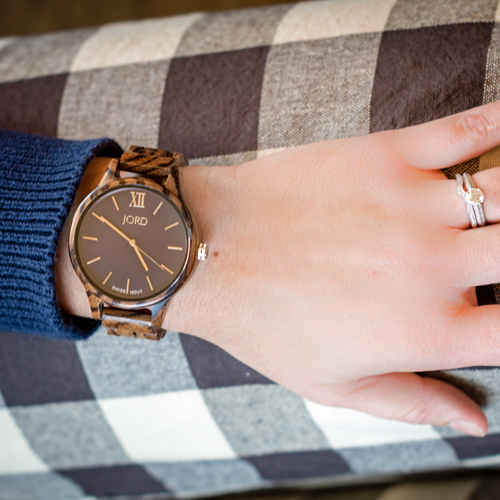 My second favorite gift, is skincare! I try to use the Environmental Working Group's Skin Deep Database whenever I buy beauty products and Beautycounter is always at the top of their list. Not only is it safe for your largest organ (skin), but it also works wonderfully on your skin. I recently tried this rejuvenating radiance serum and I'm very happy with the results.
When I was younger I never got excited over home decor or practical kitchen gifts. But now I love receiving things like this! Who isn't obsessed with Joanna Gaines new line at Target!? I got the colander and farmhouse tumblers and I am in LOVE. They are well made yet affordable. Anything from the Hearth and Hand line would be a perfect gift this year.
Another beauty product I use often is the Tarte Blush Bliss kit. I've been a fan of Tarte for years because their products are formulated without artificial fragrances, phthalates or parabens and they work well! It's not always easy to find a make-up that works well and is safe for your skin.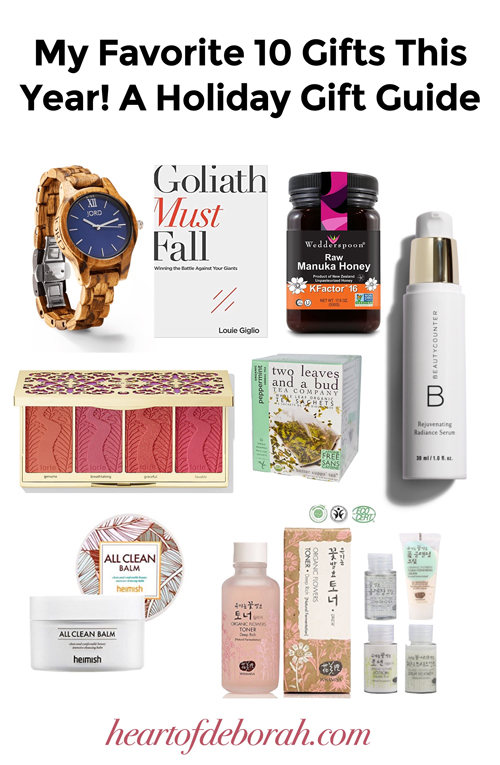 I've heard great things about Korean beauty products, but it wasn't until recently that I tried some! I love this organic toner and skin care kit. I also enjoy this Heimish All Clean Balm. It's so affordable yet still high quality. Both are safe for your skin and leave your skin feeling soft and looking fresh. What women doesn't love to be pampered with gifts like this!?
Have you heard of Manuka Honey? My family became obsessed with this a few years ago and we are hooked. I eat it every morning on my toasted Ezekial muffin. So yummy and so many wonderful health benefits. It can help with burns, your immune system, IBS and allergies!
Who doesn't love a good book? Especially in the winter when it is cold and dreary outside. There is nothing like cuddling up with your favorite tea and a book. I first tried this peppermint tea at the Woodloch and it's such a treat in the winter months.
What are your favorite gifts to give for the holidays?
My Favorite 10 Gifts This Year! A Holiday Gift Guide
Stuck on gift ideas and overwhelmed with all the options? My husband and I can both highly recommend wooden watches as unique and thoughtful gifts! I was surprised at how big the face of my watch was when I received it. I have the Frankie 35 series in Zebrawood & Navy. It's so beautiful! There is something special about a wood watch and it definitely is a conversation piece. My husband works in the medical field and his patients are always asking him where he got his watch!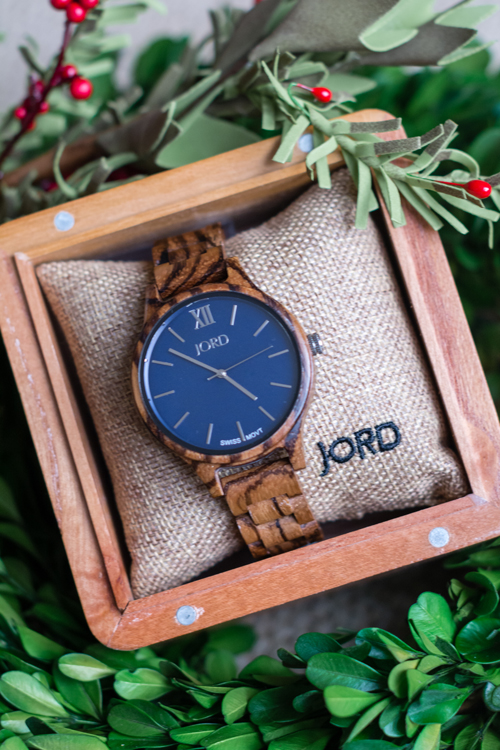 If you are on the lookout for a cool watch be sure to sign up for an instant 25% off coupon code. You will also receive the latest updates and deals. Remember Black Friday shopping is right around the corner. Each watch comes with a limited 1 year warranty and you can add a special touch by having the watch or the beautiful cedar watch box engraved.
Disclosure: Thank you JORD for sponsoring this post.