Warning! It's Not Always Easy
I consider myself a positive person. Usually, I'm fairly happy and upbeat. At the same time, I try to be realistic. I remember before I got married my mom gave me some great advice. Growing up I was very fortunate and almost never saw my parents fight or argue. Of course they had disagreements, but generally they were happy. This may sound silly, but my mom gave me a warning before I got married. She said "It's not always easy." No matter who you are, what you do or how much money you have you will face challenges. The Bible tells us so! In John 16:33 Jesus says "In this world you will have trouble."
We aren't guaranteed an "easy" life. Thankfully, Jesus didn't stop there! He follows the warning with "But take heart! I have overcome the world." I am so thankful that I am more than a conquerer through Christ. I'm also grateful my mom shared this piece of advice with me. It's easy to get wrapped up in the romantic whirlwind of our culture. It begins in childhood with happily ever after fairy tales and it continues through adulthood. This is one reason I don't read romantic novels and I try to limit how many romantic comedies I watch. It's not realistic and it can give women false ideas of happiness, marriage and love. I've talked about how Facebook can give us false perceptions before and I think it's so important to keep a healthy perspective.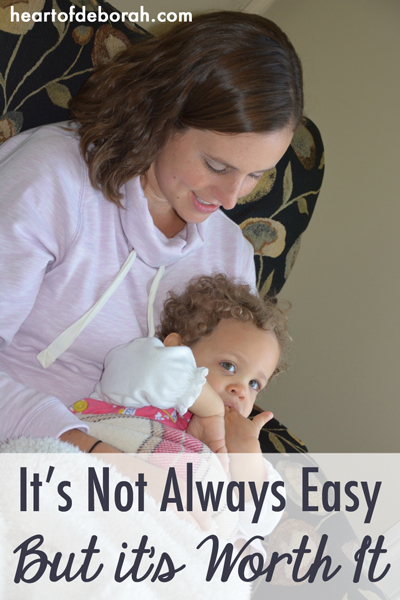 This advice was also helpful when Izzy was first born. I remember telling my husband I wanted kids because I thought it would be fun. If I'm being honest, after Izzy was born it was way harder than I expected. When I was 9 my brother was born. I was old enough to help out and I loved having a baby brother. I remember my mom warning me as a child, "this is not normal." My brother was the perfect baby. I don't think he ever cried and he was very laid back. Although I knew this in the back of my mind, I was still shocked or surprised when Izzy cried. It took me a few weeks to adjust to having a newborn.
I started thinking about this again as we expect baby number two. I appreciate when people tell me the truth and say it's not always going to be easy having two kids. Again it reminds me of John 16:33. It may be harder than you expected, but thankfully it doesn't end there. We have a God who loves us and will carry us through difficult times. He will keep us in perfect peace when we keep our thoughts on Him. To wrap everything up, I think what I'm trying to say is I like to know what to expect. I want to be prepared for things and not be shocked when life gets tough. At the same time, I don't want to focus on the negative and miss out on precious moments because I'm worried about life being difficult.
How do you keep a balanced perspective?