The Secret to Throwing a Perfect Birthday Party Without Stress
Our daughter is beyond excited to celebrate her 6th birthday at the end of this month. She has always loved celebrations ever since she was a little baby. This year we decided to plan a Disney birthday party!
But before I share all the details on how to plan a party, I have to be honest with you guys.
At first I did not want to throw a birthday party. 😬 It felt overwhelming with 3 littles at home and all the over the top ideas I saw on Pinterest made me nervous.
How could I possibly throw a cute birthday party for my child without feeling in over my head?
I decided to accept the challenge. For this party, my goal is to create a super easy and fun experience without all the stress.
So here it goes! All the secrets, tips and tools to throw an EASY yet FUN birthday party for your kids.
We are so thankful to partner with Walt Disney World this month to host our Disney-themed birthday party. Follow #NowMoreThanEver for all the latest Disney magic.
This post may contain affiliate links for products we use and love. Full disclosure here.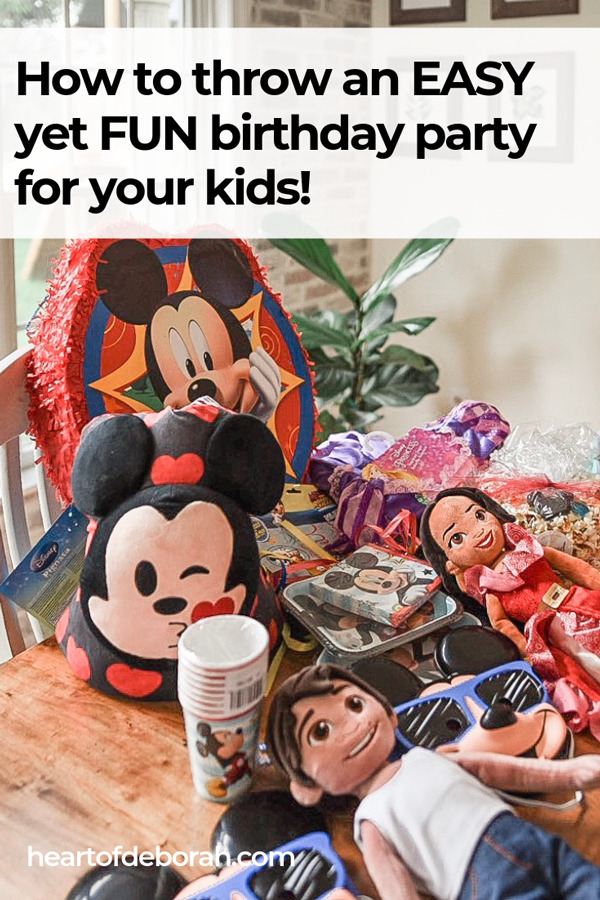 #1 Don't Wait Until The Last Minute to Plan
I'm a planner by nature so I usually start planning 4-6 weeks in advance. This helps reduce stress levels and gives me time to slowly work on the different elements of the party.
Here are 5 things to consider when throwing a party:
Invitations: Decide if you going to send formal invitations in the mail or electronic invitations. Give your guests enough time to RSVP so you can plan food, favors, etc.
Food: Will you be serving a meal, snacks or drinks at the party? We decided to do a brunch with Mickey waffles, bacon and fruit. This was one of our kid's favorite things after visiting Walt Disney World. They couldn't stop talking about the bacon and the Mickey waffles. 😂
Games and/or Activities: This can be as simple or complex as you'd like. Read tip #4 to hear my thoughts on searching Pinterest for kids birthday ideas.
We are going with a "Becoming a Disney Artist" themed party so have one craft planned. Stay tuned for more details on this easy kids craft.
We were so thankful to get a Mickey Mouse piñata and a pin the nose on Mickey game included in our Disney birthday party kit.
Remember kids don't need complex activities to have fun.
Decorations: I'm a sucker for adorable decorations, but I don't want to spend a ton of money. So we decided to do a few DIY projects before the big day. My daughter has been painting different princess dresses each day to hang in the frames in our kitchen (see the details in our Disney highlights here).
We are also going to borrow a few chalkboards and lanterns from my sister who got married a few years ago.
Party Favors: We want to keep it simple so we are including a few Disney-themed items from places like the Target dollar bins and/or the dollar store. Sometimes less is more.
I'm also planning an itinerary for the day. It's not set in stone, but I like having an order of events planned to keep things organized.
#2 Choose a Theme
Ask your kids for input when choosing a theme. It can be as simple as a "swim party" or "movie night." It helps to consider the items you already own. Keep the cost of decorations and games down by using what you have.
As I said earlier we are going with a "Becoming a Disney Artist" theme. Our daughter LOVES art so it seemed natural to choose this for her party. Since Rapunzel is a princess who loves to paint she will be incorporated into the theme as well.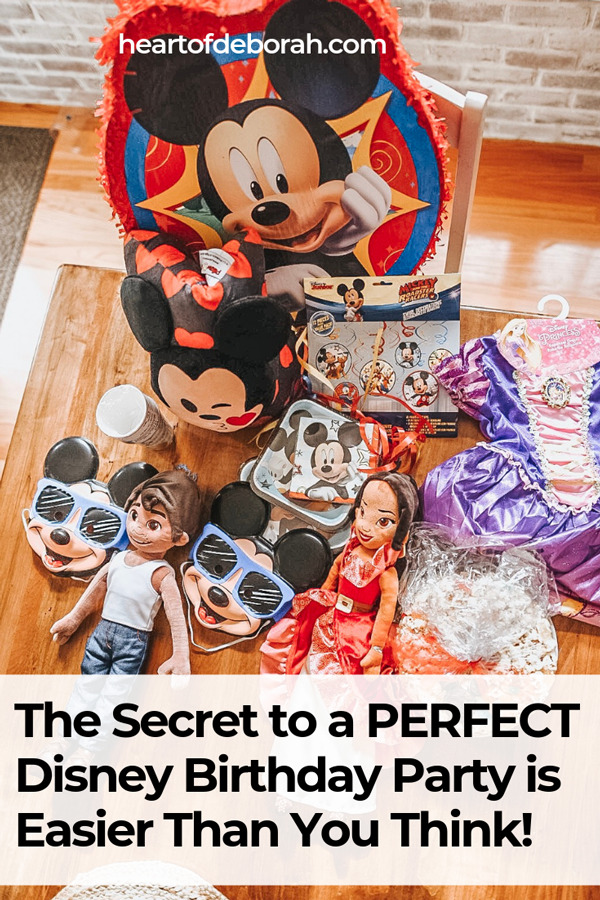 #3 Get the Kids Involved!
The age of your children definitely determines how much help they can offer. But I highly recommend getting your kids involved no matter the age.
Ask them what they'd like to do for their birthday (within reason). Get them involved in making the decorations and prepping the food.
If they aren't into big parties, that's okay, follow their lead! Do what works for your family.
My daughter has been very helpful with brainstorming food ideas, crafting DIY decorations and planning games for the party. This takes some of the weight off my shoulders.
It's also been fun to do this together before the party. Our daughter is learning party planning is hard work!
#4 Go to Pinterest for Inspiration Not as a Party Standard
I love searching Pinterest for inspiration and ideas. But let's be honest, some of the Pinterest worthy crafts are hard to replicate. It can feel disheartening if you don't have as much money to spend or artistic talent to recreate what you see.
That's okay! Make the party your own.
You don't want to have someone else's party, living their dream. Have your own party. Which leads me to number #5.
#5 Do What Works For You
Do what works for you! Set a budget before you start buying things for the party and stick to it. Make your party unique and follow your heart. Don't compare your party to someone else's.
Don't feel pressure to spend more money than you have available. Kids will love spending time with their friends and feeling celebrated no matter what.
So that's it! 5 secrets to planning an EASY yet FUN Disney Birthday Party.
We'd love to hear from you. How do you plan birthday parties? Do you typically choose a theme?
I'll be going into more depth on the party details on my Instagram stories – so make sure you're following along there!
Thank you Disney for sending us a party kit to make our daughter's birthday extra magical. We'd also like to thank the following sponsors: JAKKS Pacific, Michael Angelo's, Popped Passion and Pillow Pets.