Kid's Activities for Thanksgiving
Crisp fall days are here and that means before we know it Thanksgiving will be here! Life has been so hectic lately. We are still trying to get into the back to school routine! So I'm trying to be more intentional about finding and planning small kid's activities to focus our time together. Today I want to share 7 fun kid's activities for Thanksgiving.
This post contains some affiliate links.
7 Kid's Activities for Thanksgiving
Make a Turkey Craft: Get into the Thanksgiving spirit by making your favorite turkey craft! I love this feather letter turkey because it promotes letter recognition and it's a fun craft for kids. This leaf turkey craft also looks fun and simple. I don't always have time to make intricate crafts and that is okay. There are so many easy ideas on Pinterest that won't take a lot of effort.
Go on a Nature Walk: We are soaking up the warmer weather while it is still here. We try to spend at least an hour each day outside if the weather allows. Our kids love to run around and roll down the hill in our backyard. We've also spent more time exploring nature.
I love this free printable which includes pictures of fall objects to find on scavenger hunts. Our kids love to find different colored leaves.
Thanksgiving Books: Books are a great way to introduce a holiday, topic or event with children. There are so many wonderful thanksgiving books for children. We start reading these books a few weeks before Thanksgiving Day! One of our recent favorites is Thank You Lord for Everything by P.J. Lyons. It is an adorable picture book that encourages kids to give thanks to God for all things.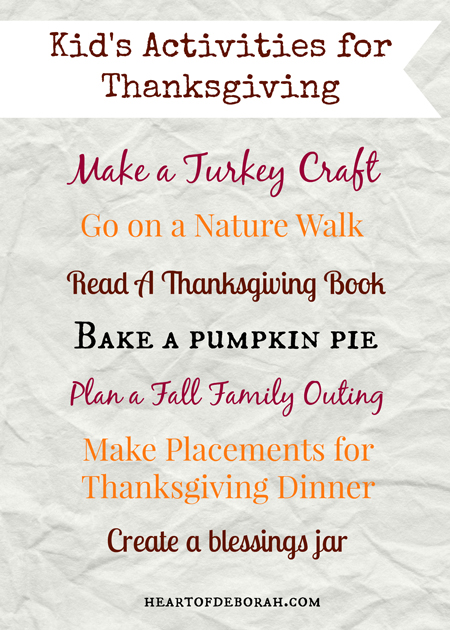 Make a Pumpkin Pie: There is nothing better than pumpkin pie. Why not get messy with your kids and bake a real pumpkin pie. If you prefer to save the calories and the mess, how cute is this felt pumpkin pie craft?
Both kid still play with their Melissa & Doug birthday cake set. We are going to start pretending it is pumpkin pie! We are also going to make orange play dough for pumpkin pie using our favorite nautral play dough recipe.
Go on Fall Family Outings: Last week we visited an apple orchard and Izzy had a blast. She loved counting the apples and placing them in the basket all by herself. Sometimes it takes a lot of effort to get out of the house with two small kids.
We are getting creative with family time and trying to do stuff right in our backyard. For example, rake a pile of leaves and jump through them, collect acorns or pine cones and take pictures of the fall scenery in our neighborhood.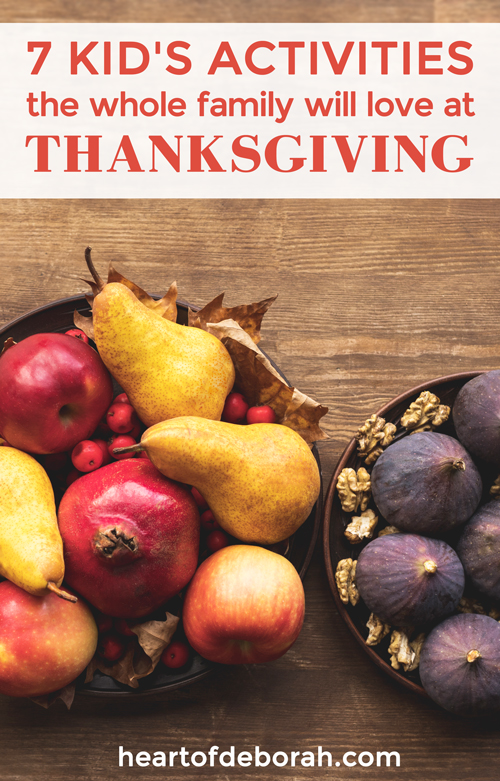 Make Placements for Thanksgiving Dinner: Let your kids help you decorate and prepare for Thanksgiving dinner this year. There are numerous examples of DIY placements on Pinterest. I like this kid's printable placemat and this simple placemat made from brown craft paper.
Create a Blessing Jar: One way to count your blessings is to create a DIY blessing jar. It's a fun and simple craft that you can do with your kids. Wouldn't it be fun to read all the things you put into the jar at the Thanksgiving dinner table?
What are your favorite kid's activities for Thanksgiving?