What Does it Mean to Be the Keeper of the Home?
What does it mean to be the keeper of the home? Let's find out together. A few months ago I got my first "real" job after having children. Once a week I started teaching an undergraduate psychology class at a local university. I was so excited when I got the position! It finally felt like I had something for "me" again.
Don't get me wrong I love being a stay at home mom (read more about that here). But I also wanted to have something just for me. A place where I could be "Lauren" or "Professor Gaines" instead of "Mommy."
Soon into the job I had some revelations. Being a professor was a very rewarding experience and it allowed me to put my degree to use. But I also realized just how special it was to be at home. See before my new job, I sometimes took being a stay at home mom for granted.
The routine of life allowed me to lose the wonder and joy of being a homemaker!
So let's get back to what is means to be the keeper of the home.
The term the keeper of the home comes from the Bible in Titus chapter 2. I've found looking at different translations of scripture to gives me more insight into God's word. So here are a few of my favorite translations of Titus 2:4-5:
That they may teach the young women to be sober, to love their husbands, to love their children,

 

To be discreet, chaste, keepers at home, good, obedient to their own husbands, that the word of God be not blasphemed (KJV).
So that they may encourage the young women to tenderly love their husbands and their children,

 

to be sensible, pure, makers of a home [where God is honored], good-natured, being subject to their own husbands, so that the word of God will not be dishonored (AMP).
These older women must train the younger women to love their husbands and their children,

 

to live wisely and be pure, to work in their homes, to do good, and to be submissive to their husbands. Then they will not bring shame on the word of God (NLT).
To me these verses gives women encouragement in their roles as wives and mothers. Yes our professions and our jobs are important, but your role as a wife and mother also gives you a purpose!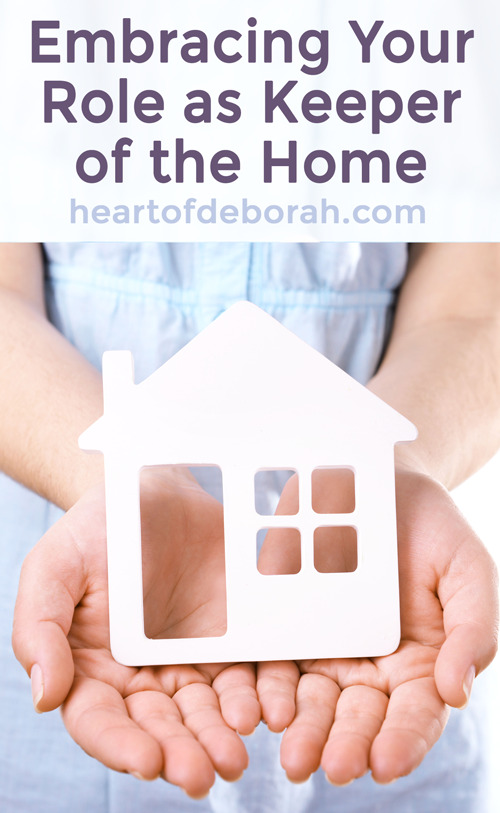 Now I don't want to argue whether you should or shouldn't be a mother who works or stays at home. I believe women should pray about this and see where God leads them.
For me personally, God led me to stay at home the first few years of my children's lives. But I can't say I never felt the unspoken pressure more. Do you know what I mean? When you start to feel like you aren't doing enough because you are just a stay at home mom? If you've ever felt this I want to encourage you!
Staying at home with children is a blessing and a commendable choice. There are rewards when you dedicate your time to raising your children and managing your home.
I recently read a commentary on 1 Timothy 2:15 and I love it so much I need to quote it exactly.
"Woman's highest position and true dignity are in the home as a godly wife and mother. No greater joy, inner delight, blessing or honor can come to her than when, as a Christian wife and mother, she bears children, loves them, raises them to live Christlike lives for God's glory and continues to be ever faithful to her Savior" (Commentary from The King James Version Full Life Study Bible, 2000, p.1906).
A Positive Force in Your Home
Again, I love having a role outside of "mommy," but I don't want to lose sight of the importance and blessing it is to be a mother and to be a positive force in my home. 

Remember as a woman of God you have the ability to create a positive atmosphere for your home. Whether you have children yet or not you can bring light, love and comfort to your home and those around you. You can create a place of peace where guests don't want to leave and they feel a warmth they can't quite describe. Don't let the monotony of life keep you from remembering this special role!
One way to keep your mind focused is to create a homemaker's mission statement. Try it and let me know what you think.
So what does keeper of the home mean to you? I'd love to connect with you on Instagram and hear your thoughts in the comments below!
What does keeper of the home mean to you?