10 Scriptures to Pray For Your Children
10 powerful scriptures to pray for your children!
There have been many moments in parenthood where I've looked at my husband and moaned "so what do we do now?" We don't have all the answers and what works for one child may not work for another. This is where prayer comes in! Throughout this journey I don't know what I would do without prayer. Almost daily I ask God for wisdom, guidance and a lot patience.
Today I'm sharing 10 intentional scriptures to pray for your children. Pray these verses for protection, pure thoughts and sound minds!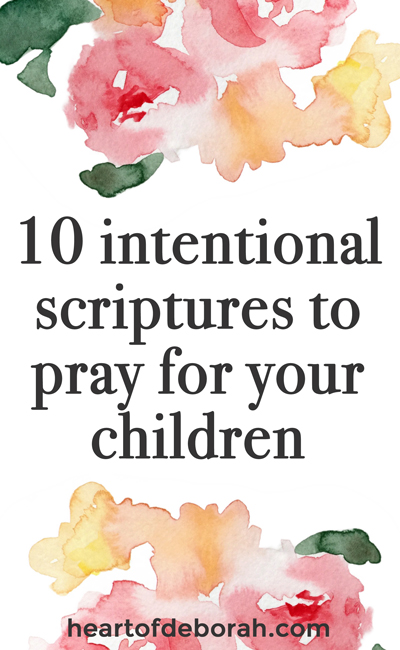 Scripture to Pray Over Your Children
For Protection: The

Lord

himself watches over you! The

Lord

stands beside you as your protective shade.

The sun will not harm you by day,

nor the moon at night. Psalm 121:5-6 (NLT)
For Favor: 'May the

Lord

bless you

and protect you.

May the

Lord

smile on you

and be gracious to you.

May the

Lord

show you his favor

and give you his peace.'

Numbers 6:24-26
For Pure Thoughts: And now, dear brothers and sisters, one final thing. Fix your thoughts on what is true, and honorable, and right, and pure, and lovely, and admirable. Think about things that are excellent and worthy of praise. Philippians 4:8
For Sound Minds: For God has not given us a spirit of fear and timidity, but of power, love, and self-discipline. 2 Timothy 1:7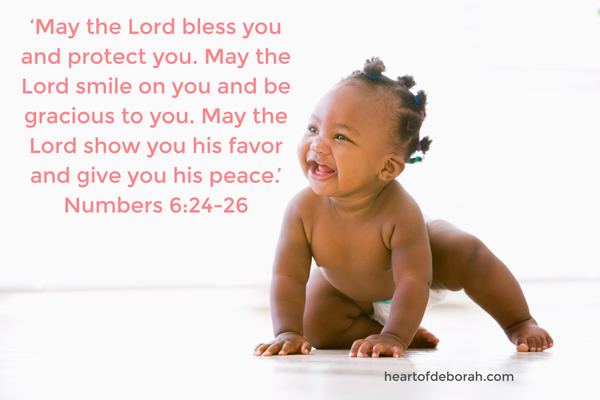 For a Transformed Mind: Don't copy the behavior and customs of this world, but let God transform you into a new person by changing the way you think. Then you will learn to know God's will for you, which is good and pleasing and perfect. Romans 12:2
For Sweet Dreams:

You can go to bed without fear;

you will lie down and sleep soundly. Proverbs 3:24
For Sharing God's Love: In the same way, let your good deeds shine out for all to see, so that everyone will praise your heavenly Father. Matthew 5:16
For Biblical Self-Worth: For we are God's masterpiece. He has created us anew in Christ Jesus, so we can do the good things he planned for us long ago. Ephesians 2:10
For a Listening Ear:

My child, listen when your father corrects you.

Don't neglect your mother's instruction.

What you learn from them will crown you with grace

and be a chain of honor around your neck. Proverbs 1:8-9
For a Thankful Heart: Be thankful in all circumstances, for this is God's will for you who belong to Christ Jesus. 1 Thessalonians 5:18
How to Pray These Powerful Verses
There is no secret formula to doing this. Write down your favorite scriptures then speak the promises of His word out loud. You can make the verses personal and add your child's name to scripture. For example, when we tuck our daughter in at bedtime we pray that our daughter Izzy would go to bed without fear. May she lie down and sleep soundly this night. Amen!
Finally, there are many other verses you can pray over your children. What are your favorite scriptures to pray for your children?
Did you pray scripture over your children? What is your favorite verse to pray?