Finding Quality Baby Products
I remember creating our baby registry with Izzy and feeling somewhat overwhelmed. There were so many baby products out there and it was almost impossible to know which ones we were going to need. I loved hearing recommendations from other moms, but sometimes those recommendations conflicted. How was I supposed to find quality baby products that I would actually use?
Now that baby number two is almost here I *think* I have a better idea of what we will need and use with a newborn, infant and toddler. Although I love finding bargains there is something to be said about investing in timeless pieces and purchasing quality items. Here are some tips I came up with to help you find the best baby products.
This post contains affiliate links.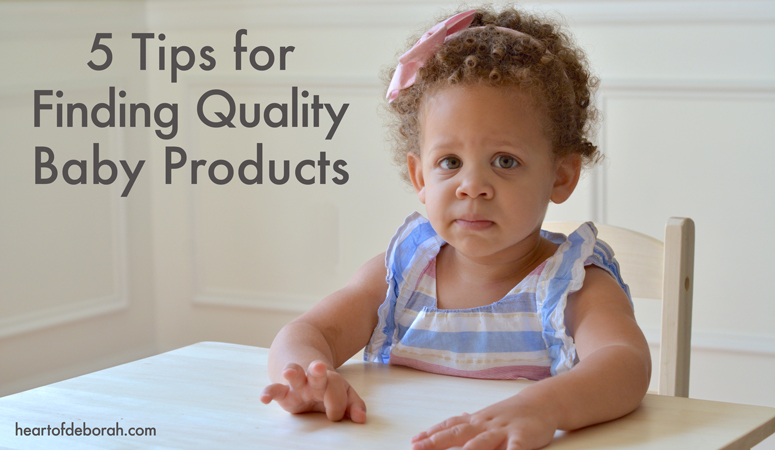 5 Tips for Finding Quality Baby Products
Do Your Research: Whether you talk to other moms or read reviews online I highly recommend researching the baby products you decide to buy. I asked other moms questions like "What was the one item you couldn't live without?" or "What clothes fit your baby the best?" I feel good investing in a company that was highly recommended by someone I know. We also love using Amazon and Consumer Reports for ratings and reviews on all products we buy.
Think Long Term: There were certain products that I wanted to invest in. My mom saved a few of my baby clothes, toys and furniture and I love using them with Izzy. We save money on clothes by shopping at places like ThredUp and local second hand shops. But for special occasions like birthdays and holidays I like the splurge on one or two outfits. Some of my favorite shops to find unique and classic children clothing are Gymboree, Janie and Jack and Boden.
Look for Sales: There always seem to be sales or coupons you can use for baby products. Sometimes it seems silly saving a dollar here or there, but I believe it adds up. If you decide to pay a little extra for a quality baby product, you may be able to find a coupon or a special sale on Retailmenot.com.
Read Labels: This is something I always recommend when it comes to food, but I also recommend it when it comes to baby products. I like knowing what Izzy's clothes are made of and what materials are used in her stuffed animals, toys, etc. I prefer to find baby products with 100% cotton because it's extra gentle and soft for a newborn's sensitive skin.
Try and Touch: Don't be afraid to try products in the store before you buy them. Many large baby retailers have strollers on the floor so take a walk around the store and test it out! When it comes to clothes I love finding soft cozy outfits and certainly when you visit a store don't be afraid to touch the clothes.
What is your best tip when shopping for baby products?