Limiting Our Children's TV Exposure
Someone recently asked me why we are trying to limit Izzy's exposure to television. I wanted to share my reasoning behind this decision. Growing up my family never watched much TV. At one point, we only had basic cable because my mom disliked television so much. I remember her saying "you can get a TV in your room when we (my parents) get one in our room." Well we all knew this was never going to happen so we eventually give up the argument.
Now that I am an adult I am so grateful for this value passed on to me by my parents! I loved playing dress up, library, teacher, etc. growing up with my sister and I am so thankful for these wonderful memories and experiences.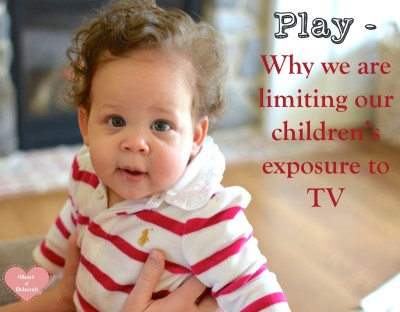 I know this can be a controversial topic and by no means am I trying to tell other mothers/parents what to do. As I said before I enjoy researching topics that interest me and sharing what I find with my friends. Ultimately it is an individual choice and what works for one family may not work for another.
Information: Children's Exposure to Television
I understand we can't always protect Izzy and one day she will watch TV. But in the mean time we try to encourage play and interaction as much as possible. When that fails we reach for Izzy's favorite toys! Again, this decision is up to individual families, but I wanted to share the reasoning behind our personal decision.
What are your thoughts on television exposure?
Journal References:
Finally brothers and sisters, whatever is true, whatever is noble, whatever is right, whatever is pure, whatever is lovely, whatever is admirable – if anything is excellent or praiseworthy – think about such things. Philippians 4:8