DIY Vanilla Lavender Lotion
In the winter my hands always seem to be cracked and dry! I feel like I am constantly washing my hands (maybe it's because my husband works at a hospital and we have a small baby). In order to solve this problem I decided to make my own lotion using my favorite ingredients. You can make this for yourself or use it as an affordable and unique DIY gift idea.
Ingredients for Vanilla Lavender Lotion
1/4 cup beeswax (I used beeswax pastilles I found on amazon)
1/4 cup sweet almond oil
1/4 cup olive oil
1/4 cup coconut oil
1-2 tablespoons Shea Butter*
1 teaspoon Vitamin E oil
1 teaspoon Vanilla Extract
10-12 drops Lavender Essential Oil
*Add more or less Shea butter to adjust the thickness of the lotion.
I made a lavender vanilla scent, but you can mix and match whatever essential oils you would like to create a unique smell.
Creating Your Lotion
Combine ingredients in a large glass jar. I used a large mason jar.
Fill a medium pot with water and place over medium/high heat.
Place glass jar in the water and occasionally stir to combine all ingredients.
When ingredients are completely melted together – it took me about 10-15 minutes – pour liquid into the a jar where you can store your lotion.
Let liquid cool and solidify.
Enjoy your homemade lotion.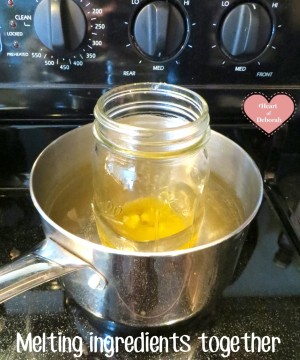 Have you ever tried using fresh beeswax? My grandfather has honeybees for his garden and I'm thinking I may be able to use his beeswax for lotions? I'd love to hear tips from others who have experience making lotions and soaps!