DIY Disney Countdown Calendar
Our family loves countdown calendars. They bring anticipation and excitement to a big event. We recently took our first trip to Walt Disney World and before we left I did a 25 day Disney countdown with our kids.
Every morning they woke up they'd race over to the calendar and ask when we could do it. I have to give credit to one of my good friends, Lauren, who gave me this idea. Naturally our countdowns were a little bit different, but I loved the idea so much I had to do it.
So in this post I'll share with you the specific DIY Disney countdown I made as well as what we included inside the days until Disney.
This post contains affiliate links.
First, construct your calendar. I decided to use a countdown box already made. Here is what I used.
I'll be honest it was a LOT smaller than I anticipated. I guess I should have read the specifications more carefully, but in the long run it worked. It didn't take up a lot of room and I was able to squeeze little notes into each box.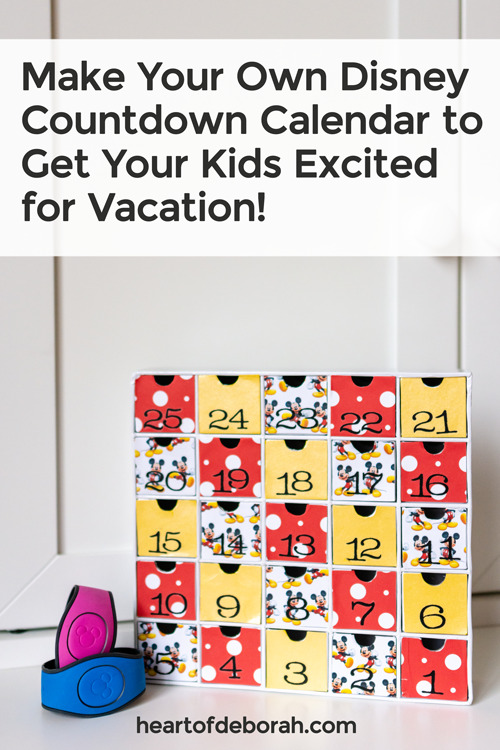 I bought scrapbook paper to cut out and glue on each square. Then I used the stickers the box came with to create our countdown. It was really easy! If you don't feel like constructing a new countdown calendar and you have an advent calendar, try using that.
Now for the fun part, what to put into your Disney countdown calendar.
Here are a few big items I included in our countdown:
Disney themed pajamas (best to find at shopDisney, Target, Kohls or Old Navy)
Noise blocking ear muffs for the fireworks (my son does not like loud noises)
Reusable water bottles (we bought these)
Disney themed t-shirts
Minnie or Mickey ears
Autograph books
Princess accessories (headbands, bows, etc.)
Our kids didn't receive a big item each day. We tried to buy things they would actually need for the trip and spread it out over the 25 days. I always did a scavenger hunt type activity for them to find the big present in our house. Here are some examples:
Sample Rhymes to Include in Your Countdown
In Disney we will meet Mickey Mouse, Minnie Mouse and Donald Duck. Go find a special book where you keep your big red truck.
*Before they read the rhyme I would hide the autograph books where my son keeps all his trucks and cars.
Disney has the best fireworks in the whole world, but sometimes they can let out a big bang. Go find a tool to keep your ears safe where all your clothes hang.
*I hid the noise canceling in the kids closets beforehand.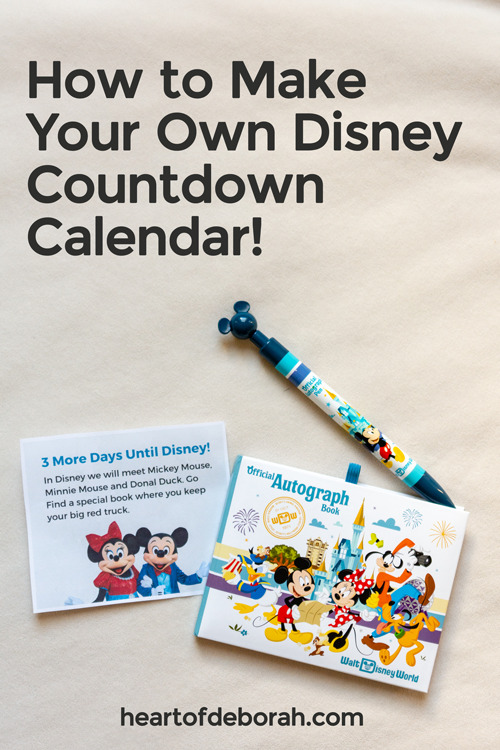 If rhymes are too difficult to come up with, just write a note giving them a clue where the "surprise" is hidden. The kids will love it no matter what.
I also wanted to prepare them for the trip and get them excited about some of our planned activities. So on certain days they would watch a Youtube video of the Happily Ever After fireworks or I'd create a printout with pictures of the Wilderness Lodge (where we stayed on Disney property).
Here are a few more examples of rhymes you can include each day to tell your kids about your trip:
At Disney we will meet Elsa and Anna and go on the Frozen Ever After ride. In Florida, it will we warm and sunny, we can even sit poolside.
For dinner one night we will get to eat dinner at Chef Mickey's restaurant. We will even dine at Belle's castle where you can try the grey stuff or a fancy french croissant.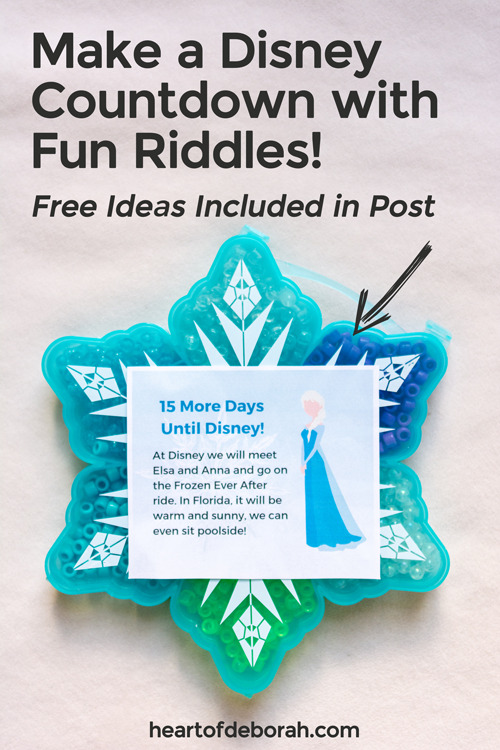 Use your imagination! Have you done a countdown calendar in the past? Tell us about it! If you make one be sure to tag @heartofdeborah or use #HeartofDeborah on Facebook and Instagram. We'd love to share our favorites.
We hope this post gave you some magical ideas to include in your next Walt Disney World vacation.
Be sure to read our Ultimate Guide to Disney with Preschoolers.
Also share with us in the comments below your favorite ways to prepare for Disney vacations.