Tips for Cleaning with Children
I remember when my daughter first started to crawl I was paranoid about having a clean floor. She loved putting things in her mouth and I didn't want her to find any dirt. Now I know that is somewhat unrealistic, but since we have two small children I try to keep our floor clean. When cleaning with children it is important to me to be efficient and practical.
3 Tips for Cleaning with Children:
Involve the Children: My daughter loves singing the clean up song from Daniel Tiger. I take advantage of this and involve her in the cleaning process. She even loves wiping up the "bubbles" (cleaning spray) with paper towels. Don't worry I try to use natural cleaning products in our house so it's safe for her to help. Toddlers love to help, so let them!
Find Efficient Ways to Clean: One way to quickly clean up messes and not worry about tripping your children with cords is to go cordless! See more below as to why I went cordless. Another efficiency practice is to clean up throughout the day. If I wait until the end of the day or even a few days to start cleaning it's overwhelming. I try to do simple tasks throughout the day as the kids are playing. Turn dusting into a game and it no longer feels like a chore.
Be Realistic: Don't stress yourself out about keeping a spotless house. Clutter here and there is okay sometimes. I know my type-A friends may not like that suggestion, but let's be honest. When you have very small children it's almost impossible to keep a spotless house. Give yourself some grace and do the best you can when your kids are awake. If you need some "me" time when they go to sleep, go for it. Try to clean when they are awake and get them involved in the process.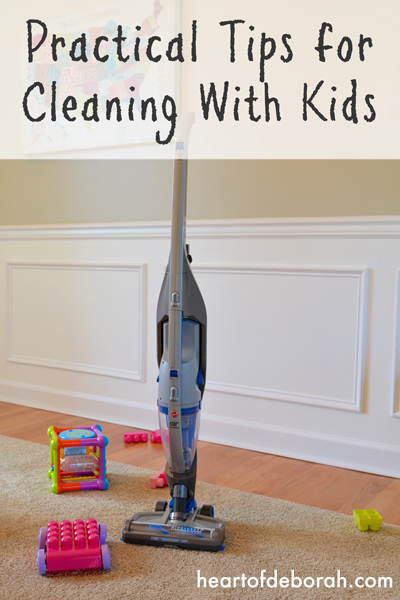 Why I Choose Cordless:
Did you know that cordless vacuums exist? As a busy mom with little children this discovery is changing the game of cleaning for me. Without a cord I now have the freedom to move about every room without having to plug and unplug. I also don't have to worry about tangling up babies or tripping toddlers with annoying cords. It has made cleaning up small messes under my toddlers highchair to cleaning the whole downstairs so much faster.
I was excited to learn Hoover has a line of 4 cordless cleaners (3 vacuums and a hard floor wet cleaner). We were excited to try the Hoover cordless 2-in-1 stick and handheld vacuum. I am very impressed with the power and the suction of the vacuum on both the hardwood and the carpet. I also love that it has a removable hand vac perfect for the crumbs my toddler leaves on the couch. I was happy to learn the LithiumLife batteries run longer and have fade-free power and lastly how cool is the light on the front of the vacuum? It helps me see the small dirt hidden in corners and dark spaces.
Follow Hoover and find out more about their awesome products on Facebook and Pinterest.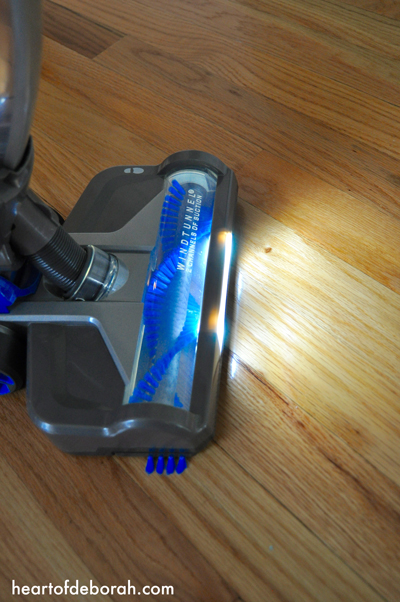 Do you go cordless? What helps you clean efficiently and quickly with children?
I was selected for this opportunity as a member of Clever Girls and the content and opinions expressed here are all my own.