Baby Gender Reveal Riddles
The post was originally published when we were expecting our first baby girl in February 2013.
Yesterday we had our baby's anatomy ultrasound. The technician looks at everything (kidneys, heart, arms, legs, hands, spine, and the list goes on), but we were most interested in finding out the sex of our baby!
I've had multiple people ask me "Are you going to tell everyone or keep it a secret?" We decided that we couldn't wait to find out and we also aren't very good at keeping secrets. Kudos to the couples who wait and/or keep it to themselves!
At first we thought we would just share the news, but I also wanted to find a cool way to announce the gender of our baby. So with a little brainstorming we designed this baby gender reveal riddle: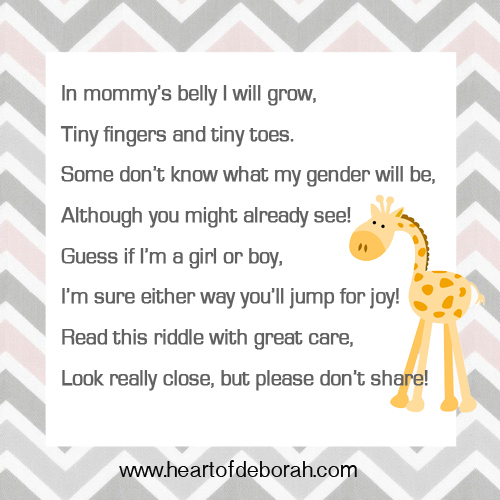 Need a hint? Check out the first letter of each sentence! It's a girl! We are so excited to bring a daughter into our home. Though as many parents would say we were happy to have a healthy baby.
I found this awesome riddle on a babycenter community board and I decided made my own graphic. First, we sent out family the photo through text message.
After they solved the riddle, we posted it to Facebook! It was so much fun seeing everyone's guesses. I think our riddle tricked many people since the colors and animal are somewhat gender neutral.
Are you pregnant and hoping to reveal your gender to others? See the links below to download this baby gender reveal riddle for yourself.
We have a boy and girl version to download! Also don't miss my favorite pregnancy essentials in the box below.
Here is a boy version I also created: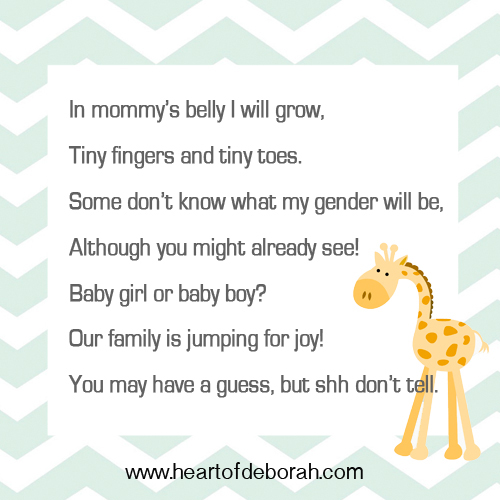 Did you find a cute way to announce baby gender? Many of our friends loved the fun gender reveal rhyme we used. Feel free to use the same riddle and graphic.
Download the baby gender reveal riddle without watermarks:
Make sure you're following Heart of Deborah on Instagram, Facebook, and Pinterest for more fun baby and parenting tips!
What did you use for your gender reveal?
I'd love to hear your story!