Throwback Thursday Blog Style
I love seeing my friend's and family's throwback Thursday (#tbt) pictures. If you don't know, on Thursdays people use the hashtag #tbt and post pictures of the past on social media. I enjoy it because I get a peek into someone else's life and learn more about their favorite things. Today I thought it would be fun to share some of my favorite #tbt pictures and posts blog style so you can learn more about me.
After college graduation I went backpacking through Europe with 3 of my close friends. It was the trip of a lifetime! I spent all my savings from summer jobs throughout college, but looking back it was 100 percent worth it. I love looking back through our pictures and I dream of days when I can travel abroad again. Here is a picture from a bike tour we took in Munich, Germany. If you've never toured a city on bike, I highly recommend it. Spectacular views and exercise! What is your favorite way to keep active?
Throw back thursday almost always includes baby pictures so here you go. Pictures of me and my husband when we were young. We both apparently loved to "talk on the phone" and it's so fun to see Izzy doing the same thing. Do you think Izzy looks like either one of us?
I'd consider myself cautiously adventurous. I love to try new things and to explore the great outdoors. When we were on our honeymoon in Bermuda we decided to rent a moped. It was exhilarating and we loved every minute of it. Have you ever been on a motorcycle or moped? Were you happy or terrified?
In college I swam competitively and this is a picture from our championship meet. When I look back at my swimming pictures I get inspired to work out and be fit again. It's been so fun taking Izzy to her first swim lessons and seeing her happily splash in the water.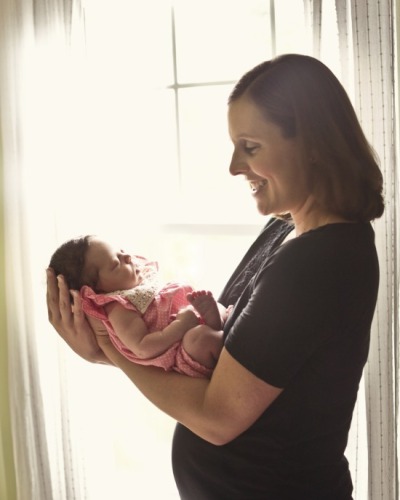 Lastly, here is one of my favorite throwback blog posts. I'm glad I documented some of my feelings at 4 weeks postpartum. It gives me perspective and reminds me of the wonderful journey we have been through in the past year. Read all about it here.
What memories do you look back on when people ask about your past?