I don't like admitting it, but our family sometimes struggles with the overuse of technology. In today's world it can be difficult to turn off electronics and completely remove yourself from the digital world. Cellphones are seriously so addicting! Have you ever thought "Let me just check my email for a minute" or "I wonder what's happening on Facebook?" I've read articles about parents staring at their cellphones instead of playing with their kids at the park and I think "Yeah that is bad!" But then again if I'm being honest sometimes that is me. It's all of us. As a culture I really believe we need to find a balance when it comes the use of technology.
When I heard Green Toys launched a #PledgetoPlay campaign I knew we had to be involved. I love the message of their campaign! For one hour a day, pledge to turn off your technology and turn toward your family for good old-fashioned fun. When was the last time you were fully present? Playing at a 100 percent and not using any battery operated toys or gadgets?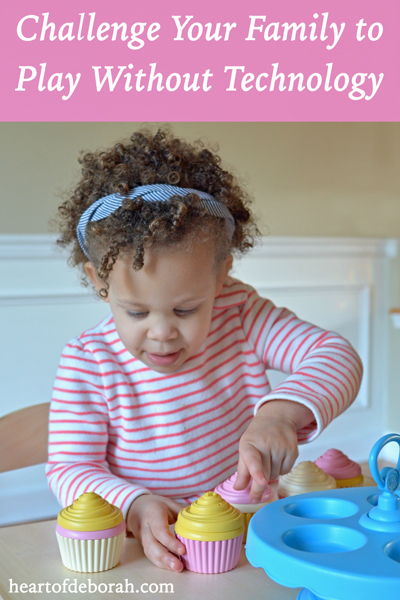 Our family took the challenge and I'm so glad we did. We need to make this a part of our daily routine. Removing all batteries for at least an hour a day. I noticed even when we are playing outside it's tempting to get my phone out to take pictures. Then somehow I get sucked into commenting on someone's Instagram posts.
In a culture that is always trying to connect it's so important to turn everything off and play face to face. Is this something your family needs? If you are honest with yourself, could you find a better balance with technology? No condemnation here, I'm as guilty as anyone! That being said, I want to encourage you and others to take the pledge. I truly believe you will be surprised at how relieving it is to leave social media for a few hours each day. Read how to take the pledge below.
To help you play we've partnered with Green Toys to give away one cupcake set to a Heart of Deborah reader (Enter giveaway below). My daughter had the biggest smile on her face when she opened our new cupcake set. She loves snacks, birthdays and pretending to bake in her kitchen. So these cupcakes were the perfect pretend play toy for her. It was so cute to see her and my husband have their own tea party paired perfectly with a frosted cupcake. One reason we love this toy is because it's made in the USA from 100% recycled plastic with no BPA, phthalates, or PVC. So if IJ gets his little paws on it I don't worry about him putting it in his mouth! Be sure to enter the giveaway below for a chance to win a Green Toys Cupcake Set for your family.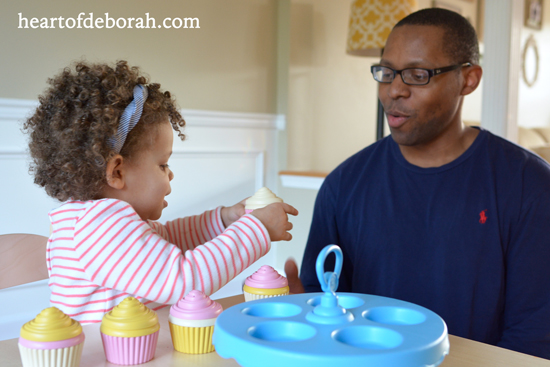 Interested in taking the pledge to play?
Celebrate family time and #PledgetoPlay during Earth Month with @greentoysinc! You can share your play moments on Facebook and Instagram by posting a picture and including the hashtag #PledgetoPlay. When you do this you enter to win one of five toy chests packed with everything you need to 100% play, including brand new Puzzles, CupcakeSet, and Rescue Boat & Helicopter ($150 value) from Green Toys! The pledge starts with Earth Hour on 3/19 and ends Earth Day, 4/22.
Disclosure: This post has been sponsored by Green Toys. Although I received product to review, all opinions expressed are 100% my own. All giveaways are free of charge, no purchase necessary to win. Giveaways are not affiliated with or endorsed by Facebook, Twitter, or Pinterest. Heart of Deborah is not responsible for any prize not fulfilled by the sponsor or damaged during shipping.