How to Care for Kid's Curly Hair
The last 4.5 years I've learned so much about curly hair! Our daughter was born with a full head of wavy hair and slowly as she got older the curls grew tighter and tighter. I have wavy hair myself, but I never took care of biracial hair before. So I did a lot of internet research, scanning Facebook group boards and talking to friends who had curly haired kids! Though I strive to continue learning, I finally feel confident in our kid's curly hair routine.
Now that our daughter is older her hair gets very knotty and tangled if I let it go too long without treatment. So today I am sharing my favorite hair care products for naturally curly hair and our kid's curly hair routine. Also be sure to check out our 7 curly hair tips for more information.
This post contains some affiliate links for products we use and love!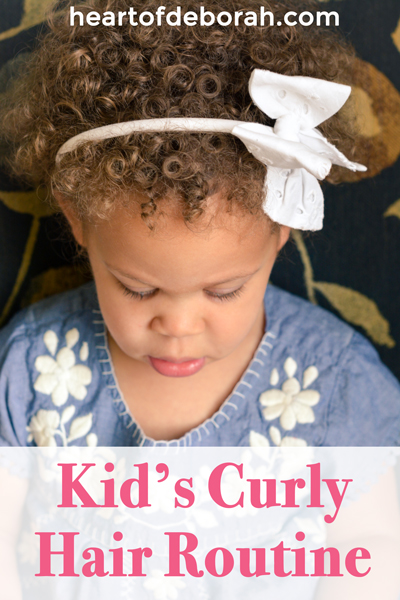 Our Kid's Curly Hair Routine
Step 1 Shampoo: When our daughter was younger we used shampoo once a week for her curls. Then we discovered DevaCurl's No Poo. You may be thinking, what you don't shampoo her hair!? I know this sounds crazy, but curly hair loves moisture and shampoo often leaves hair very dehydrated. No poo cleanses the curls without taking away any of the natural oils. Once a month we use this buildup buster to thoroughly cleanse the hair.
Step 1.5 Mask: About once a week I use a deep conditioning mask in our daughter's hair. We invested in a shower head that detaches so I can easily rinse her hair while she takes a bath. After I use the no poo to cleanse I add one of our favorite masks: Deep Sea Repair (Strengthening Mask), Melt into Moisture (Conditioning Mask) or Intensive Hydration Treatment. I put a shower cap on her head and let her play for about 15 minutes before rinsing the mask out thoroughly. If her hair is super dry and needs extra moisture I do this before the bath and let it soak in her hair for at least 30 minutes.
Step 2 Condition: We LOVE DevaCurl One Condition
. It smells amazing, has safe ingredients and it conditions our daughter's hair perfectly. It's not too heavy or greasy yet hydrates her curls. I use a very generous amount (think hand fulls) then wait 1-2 minutes before combing. Do not rinse out before you comb or brush!
Step 3 Comb/Brush: Some people believe you should never brush curly hair. I definitely would never put a brush to our daughter's hair when it is dry or without conditioner in it! But when she is taking a bath we use the wet brush
or the denman brush to detangle. I can't decide which brush is my favorite. To detangle section the hair and brush from bottom to top. Meaning you detangle at the end of the curl first then work your way to the root. We've also used a wide tooth comb
or our fingers to get through the knots.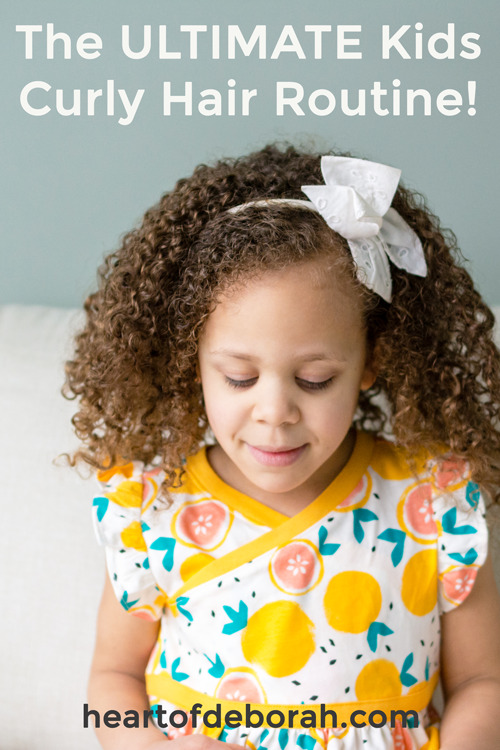 Step 4 Leave in Conditioner: After I comb through Izzy's hair I quickly rinse her roots. I purposefully leave some of the conditioner in her hair as a leave in conditioner. This is the first stop of the L.O.C. method (Leave in Conditioner, Oil, Cream). I'm honestly not sure who created this method or I'd give credit, but it seems to be all over natural curly hair websites.
Step 5 Oil: After you get out of the bath and carefully towel dry the curly hair you can add oil. We've experimented with a few different oils for this step. I used to use coconut oil a lot when Izzy was younger and had wavier hair. As her hair has become more dense I've found Jojoba Oil
or this Moroccan Oil works best. Read labels carefully when choosing oil! A lot of times there can be hidden ingredients. We try to buy 100% pure oil.
Step 6 Cream: There are so many different types of creams or curl finishing products you can use! I'd say experiment and find what works best for your hair type. One of our favorites is SheaMoisture Coconut & Hibiscus Curling Gel Souffle
. It works wonderfully for us. The gel doesn't leave Izzy's hair feeling too crunchy or wet looking. It defines the curls and holds the curl the whole day. We also love DevaCurl's Ultimate Defining Gel and Coconut Supercream. If her hair is dry I'll ditch the gels and use the supercream instead.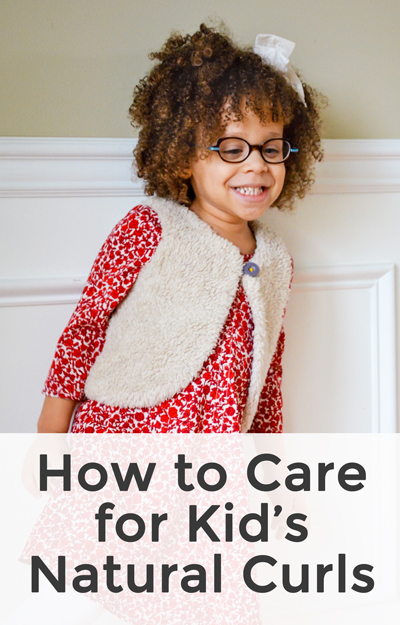 Finishing The Look
Then we let our daughter's hair air dry. This can take a few hours so we try to give her a bath earlier in the day. That way she won't go to bed with a wet head of hair. She loves wearing her hair down naturally so this kid's curly hair routine works wonderfully for that.
To redefine second day natural hair, we use a spray bottle with water and more conditioner or super cream to shape the curls.
Other times we use protective styling like banding. It is super easy and it looks adorable.
You simply put the hair into a ponytail and band the hair like this: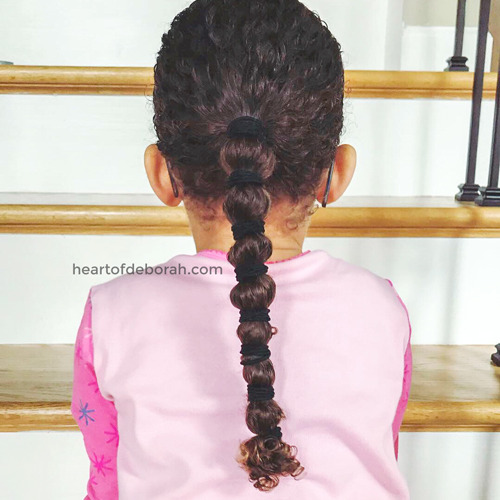 We leave the banding in for one to two days. When we take it out her curls are lengthened (see photo with orange dress). Though you lose some curl definition you don't have as much curl shrinkage.
Do you have a child with curly hair? What are your favorite products and routines? I'd love to hear your experiences in the comments belowWhat is your kid's curly hair routine?